The 351st episode of our 12 Questions segment features producer Bachir Salloum.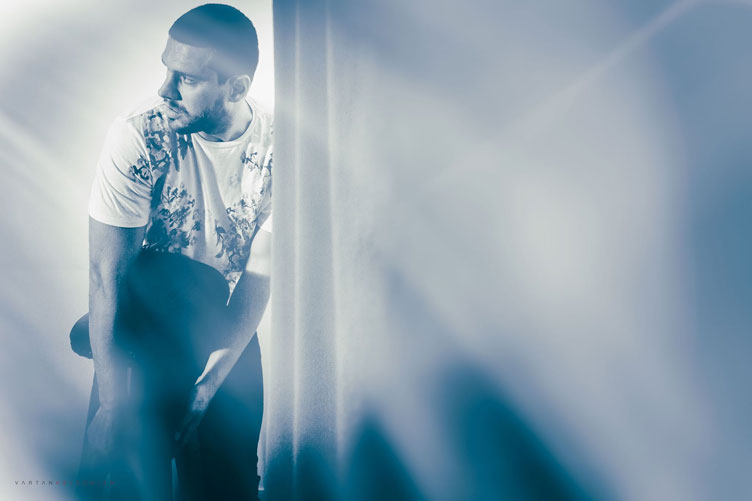 1. How old are you, where are you living and how long have you been producing and Djing?
I'm 32, currently living in Dubai, I moved to this amazing city back in 2013.   I started DJ'ing 8 years ago in my hometown, Beirut, in an after hours venue called X-OM, it was one of the city's most iconic clubs back in the day.  It was in X-OM that the concept of after hours clubbing started which pushed the electronic scene to evolve more in Beirut.  My first attempt at producing was back in 2006, I remember the track very clearly, it was called "Field of Eyes" (haha!) and had a very deep house vibe.  I did not pursue producing seriously up until earlier last year when I started to truly focus on production and creating my own sounds.
2. Where do your musical roots lie, what are your first memories of electronic music and when did you know you wanted to pursue it seriously? Are there any particular productions or artists from the past that really made you think to yourself 'this is what I want to do."
When I was 13, my older brother used to DJ at a local radio station in Beirut and that was the first time I had set my eyes on vinyls and I have to say, it was literally love at first sight.  During that time, my brother gradually started teaching me how to mix and play music, giving me my first lessons.  The feeling I felt from playing and listening to music became a growing addiction, it became (and still is) a gateway for me to escape reality and go into my own world.   At 15, I started learning how to play electric bass and my tasted in music back then was focussed on rock and heavy metal.  Gradually, my taste shifted to old school house and I began to listen to artists like Derrick May, Danny Tenaglia, Erick Morillo.   In 2002, Anthony Pappa played for the first time in Beirut and it was one of the first electronic events held there.  It was during his set that it absolutely clicked that this is what I wanted to do, that my love for music, my love for the feeling I felt when listening to music, was what I wanted to pursue seriously.
3. How difficult was learning to produce for you in the beginning? Did you take any Audio Engineering programs or production courses to help you out or are you pretty much self taught? And did anyone give any advice early on that really helped?
It was a bit challenging in the beginning as I still didn't know how to create all the sounds and ideas that I had in my head into something audible.  Since putting my mind into producing, I have been taking production courses with Kevin Di Serna, an Argentinian artist and friend.  Kevin's teachings and guidance has played a big role in enabling me to create my sounds and give them life.
4. What parts of the production process do you find the most difficult and what comes easiest for you? When you do hit a creative block what helps you through it?
Creating the main elements of the track has always been the most difficult part for me, but once the foundation is there, everything else becomes less difficult. Having DJ'ed for a while now, mixing the track is the easiest part for me because of my understanding of how a track should be structured to give the best impact on the dance floor. I have learnt that forcing myself to continue working on any project while facing a creative block only results in wasting my time and creating shitty sounds.  So the best way to overcome the block is by clearing my head and self, refreshing my self and mind and coming back with new inspirations.
5. What's a normal day like for you? Do you have a job outside of electronic music? And what do you like to do when you're not working on music?
I have a 9-5 office job so my week days start pretty early; after work I'm either working on my music or unwinding watching documentaries/tv series.  I also enjoy cooking and experimenting in the kitchen.
6. Apart from electronic music what other genres do you listen to and who are your favourite artists outside of electronic? and do these genres or artists have a direct effect on your own productions?
I listen to so many different genres outside of electronic music, which offer me various inspirations in order to create the sounds and ideas in my head.  Some of the artists I thoroughly enjoy listening to include Freddie Mercury, Pink Floyd, Sade, Fairouz, who is a Lebanese singer who is one of the most widely admired and deeply respected living singers in the Arab world.
7. What was the first and last physical (CD, Vinyl, Cassette etc)  piece of music you bought?
Gosh, you're really taking me back in time now….I remember the first physical piece of music I bought was Pink Floyd's Dark Side of the Moon cassette, which stayed with me for years until I purchased the original vinyl.
My last physical piece of music that I bought was Queen's Platinum 3 CD Collection, which I still have and occasionally listen to and enjoy.
8. Tell us something about yourself that might surprise people?
Many people don't know this, but growing up, as a little boy, I wanted to become a dentist … of course that dream was put on hold when I found my passion for music.
9. Which producers in your opinion get consistently overlooked?
There are so many talented producers nowadays that nobody's heard of that get overlooked.
10. Which producers consistently inspire you? And where else does your inspiration come from?
Guy J is an artist that inspires me on a daily basis. His sounds are so organic, unique and emotional; he has such a magical way of expressing himself through his music, an art I hope to be able to perfect some day.
Traveling to various cities during the year and being around different cultures and sounds, always serve as an inspiration.  I know, for example, after attending ADE (Amsterdam Dance Event) this year, I will come back with a mind full of fresh ideas and sounds.
11. There are countless producers out there trying to find their way and create their own unique sound, what advice do you have for them? 
My number one advice is to never give up on your love for music, to keep trying, to keep experimenting, to keep pushing and to keep creating – self belief is key, love your work and make sure you share your music in order to improve, learn and get recognition.
12. If the final DJ/live set of your career was next week what would your last track be?
Danny Tenaglia feat. Celeda – Music is the Answer (Original Mix)….because at the end of the day: music is the only answer 🙂
'Caterpillar' is out now on Genesis Music, you can purchase the release: here