With Pat Siaz having new music out this week on Sound Avenue we catch up with him for the latest episode of 12 Questions.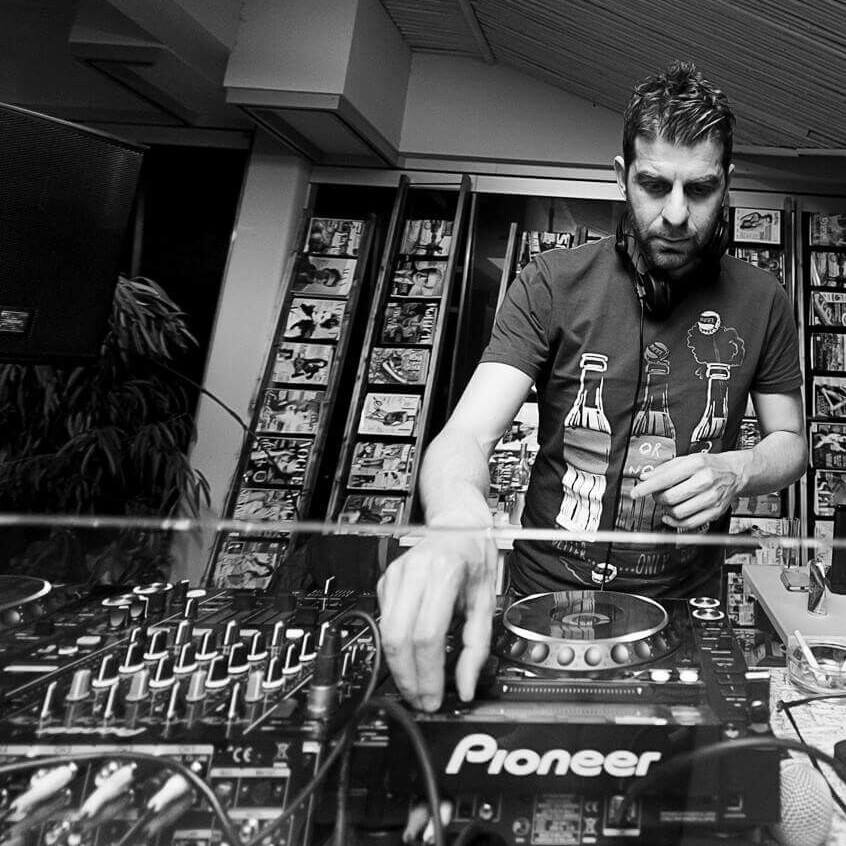 1. How old are you, where are you living and how long have you been producing and Djing?
I am 38 ,I am living in Larnaca Cyprus.I started djing in 2002. I was working as a barman in a coffee shop back then. i was going to work earlier in the morning, so I could play some music on my own before the shop's opening ! with the time I decided that it was what I wanted and dreamt to do. So I went to Athens in SAE to study Audio Engineering & Music Production while parallel I was taking dj courses practicing with vinyl's at that moment! I finished back in 2005 and began to experiment with production. Regretfully I had to stop cause it was impossible living in a small island to get your music heard and i was quite disappointed. Truth is, I paused – not stopped as in 2013 I decided that it was time to get into production – full stop – so here we are now. 🙂
2. Where do your musical roots lie, what are your first memories of electronic music and when did you know you wanted to pursue it seriously? Are there any particular productions or artists from the past that really made you think to yourself 'this is what I want to do."
As long as I remember since I was kid I've been always into music, in love with music, listening to it all day long! My first exposure to electronic music was when in 1997 and for the first time I heard Pete Tong Essential Selection on the Radio and something struck me right that moment! I said – that's it – that's my music. After 5 years of listening and going to events with electronic music, finally in 2002 I decided to pursue my dream and i started djing professionally. Artists who always were and remain the inspiration to my soul are Sasha and Digweed!
3. How difficult was learning to produce for you in the beginning? Did you take any Audio Engineering programs or production courses to help you out or are you pretty much self taught? And did anyone give any advice early on that really helped?
At the beginning it was very difficult to get into production as i had to find a path how to put all infinite  ideas together and create a track. Even though I had studied audio and music production it was rather a challenge for me, but for sure it did help a lot.
4. What parts of the production process do you find the most difficult and what comes easiest for you? When you do hit a creative block what helps you through it?
The most difficult part is to finish a track like for lots of producers that I know. The easy part is to start a track ,create the basic parts like melodies, bass line etc. When I am stuck i always try to do something that will relax my mind and then come back to it.
5. What's a normal day like for you? Do you have a job outside of electronic music? And what do you like to do when you're not working on music?
My full time job is audio engineer on TV which is my main source of income. When i am not working or producing I always enjoy taking a long walk with my kid, play and look after her, truthfully speaking, to spend with my beloved as much time as I can. I was always into quality movies, so obviously I love watching a good one or TV series along with Pringles.
6. Apart from electronic music what other genres do you listen to and who are your favourite artists outside of electronic? and do these genres or artists have a direct effect on your own productions?
I like rock very much as I used to hear it a lot when i was younger. I was into Metallica and Scorpions but nowadays I like to listen to authentic ethnic music from various countries, mostly eastern ones, which is absolutely inspiring genre as they it has to offer extremely interesting sound collaborations!
7. What was the first and last physical (CD, Vinyl, Cassette etc)  piece of music you bought?
My first physical piece of music was a cassette I bought with the hits from 70s-80s as – I was a big fan of disco back then! The last one was GU036 by Darren Emerson
8. Tell us something about yourself that might surprise people?
Before I began djing I had been working as a cashier in a bank but I quitted as I really hated to sit behind a desk wearing a tie.
9. Which producers in your opinion get consistently overlooked?
There are so many great unknown producers out there, trying to find their way to the top!
10. Which producers consistently inspire you? And where else does your inspiration come from?
As I mentioned previously Sasha has been always my favorite artist as he managed as time passes to stay on the same path continuously creating beautiful tracks for so many years – it is easy sometimes to become a hit, but to keep remaining one that's the hard part – for me it's the most difficult thing, namely to constantly stay up to date. My inspiration comes mostly from listening to music – all the time and recently my daughter has brought some fresh notes to my tracks.
11. There are countless producers out there trying to find their way and create their own unique sound, what advice do you have for them?
My advice is to always follow your dreams and produce music that comes from the heart and soul, music that will touch people!
12. If the final DJ/live set of your career was next week what would your last track be?
Honestly, I  hope that last will never come, but if to remain true to myself, then right now i can think of only this one- "G Club presents Banda Sonora – Guitarra G (Funkagenda Redux)".  But that the true beauty of Music art – it is never last, it might not last, but as long as something truly beautiful lasts, yr life shines!
'Noelia' is out now on Sound Avenue, you can purchase the release: here