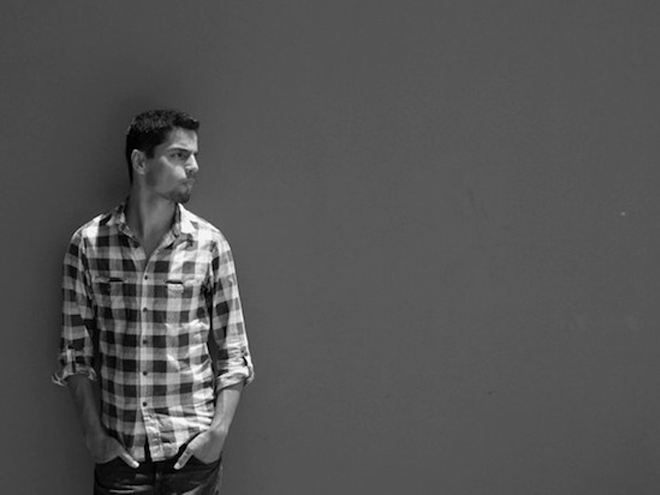 How old are you and how long have you been producing / DJing?
About to make 30! Been producing & Djing for about ten years now, been composing & improvising for about twenty.
2. What are your earliest memories of music, what did you listen to growing up? How did you get involved in electronic music and what made you decide to pursue it full time?
I've been exposed to a wide range of music, from all kinds of Brazilian cultural richness to classical, blues. When I started playing guitar my school was blues, then I got into deep purple around '93, black Sabbath, led zeppeling etc. Yes, EL&P '95 and finally Pat Metheny around '97. I started playing with bands in '98 and the first meeting with electronic music was only in 2001. So I didn't have any background related to electronic music. Actually, I grown up in a part of São Paulo with a variety of music schools, surrounded by young musicians playing Rush at the age of 12. Basically, until 2001 I didn't really have any idea that electronic music was serious and there was actually a whole culture around it. My ex-band mates still think it is a silly thing. Drum & bass was the bridge for me to understand how much electronic music was actually a sound revolution and would allow me to express in a way I'd never do as a guitarist.
Did you have any formal music training growing up? in regards to composing or engineering / sound design etc.? and if not did anyone help you out along the way?
Yes, but it didn't take long. I just realized that by improvising I'd learn way more. Also, I was so against the discipline and training that all my mates were into, like all those exercises to play fast etc. When I got into recording and engineering it was still a bit like that too, I just wanted to record straight. It only started to get really serious back in 2004. Now I'm obsessed with it. About people helping out my brother started recording stuff at home and later on my friend Daniel Siqueira helped me a lot to get into the production basics.
Does Andre Sobota have a sound? and if so how would you describe it?
Sometimes I ask myself about the directions I'm taking, it's so easy to go try something else just for the sake of it and loose the point. I've done it a few times in the past. Recently, I've found the obvious conclusion that whatever style or direction I take, it will always be about the melody first. If it really sounds honest to me and says a message, whatever style is fine.
You started as a Drum & Bass producer under the alias Bungle with releases on Hospital, Critical, Spearhead, Grid, Radar and many other well known Drum & Bass imprints. Were you writing house oriented material back in 2006-2008 as well or was that something you started later? And if you were strictly a Drum & Bass producer back then what prompted you to branch out into other styles?
I just listened to my very first drum & bass release yesterday and for my surprise it sounded so much like my music now. The thing is I took the Bungle project really serious as being a drum & bass project, but it really doesn't cover everything I want to do with music. The culture also is not my background, where I come from. For example, as the project starting to get some recognition, as much as I was going to the clubs and making some dancefloor bangers, I was also a lot into chill out, downtempo. I even produced about ten tracks on that style at the time, so it actually was me doing all these atmospheres I do now but into another genre. With the release of my first album 'Down To Earth' I went on tour and the culture of what I was doing really took over all the space. As much as I was having the greatest time in life rocking the little clubs every night, and I have to tell you that there's absolutely nothing like playing drum & bass in a small club, you would also find myself tripping on trance on every flight. Sadly, I was not in a place where I could explore my musical ideas. By discovering more about techno, I decided to expand.
As of now you are best known for your big, melodic records on Toolroom and Pryda but there are certainly elements of techno in some of your other productions. Where do you see the sound going in the future?
Even loving it, I've become very critical about going on that progressive house direction, probably because of this background on rock and drum & bass. My idea was always to write melodic techno, no atmosphere and synth leads at all. But for some reason it just happens. When I finished my first lot of tracks Gui recommended me to dirty my sound a little bit. He was right, and this process took me some time. I'm happy about how I approach techno now, after the forthcoming summer I want to finally release a darker side of my sound which didn't have a chance yet. But at the same time, after Voyager and Saviour I've realized how much I love transcending and that there's nothing wrong with that.
You had an extremely successful 2012 with releases on Anjunadeep, Pryda & Friends, microCastle and Toolroom not to mention your remix of Coldplay and Rihanna which appeared on major label EMI. Your 'Surrounded By Time' EP on microCastle turned out to be the most successful release of 2012 in terms of sales. What do you attribute that to? Was it a case of the originals obviously being great and then the remixes from King Unique and Dosem just working out perfectly or is there more to it than that?
Well the remixes really stood out, but regarding sales it is really something I have no idea about. Sometimes it's just been exposed to more people, played by great dj's, sometimes everyone just seems to love it, sometimes it Is just luck or the moment, maybe everything together? It's good to not have any idea about!
I've always thought your music has a very distinct, emotional sound. Almost like electronic soul if that makes sense. Is writing melodies something that comes easy for you? and what parts of the production process do you find the toughest?
The melodies come to me just like the words, it's just as natural as that. My problem is actually doing it too much, I'd love to make tracks without any melody at all but it never works. Sometimes I wish I didn't have this hability with the harmony camp so I could explore more the sound itself. At the same time the most simple and basic stuff on making electronic music I find really difficult, like the beats, percussion, and letting the track roll to the dancefloor, which is for producers the most fun and easy part!
Your 'Futura' EP is out this week on Konstrukt, talk a bit about the production process on those tracks, is there anything special you can tell us about them?
I didn't have anything specific in mind, just try doing something techno based. What is peculiar in Futura is that I've used a certain harmony tension in a very subtle way and it is what gives the track the emotional tone. Every two bars, there is a scale change. It's very simple, but that is really uncommon in dance music. One crazy thing which I'm still going to remember how it came about is that, as the bassline goes one note down, the vocal sample goes one note high. By knowing that the vocal sample has about three notes, how can it be possible to match? And it's where the drama of the track is. Paulista was a totally new experiment. I just wanted to create something where the texture of the synths could be in evidence, ended up with this weird but smiley sound.
Now that you've essentially blown up in terms of popularity over the last year have you been getting more gig offers? and is DJing something you enjoy or do you see yourself with more of a live show in the future? We suspect a tour should be in the works soon?
Gradually yes. It's now being talked about putting the project on tour and available for bookings worldwide!
How big of an influence are other artists or music genres when it comes to composing tracks? Could you give any examples? What else inspires the production process for you?
Actually everything comes from that. All the vibe and energy comes from my favourite records of Yes, Black Sabbath, Pat Metheny, Emerson, Lake & Palmer. When I listen to them it still sounds greater than anything else. So my purpose is not to make good house music, is to use house music to bring a different background, which always comes in evidence on the breakdown.
What artist or track would you love to remix?
Interesting, I've never thought about that. Ok, got one, Guy J Lamur!
It would seem that doing an original vocal record in the future would make sense, is that something you think about?
 Yes, a lot. I've done some with Bungle and the results were great but now I want to really be involved with the vocals personally. That's one of the next steps for sure.
What do you feel has been the biggest moment of your career thus far? Both from a DJ and production standpoint?
As a Dj playing at the womb club in Japan, as a producer and composer remaking Coldplay & Rihanna's Princess Of China.
Which producers consistently inspire you? and who are some of the best undiscovered talents in your eyes?
By making so many tracks done last year and with the sake of doing maybe more this year I ended up more connected to my rock & jazz background than having references from electronic music itself. A constant reference is what the stuff CLR has been putting out there, like Tommy Four Seven album, it's something I'm trying to slowly incorporate.
Andre Sobota Current Favourites 
Food:
pasta a Bungliana
Drink:
classic vodka + red bull
TV Show:
don't have TV!
Movie:
conspiracy movies
Video Game
: no games at all!
Album:
Pat Metheny Unit Band & Black Sabbath Vol.4
Track / Song:
Pat Metheny Unity Band – Breakdealer
Producer / Band:
Black Sabbath
Record Label:
Nonesuch
Nightclub:
Womb
DJ:
Sasha  
What do you do outside of music? Do you have a regular day job and what do you like to do for fun when you're not working on music?
Nothing. No jobs and no hobbies, how cool is that?!
If the final DJ/live set of your career was next week what would be your last track be?
Bungle – Aura
What can we expect to see from Andre Sobota in 2013?
Lots of new releases for sure, the project going on tour and something different after the summer!
And finally there are countless producers out there hoping to achieve the success you've had in the last year, what advice would you give them?
Don't make it a goal, enjoy every little step every day. Enjoy the process not the result!