Sincopat has grown to become one of the more consistent underground tech-house labels of recent years and returns with another impressive package.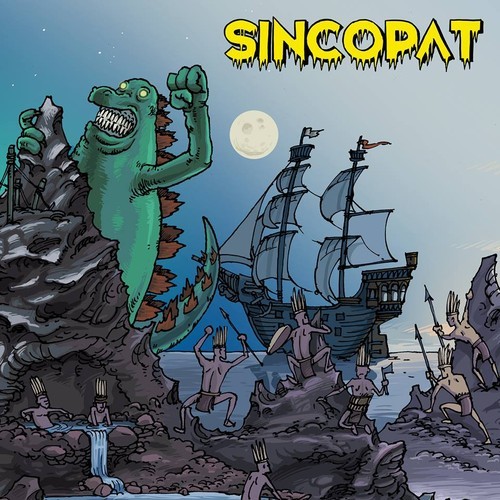 Sincopat's latest release features some of my favourite artists of the last half-decade including Darlyn Vlys alongside some very clever remixes from industry great Yousef and former Fabric (London) resident Stefano Ritteri, better known recently under his Solo alias. Daryln has teamed up with Thomas Gandey for some extra club appeal on both tracks, where Thomas has lent his sturdy vocal interpretations to the mix. 
"Don't Do It" from the duo a solid tech-house number which packs some almost psychedelic effects and a shuffling groove but the listener can't avoid a decent slap in the face from a very edgy bassline that itself also prefers to build rather than standing still and becoming too predictable or boring. Thomas's heavily effected vocal layer drops in every now and then to remind the dance-floor audience why they're there as the overall track builds very steadily and desirably to the eventual melodic breakdown. Silence arrives just prior to a storming drop with that epic bassline returning for a few more minutes of domination backed by a surprisingly effective melodic, yet subtle, melodic deviation.
For DJs who steer clear of vocals in their sets there's a vocal-free 'dub' version here as well.
Stefano's remix takes on a more front-on stance with his drums and percussion adding some extra groove which should see the terrace DJs around the world getting some smiles. The stripped-back elements of Daryln's original idea are enhanced by Stefano to create more of a focus on some added trippy synth lines and a very twisted take on Thomas's vocal stabs. Another swirling, menacing synth line takes our ears into the breakdown where the tension is piled on in droves taking the track to the somewhat sparse drop.
The second original "Hero" immediately conjures (pun intended) feelings of a certain Mr Plex being in the room with some very tasty and contemporary analogue sounding acid-bass stabs alongside a very solid yet basic techno drum groove. Thomas once again provides a vocal element yet this time he's been highly effected and warped to almost in-human dimensions, it's an awesome outcome which adds extra cool-factor to the overall song. The track pulses and throbs its way past a slight breakdown and drop into the second chapter which introduces more percussion effects and once again an unexpected melodic element. This track is my pick of the EP, a real stormer!
Circus label-owner and international DJ legend Yousef provides a remix of "Hero" which usually means the listener can expect a slightly off-kilter interpretation of the original track's percussion, some 3am-style madness with the melodic elements and the potential for some really crazy buildups and drops – such is Yousef's production consistency and brand in recent years. For the first half of the remix that's pretty much exactly what transpires but the breakdown arrives and all hell breaks loose – this is a track I can easily picture Richie Hawtin blasting across a peak-time Ibizan dance floor to great effect.
With a team of well-established and respected on-point producers like this working together the results were always going to be impressive. Sincopat delivers yet again! 8/10