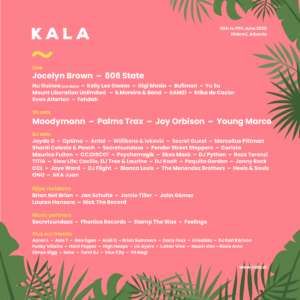 Kala Festival reveals the full line-up for its third edition on the paradisiacal Albanian Riviera from 10th – 17th June 2020. Building on its distinct programming, Kala has announced Palms Trax, Joy Orbison and Young Marco will be playing 5 hour sets at the moonlit stages, joining Detroit legend Moodymann who will also be playing a rare extended set.
Unmissable live shows will come from American R&B and dance singer Jocelyn Brown, well known for hits like "Somebody Else's Guy" or "Ain't No Mountain High Enough", whose performance will undoubtedly be a poignant moment for those at the intimate beachside stage, Nu Guinea's Live band, who will showcase their unique fusion of Neapolitan Funk, Afro and Disco, the dreamy Techno Pop of Kelly Lee Owens, and the live ambient explorations of Gigi Masin.
Other carefully curated, eye-catching additions include the genre-spanning selections of Antal, Maurice Fulton, Shanti Celeste, Peach, Lena Willikens & Vladimir Ivkovic, Psychemagik and DJ Koolt, who will be joining the likes of Jayda G, Optimo and Marcellus Pittman, promising another year of outstanding music.
Besides the well-established acts, Kala adds diversity to their music programme with exciting new sounds from the rising talents of Roza Terenzi, CCL and Erika De Casier, while a rotating roster of exceptional selectors, namely Brian Not Brian, Jan Schulte, Jamie Tiller, John Gómez, Lauren Hansom and Nick The Record are set to take over extraordinary Gjipe, a secluded beach in the mouth of a red-stone canyon that can only be accessed by boat.
Complementing the refreshingly unrushed music offering, Kala will once again be offering plenty of action away from the dancefloor, with a selection of excursions, wellness and fun holiday activities. Yoga classes, gong baths and beach massages will be on-hand to sooth the mind and boost energy for another night dancing under the stars, and for those preferring to indulge in the crystal clear waters that flank the festival site, kayaking, pedalos, paddleboarding and snorkelling will all be on offer.
With an unbeatable location and killer lineup, Kala is already shaping up to be the go-to festival for summer 2020. The final tier of tickets is set to be released on 22nd January, all those looking to attend can receive the ticket link by joining the waiting list on www.kala.al.
To find out more about Kala, go to:
Facebook | Instagram | Website
Kala Line-up:
Live
Jocelyn Brown
808 State
Nu Guinea Live Band
Kelly Lee Owens
Gigi Masin
Bufiman
Mount Liberation Unlimited
Yu Su
S.Moreira & Band
RAMZi
Sven Atterton
Fehdah
Erika de Casier
5-hour sets
Moodymann
Palms Trax
Joy Orbison
Young Marco
DJ sets
Jayda G
Optimo
Antal
Willikens & Ivkovic
Secret Guest
Marcellus Pittman
Shanti Celeste & Peach
Secretsundaze
Pender Street Steppers
Carista
Maurice Fulton
CC:DISCO!
Psychemagik
Skee Mask
DJ Python
Roza Terenzi
Jonny Rock
Slow Life Showcase: Cecilio, DJ Tree & Laurine
DJ Koolt
CCL
Paquita Gordon
TITIA
DJ Flight
Jaye Ward
Bianca Lexis
The Menendez Brothers
Heels & Souls
ONO
AKA Juan
Gjipe residents
Brian Not Brian
Jan Schulte
Jamie Tiller
John Gómez
Lauren Hansom
Nick The Record
Friends & family
Aaron L
Alex T
Alex Egan
Andi Q
Brian Summers
Carly Foxx
Crisalida
DJ Karl Karlson
Funky Villainz
Harri Pepper
High Hoops
Liv Ayers
Luther Vine
Naam Van
Rosie Ama
Simon Rigg
Soho
Tomi GJ
Vice City
Yll Megi
Music partners
Secretsundaze
Phonica Records
Stamp The Wax
Feelings
 # # #