The third release on Consapevole Recordings is out this week and finds Kay-D delivering his first single for the label.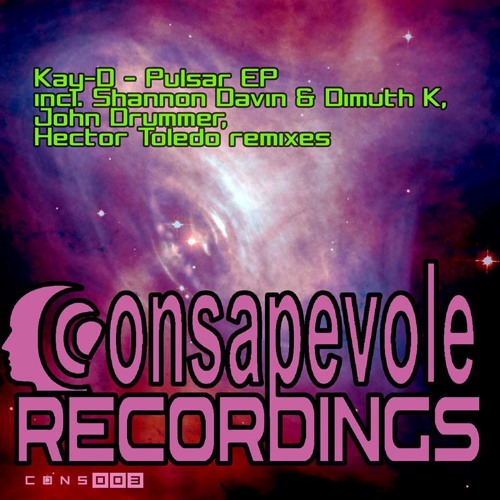 Being based in Hungary it's not a surprise to see one of the country's longest running progressive house talents in close associate. Kay-D appeared on the label's first ever release remixing ZB's 'Music Zombie'. Now making his second appearance Kay-D presents his much anticipated first single entitled 'Pulsar' alongside remixes from Shannon Davin & Dimuth K, John Drummer, Hector Toledo.
Long known for his melodic crafting prowess Kay-D steps up one more time and delivers a peak time beauty. Built on driving grooves, squelchy synths and epic lines this is one production old school fans are going to love. It's one of Kay-D's biggest tracks in recent memory yet it still manages to pull at your heartstrings with some Vangelis style melodies, almost like Bladerunner meets prog-trance in a way. The break develops the main themes further with kaleidoscopic keys and acid like lines delivering the final blow. Massive stuff from Kay-D.
Three great remixes add a lot to the release and definitely offer a nice alternative to the peaktime original. First up Shannon Davin & Dimuth K team up and take the track into deeper, hypnotic territory with great results. The main motifs play perfectly over the more minimalistic groove while a cinematic break and delicate build delivers the mixes most magical moment. Great remix from Shannon Davin & Dimuth K.
Next up Hector Toledo makes his label debut following releases on Electronic Tree and Massive Harmony. The Mexican artist crafts a mix that sits somewhere nicely between the original and Shannon Davin & Dimuth K. It maintains the great melodic flow from the original but in a slighter deeper context but still with a lot of drive. Definitely a track for the hypnotic dreamers and morning hours. A great addition to the package and one of Hector's best remixes this year.
Closing the release out is another one of Hungary's great talents John Drummer who makes his second appearance on the label. I've felt John has been quite underrated for a while, he's got a sound all his own and remains one of the stronger producers in the progressive underground. I was happy to see Beatport recognize him a few times with #1 Must Hear tracks if memory serves but he should be a bit more well known I think. Here he brings his detailed, techy style to 'Pulsar' and rounds the release out on a strong note. It's laid back, groovy quality is immediately inviting while two timely breaks adds just enough emotional content to raise a few goosebumps. Excellent remix from John and a great release from Consapevole Recordings, definitely a label to keep a close eye on as 2016 moves forward.