The latest release on Suffused Music welcomes KIDD Corp back to the label for their debut EP.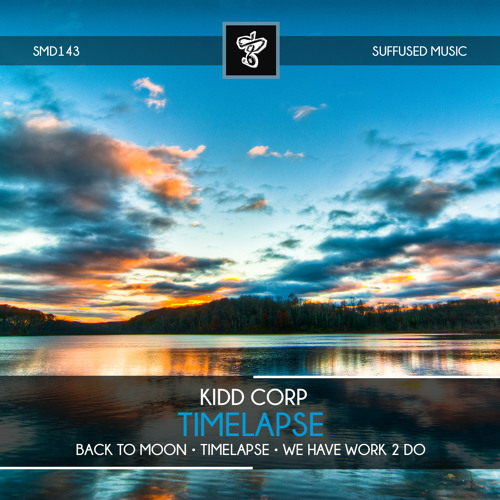 The newly formed quartet of Gabor Darnoci, Daniel Gyarmati (aka. Dynamic Illusion), Krisztian Kovacs and Imre Szegedi made their label debut with a gorgeous interpretation of 'Runaway' by Dynamic Illusion & Kelly Noland in June of this year. Now set to present their first original material the KIDD Corp returns with the much anticipated 'Timelapse EP'.
The ethos of the KIDD Corp project is rooted in the legacy of progressive minded sounds with a look forward into the future. That certainly holds true on the EP's opener 'Timelapse' with it's deep, sultry grooves and heart warming vocals. Anchored by a laid back groove, the quartet expertly accents the framework with dreamy motifs and intricate electronics. As the vocal storyboard unfolds in the main break the emotive qualities rise. The drop is both delicate and poignant with an airy flair ultimately leading to a wondrous finale.
Continuing with the EP's second offering, 'We Have Work 2 Do' comes with a more traditional progressive mentality. Lead by a chunky groove, raspy stabs and indistinct vocal trails it's a delight for the both the mind and feet. Rolling rhythms continue to bring the momentum up before a timely break reveals a spoken word vocal, resetting the groove into driving, dubby territory. One final break brings further dramatic tension before a fading silence gets broken with vocal gates and a rush of beats and drums. A standout production from KIDD Corp.
The EP concludes with 'Back to Moon' which finds the quartet bringing a smooth, effortless and deeply hypnotic journey. Galloping beats, gaseous atmospheres and a lovely arp lead the charge, eventually revealing a classically styled main break. Again highlighted by a spoken word, sci-fi themed vocal the emotive energy expands as waves of white noise swirl around the numerical countdown. It makes for a gorgeous apex and foreshadows a poignant third act which creates a hopeful and reflective vibe to the end the release on. A superb debut offering from KIDD Corp and another exceptional release from Suffused Music. Don't miss it.