The 13th release on Michael and Levan and Stiven Rivic's Kunai Records finds the label presenting Volume 3 of 'Chronicles In Motion'.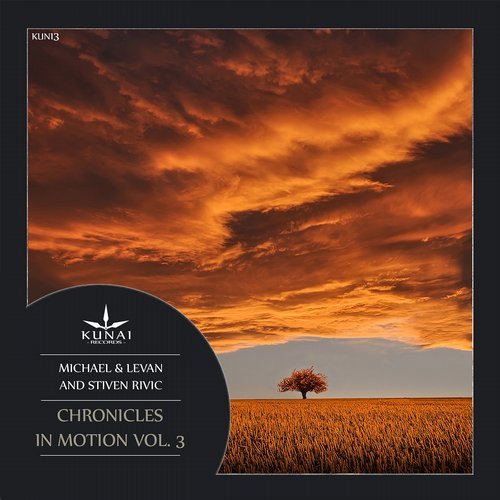 The retrospective series looks back at some of the finest remixes of the much loved trio. Featured on Volume 3 are Blue Room Project, Moshic, Soulwerk, Guy Mantzur and Marcelo Vasami.
The collection's first piece dates back to July of 2010 where Blue Room Project took the trio's 'Drive Me Crazy' into deep territory. Jeff Belfi and Shane Ehlers aka Blue Room Project etched their place in progressive house history with releases on Kasey Taylor's Vapour Recordings in the mid 2000's. Output from the duo was scarce at the time of 'Drive Me Crazy' so it was a pleasant and most exciting surprise for long time progressive house fans. They certainly did not disappoint with a deep, atmospheric take that rivalled some of their best ever work. It's certainly aged well and with a slight shift in tempo would sit nicely alongside today's deeper progressive gems.
Next up we go back to January of 2010 with Moshic remixing one of the trio's most famous tracks 'Invisible Children'. It was the first time the Israeli artist had appeared on Mistique Music which led to 3 more appearances in years to come. Famed for his releases on Plastic Fantastic and Bedrock Records, Moshic has an incredible run through the progressive house golden years and even recorded a mix for the most prestigious program on the planet, BBC Radio One's Essential Mix. His chugging, tribalistic grooves evolved over the years and by 2010, at the time of his 'Invisible Children' remix he had shifted into deeper dreamier territory. One of the finest ever to grace Mistique Music's storied catalogue now available again here.
As time went on Michael, Levan and Stiven began signing their music to like minded labels, one of which was Mirablis Records who released the trio's 'Last Request' in January of 2015. The Slovenian label put together a superb package with Soulwerk being one of the standout remixers. The Spanish artist brought his progressive techno crossover sound to the project in a big way. From it's tough beats, chugging grooves and dark atmospheres it's a mix that resonated across the underground earning praise from Hernan Cattaneo and Cid Inc. Now available again, it much like the rest of Soulwerk's discography sounds super fresh and ready for dance floor destruction.
Next up we travel back to August of 2012 and the trio's first and only release on Mesmeric Records. Entitled 'Maneuver' it saw Israeli star Guy Mantzur on the remix following releases on Lost and Found and Sudbeat Music. Always noted for his incredible grooves and great dance floor sensibility Guy reworked the piece into smooth yet energetic bomb which won over the likes of Guy J and Hernan Cattaneo. It also marked the beginning of an incredible run for Guy who went on to have his music showcased on Diynamic, Kompakt and Systematic Recordings.
The release concludes something from Michael, Levan and Stiven's long relationship with Tash's Movement Recordings. Released in October of 2012, 'Violence' was remixed by well known Argentinean artist and long time Hernan Cattaneo favourite Marcelo Vasami. Known for his deep and hypnotic grooves Marcelo took the progressive minded original into laid back dubby territory with great results. The track once again earned praise from Hernan Cattaneo and was also selected by Beatport as a Must Hear selection for the week of its release. It rounds out a great second edition in 'Chronicles in Motion' which is fast becoming a retrospective series to look forward to. Don't miss it.