The latest release on Superordinate Music finds the label revisiting Robert R. Hardy's 'Sensus' EP.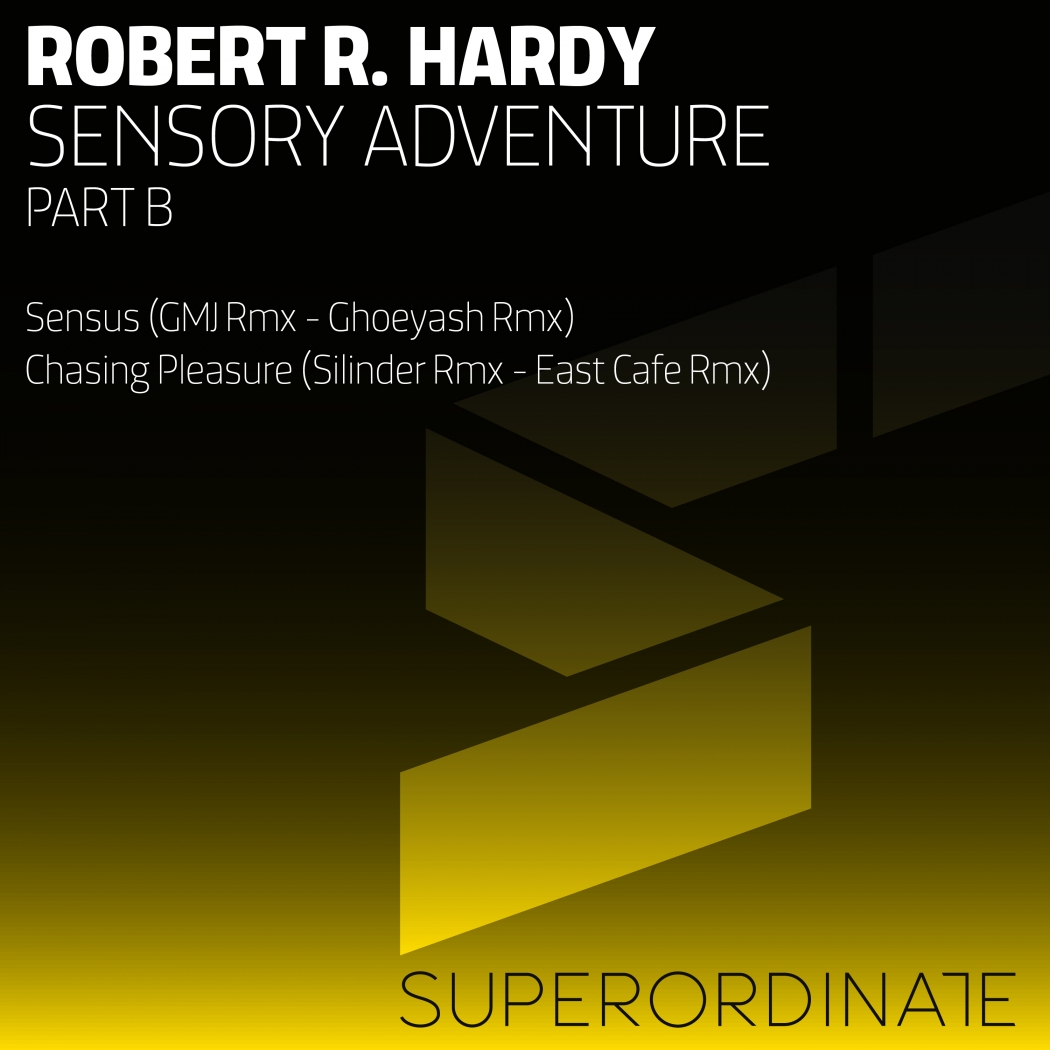 Originally released in September of 2015 it was just the fifth release on the label and the beginning of a great relationship with the Hungarian artist who has now appeared 14 times. Just over a year later we now see Superordinate calling upon GMJ, Ghoeyash, Silinder and East Cafe to reinvent the tracks for 2016.
For those unfamiliar with 'Sensus' and 'Chasing Pleasure' they were two of Robert's deep, chuggy and slightly melodic masterpieces. Everyone from Sasha to Armin Van Buuren chimed in with support and rightly so. Four new remixes of the tracks is a lot but there's just enough variance here that it makes for a great package. First up one of this year's hottest progressive artists GMJ who makes his label debut and takes the track into deep melodious territory. The funk and groove of the original is well maintained here but some added punch and just a touch of tech influence makes for an entirely different feel. Like a lot of GMJ productions it's the attention to detail which really sucks you in, the effects are light and airy making for a lovely cosmic vibe and the subtlety of the lead theme is perfect, not detracting from the strength of the groove at all. Gorgeous remix from one of the best progressive producers out there.
Next up Ghoeyash makes his second appearance on Superordinate following a contribution to the label's 'Super Collection' Vol. 1 from December of last year. More recent appearances on Clinique Recordings and Stellar Fountain have been sensational and he's turned in a lovely rendition of 'Sensus' here. Great beat patterns and an effervescent shaker get things underway before a murky take on the melody begins to drift into the framework. As meandering atmospheres fade in and out of coherence the breakdown commences with broken beats eventually giving way to a cosmic soundscape. It's brief and rightly so as this one is all about flow and it quickly picks back up for a third act journey that takes you further into the cosmos. 
No stranger to Superordinate Music, Silinder returns for his fifth appearance and brings his usual brilliance with a rather large interpretation of 'Chasing Pleasure' . The Irish producer's perfectly contoured grooves are always a thing of beauty and this one is super smooth. Whereas the original was of the deep and spacey variety Silinder ups the intensity just a touch with layers of beautifully crafted percussion and electric rhythms. It's makes for a sizeable first act with an abundance of tension before the main break brings a moment of radiant beauty. The low end delivers a foreboding rumble as the centrepiece progresses and combined with the celestial surroundings it's a pretty spectacular moment. Wonderful remix from Silinder and my fave on the release as well.
The fourth and final interpretation on the release comes from East Cafe who much like GMJ has been a hot commodity in 2016. Following a year with an abundance of support from Hernan Cattaneo the Hungarian artist has flourished with releases on ICONYC, Soundteller and Manual Music's MNL division. Over the years he's developed this funky, percussive take on progressive house that's quite unique and all his own. The character of his production is quite unique as well and always makes for a great listen. On 'Chasing Pleasure' he brings a big, beefy and heavily chunked up groove with the main melodic elements doing hypnotic damage over the top. The pads and soft chord stabs bring just the right amount of emotion to keep the subversive vibe integral and a tasteful third act seals it's brilliance. Lovely remix from East Cafe and another can't miss package from Superordinate Music.