The highly anticipated Sudbeats Volume Two is released as a special edition double CD, which features 24 brand new original tracks and is mixed by Belgian progressive star Pole Folder!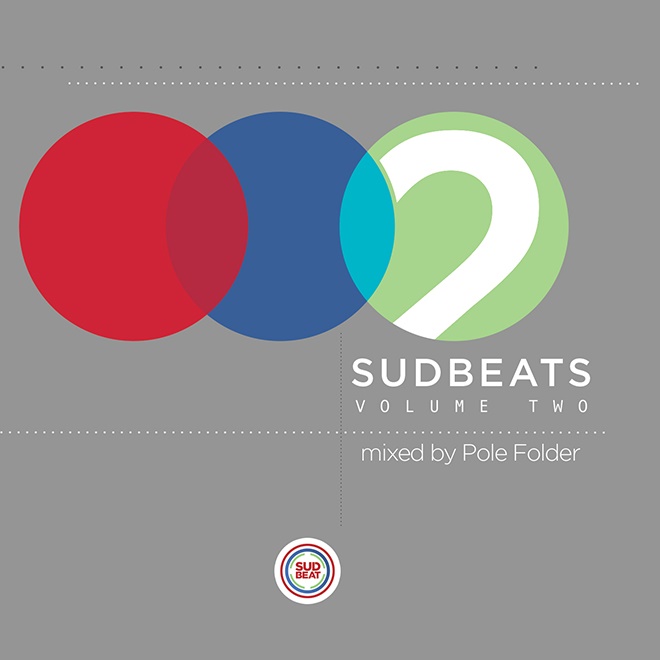 Pole Folder's "Pacific Orchestra," starts off the journey… the energetic tension that we're given from the get go is clearly indicative of the higher energy mix that is to come. Interesting to note Sudbeat's long running trend towards more energetic work: they have been known for their more laid back style in the past, but 2013 and 14 has so far seen a lot of movement in the music they've been releasing, and this compilation clearly aims to carry forward with that pattern. Pacific Orchestra starts off with glitchy background effects and moody, orchestral oriented emotions in it's chord progression, which are both instantly satisfying musically but also, as mentioned, are packed with tension. Nice mix of instrumental work, rhythm, and sonic diversity here from Pole Folder.
Next up is Chicola's "Cowboys & Angels," which takes a markedly deeper turn and goes back to a focus on the core elements in progressive that make you want to nod your head. A diverse, steadily moving percussive line, with little variations on the downbeat to keep you interested, a deep dub bass line, and simple synthesizer arps that melodically flow in and out of the track are at the heart of this. The housish piano synth minor chord that every so often makes it's way before a major arrangement movement, is a nice anticipatory touch for taking the song up a level in intensity and fits perfectly with the rest of the groove.
Veteran Nick Varon's "619" follows with a synthish riff-based tune that, in my mind, instantly summons the electro-heavy vibe of progressive house that was very prevalent in the mid 2000s. Simple synth lines, a saw bass that serves more as a platform for movement than a lead element, and a combined percussive/electronic background make for a collective vibe, where no major instrument stands out as a centerpiece, but rather the listener is enticed to take in the whole experience, and appreciate a general track ambiance rather than focus on any one characteristic.
Rising Argentinian star Marcelo Vasami puts his mark on the mix with his latest production "Issued By" coming next in the package, and with it a noteworthy rise in energy and intensity (you can get the sense we're really starting to cook now!). The rolling progressive bassline, heavy background string pads, and the touch of a vox-influenced synth stab all collectively produce a much more aggressive sound than what we've heard so far and combined with minimal percussive blips that serve to accentuate the rhythm, we're given a powerful combination to take in. The track's noticeably minor chord progression keeps it very dark and brooding, which fans of Vasami will instantly recognize and be pleased with, as it features all the characteristics of his hallmark moody style.
The transition into Beat Syndrome's "Deer" flows nicely from Vasami's track, fitting very well groove-wise and adding a twist of melodic variation from the darker, driving beat that we just experienced. Indeed the filtered-in organ pads give a rising sense that brings us into the focal point of the tracks melody: a strong vox pad minor chord riff which, acting as a lead, slowly takes over the stereo field of the track and not only gives the impression of "surrounding" the listener, it sonically shrouds the groove of the song as well.
This transition leads us into "Culture," from Spanish progressive and techno producer David Granha, who for years has championed a unique percussive and melodic style, and right off the bat we see this new record is no different. A melodic techno-influenced arpeggio greets us from the get-go, along with chunky, open percussion, which is a welcome change in pace so far for the compilation. Followed with some house-influenced vocals, drum rides, and hats, we're given an interesting fusion of classic house meets progressive techno.
We're led back into the darker progressive world from the previous digression with Cid Inc's "Typhoon," which continues on the deeper, brooding sentiment established earlier in the compilation and adds an element of depth to the vibe that fans of Cid's work will instantly be familiar with. The background, heavily filtered vox influenced pads, psychedelic sound effects, and slightly offbeat percussion all serve to add variation and contribute to carrying the general movement of the track, which at it's centre is the previously mentioned poignant and focal bass. Something should be said for an artist's ability to effectively combine all these elements together to create such a vibe: it's by no means easy, and each element plays it's part in the larger scheme so effectively here that Typhoon is, to put it simply, powerful. For me, this is the track of the compilation, and another smash hit from Cid Inc!
We're taken into a markedly groovier progressive vibe once again coming out of Typhoon with Luis Bondio and Silinder's "The Wold In Your Eyes," which, with it's funkier bassline and lighter synth work, once again bring us out of the darker motif of the package and into a lighter mood. Vox pads are once again employed here, accompanied by some lighter percussion. Bondio and Silinder focus purely and simply on the groove, with interlocking elements both synth and percussive based that come in and out of the track, along with different pads rising or floating in and out, that make for a very ethereal, pleasant experience that musically breathes throughout the track, rising and falling with every step, and overall conveys a very organic, natural feel. Nice teamwork here with an impressive sonic arsenal.
Focusing once again on the simpler elements, Mohn (NL)'s "You Won't Quit" pulls back from embellishment, focuses on a solid beat, and sticks to it. An addictive percussive line, a dark rising bass, and simple synth melodies fit together perfectly to provide a nice, dance-friendly rhythm that is pleasantly thought-provoking all the same. The vocal sample with a quantized delay adds a nice touch, once again contributing to the overall danceability of the track. The mid-bass's filter modulation and melodic progression add a similarly nice touch for variation. Well thought out, to the point, and consistent throughout make this a pleasant track that's well suited for a variety of club sets.
"Voidism" by BP, has a heavy Latin American influence both melodically and percussively, as well as well timed vocal sample, which has a tinge of tribal attached to it as well. What I really enjoy about this track in particular, however, is it's combination of the light and darker elements that we've heard throughout the compilation, fused together very creatively and capturing two diverse moods in a manner. The heavy bass line, open ended techy percussion, and energetic beat drops all hone in on a darker progressive vibe that is once again brooding and deep. The lighter, groovy elements in the organ based synth riffs, the vox, and the ethereal pads all work together nicely to convey a positive, dance-friendly appeal.
Kintar & Mariano Mellino are up next with "Passengers", taking things up a notch from an intensity standpoint with a heavy, driving beat that clearly leans to the more tech influenced flavours we've seen in the compilation so far, and then supplements that with some unique background sounds that, combined with the percussion, create a one-of-a-kind ambiance that surrounds the track sonically and gives it a markedly experimental feel.
Dutch head-turner Namatjira rounds off CD 1 with "Yamana," which leaves us with some fast moving rhythmic riffs, pleasant minor chord melodies, and some well placed ambient background effects for good measure. The track has some semblances of older, faster moving progressive that was prevalent around 2008 and 2009, with heavily swung grooves, quick timed arps and delays, and lots of notes to give a certain sense of urgency. In the same token, the sounds are all very fresh and new, and the movement of the song's arrangement is well paced to suit melodic speed, keeping things interesting and creating an ethereal, slightly uplifting mood, that is positively conveyed from artist to audience.  A really nice ending to CD1.
CD 2 jumps into the mix with a markedly different flavour, and one word in particular encapsulates Pedro Aguilar and Kevin Di Serna's combination mashup of "Devotion" and "Ailes:" deep. Deep is the name of the game here, with a dubby kick/bass combination, psychedelically brooding mid bass riffs, and trippy cerebral background effects. The dark undertones provided by these elements in tandem give for a moody, minor-chord powered effect that instantly draws in the listener for a sense of journey, and the producers do well here in recognizing what they have created and containing their sounds to be focused on this movement-oriented vibe. The floating saw synth pads, heavily modulated for variation, the tribal influenced drums, and the drone background that sweeps in and out all further contribute to this sentiment. We get a clear sense we are being shown the stage has been set for what's to come in this half of the mix.
"Lazy Tears," from Audiogliders, follows up the scene setters with a similarly dubby baseline, but decides to make use of the mid range more prominently with a markedly a housy influenced mid lead that features a turn once again to a lighter mood. The more dance-friendly vibe is further complimented by an array of panned high bell and vox synths, which are spread out well throughout the stereo field to sonically surround the listener. Finally the drums, once again lending to the South American influence seen so prominently in this compilation, serve to continue to push and reinforce the house oriented theme forward.
"Ghost Writer," from Australian producer Rich Curtis continues forward with an interesting balance of the housy and dark/deep elements we've seen featured so far, and then throws in some Curtis's own techy style for good measure. The main riff, which features a mid range bass and sub bass combo, has a slightly tech house oriented feel to it, different from the more mainstream house vibe we saw in the previous track, but this allows for a sonic feeling that is both underground and danceable, which fans of Curtis's work will instantly enjoy. The glitchier use of percussion, open rides and hi hats, and uniquely melodic arpeggiated riffs also typical of Rich Curtis's style all bolster this dancey, energetic feel that the track conveys. The buildup and arrangement are well executed, overall making this surefire dancefloor friendly tune that club DJs will enjoy implementing in their sets.
The darker mood this 2nd CD has strongly established so far is continued with Applescal's "Antenna Girl," which contains an almost trancey feel to it's chord progression, focusing on a lower range saw synth and rolling bass to convey the focal melody. An interesting track, with a unique flavour and definitely an unexpected ride melodically, thus in my book well worth checking out and hearing for yourself.
Mercurio's "What They Do" is up next, and in my mind also shows a heavy influence to older styles. In this one we hear a particular nod to early/mid 2000s traditional progressive house, with it's heavy hitting bass/kick combination and sonically outstanding percussive riffs. The breakdown then reveals a more ballaeric feel to it, with some additional trance influences thrown in for good measure. The arrangement is built well around maintaining this more ethereal energy, and the baseline's classic progressive rhythm keeps the movement smooth throughout.
Dale Middleton, a man who's caught the attention of many with his uniquely techy progressive style, weighs in next with "My Scream," which features a nice combination of several different sonic styles that come together to form a funky groove that is both pleasant and danceable. The influence of older electro house is apparent right off the bat with the lead riff, whereas the melodic undertones in the pads and the bass line are reminiscent of mid to late 2000s light progressive, which is a nice touch here as it creates a catchy sense of variation that keeps the track moving smoothly. Finally, the open yet minimally processed percussion has a tinge of melodic deep house, similar to the work of Lindstrom and Todd Terje, that lends a certain organic feel to song and once again reinforces a smooth movement between the transitions in the arrangement. Have to give credit to Middleton on this one: keeping all these elements organized in a cohesive manner is good work and nothing throughout the track ever ventures to feel out of place. On top of this, the main groove is naturally danceable, making this a fun piece for DJ sets and given it's various influences will be sure to make a diverse range of fans happy in the clubs.
The more melodic tangent Pole Folder has built with the last two tracks continues onwards with Solee's "Slowly," which maintains another catchy and grooveworthy feel with it's robust bass line and complimenting background riffs. Similarly to Middleton, "Slowly" pulls a noticeable influence from the electro-oriented progressive movements of 5-6 years ago. The bass line is highly reminiscent of the work of artists such as Jaytech and Michael Cassette, which were instrumental in characterizing that fusion of funk and melody at the time. Also like Middleton, Solee opts to include flavors from other genres for variation, such as the chopped vocal stabs, which add a very deep house vibe to the song, as well as percussion more reminiscent of proper traditional house. Once again, the elements work well together here, and the lead bass, which is the main conveyor of emotion in the track, is highlighted well.
Darin Epsilon's "Black Lotus" comes to us next, and returns back to a darker, brooding mood that we've become so familiar with in the compilation. Epsilon does a good job of balancing this with a funky, dance-friendly groove. The looming mid high riffs present throughout background establish the more ominous mood that creates a nice emotional tension. The main lead that we are greeted with following the breakdown continues on this premise, but is nice in that it never steals any attention from the funk in the bass and primary groove. Finally, the vocal effects, both with the occasional sample stabs and the female pad that come in and out of the arrangement every so often add a nice layer of complexity to tracks' vibe.
We're taken once again back to a more ethereal sound with "Disconnect" from Omar El Gamal, and in my mind it's in this track that the primary theme of the compilation is really solidified. Ambient pad work, the infusion of some more natural, organic sounding effects, and a lead that highlights the more melodic nature of the track while still keeping it firmly progressive in nature. While we've covered a diverse range of sounds that appear thematically throughout the compilation, from dark and cerebral to funky and techy, it's this melodic effect-heavy vibe that has remained the dominant force in the overall sense of the mix. El Gamal does a great job incorporated beat quantized delays and just the right touch of reverb that gives an open, airy feel that is sonically pleasant and thought-provoking at the same time. The track is meditative in that regards: it paints a complex landscape that, when taken in all together, feels like the journey a true progressive track ought to be.
Middleton is back on the comp again and this time joined by Lowbit head honcho Sonic Union for "Leaving Home for Home." The collaboration features some well programmed melodic riffs that interweave nicely to form a very groovy, cohesive vibe that flows in tandem with the bass, percussion, and background effects. I'm a particular fan of the automated delays on the main riffs: the producers will open the delays to build a nice tension that leads into arrangement changes very naturally, with a focus on maintaining smooth transitions that contain a tinge of suspense to allow for a nice flow as opposed to forcing any of the variations on the listeners. Sonic Union's smooth, semi-rolling bass along with crisp, open hi-hats are immediately apparent, whereas Middleton's knack for creative and unique arrpeggiated riffs stands out as the focal point in the track. This collaboration demonstrates true progressive house executed exactly as it was intended from a musical standpoint, and fans of both Sonic Union and Middleton will be very familiar and pleased with the hallmark elements known from both producers fused together here so well.
We take another techy turn with Tim Penner's "Exit Me," and his unique style of fusing progressive and techno becomes immediately apparent. Pitched down vocal stabs, creative percussive fills for variation, and dissonant pads establish his more tech-savvy framework: while the emotional main lead, dramatic sound effects, and supplementary string pad hits all highlight his progressive side. For what has always been such a drastic contrast, Penner as usual manages to bring it all together, and the arrangement, which is continuously building in complexity, continues to work every element he adds as the track progresses. "Exit Me," for all of this, is an interesting and unique journey that combines a lot of different sounds for a sonic adventure well worth the listen.
Our grand finale sees us with dPen's "Phobos," which continues along the techy premise built with Penner's track, and goes one step further with the addition of some tribal flavored percussion, more manipulated vocal stabs, and some intentionally dissonant riffs that all create a dark and suspense-filled atmosphere that leave you waiting with anticipation for every transition. dPen does well to follow through in this regard, because every change in the arrangement follows up intelligently in complimenting that sense of suspense, providing the audience with a moment of release before it begins to build the tension once again. When we arrive at the end of the major breakdown, we are treated with the full ensemble upon returning to the beat and this last major movement is truly satisfying in it's effective combination of all the instruments, and it's because of this sense of fulfilment after all the tension has been built, that we are left with a pleasant feeling upon the wind down of the track. If you're a fan of dark, energetic, and steady beat progressive tech, "Phobos" will easily satisfy you on all fronts.
Fans of the artists will be happy with the consistency of work seen here, and fans of Sudbeat in general will be pleased to find it's hallmark sounds were both prominently featured as well as innovated by the tracks that were selected. A solid team effort from all involved, and definitely a package not to miss.
Click here to pre-order from http://sudbeatstore.spinshop.com/ or order via the boxes below