Reworks Festival – 19th – 22nd of September
Thessaloniki, Greece
Reworks Festival has been supportive of the electronic music scene and culture in Greece since its beginning in 2015. It has helped position the smaller Greek town Thessaloniki in the global electronic music map. This year, in September, the festival returns for its 15th edition and will again bring together music talents and lovers from all around the globe and prove that Thessaloniki has the capability to breathe as a contemporary music city every September. This year's line-up is again bringing some of most cutting-edge artists as well as other talents that we've heard there before.
Line-up:
Anna vs June, Answer Code Request , ArKI, Apparat, Ben Klock, Dubfire, Future Of Matter, GusGus, Ison, KiNK, Kittin, Maurizio Schmitz, Mind Against, Peter Broderick, Sam Paganini, Senk,  Solomun, Sven Väth, Symmetric, Tendts
Tickets: https://reworks.gr/en/
Event: https://www.facebook.com/events/1226647764165023/


Abode in the Park – 22nd of September
London, UK

ABODE In The Park 2019 party returns and much like the previous year it will take place at Finsbury Park.
This year the team has guaranteed to build on the foundations of last year's fully sell-out festival and raise the level. The people's party, as they call it, will return, brighter and bigger – ABODE in the Park 2019. Check out this year's line up!
Line-up:
FISHER, Andrea Oliva, Danny Howard, Mambo Brothers, Nic Fanciulli, Paco Osuna, Richy Ahmed, GW Harrison, Ellie Cocks, Will Taylor, Artikal
Tickets: https://www.residentadvisor.net/events/1217371?fbclid=IwAR1EDk108Mmkl1thdzk2rAJQ6q6uc8QSshTcGh4mkKhGpOxqUOZSju8QAF0
Event: https://www.facebook.com/events/947300602130606/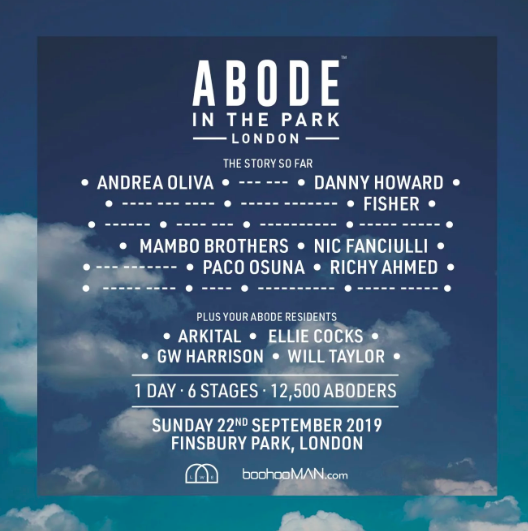 Groove Island – 27th – 30th of September
Catalania Island, California
On the weekend of September 27-30, 2019, the blissful and picture-perfect paradise of Catalina Island will become a carefully curated and all-encompassing celebration of life, positivity, and dance music. To accommodate the expected attendance.
Traveling to Catalina is only an hour ferry ride from Los Angeles and a little longer from Orange County. Or arrive in style by helicopter in only 15 minutes from the mainland.  Once at Groove Island, a whole world of music, sports, culture, and entertainment await, and attendees can curate their own special movie-like experience. Known virally thanks to the annual Catalina Wine Mixer–started after the popularity of the Will Ferrell film Step Brothers–Groove Island turns the energy up to 11. Whet Travel adoringly calls their fanbase "Captains" (nominated for best fanbase at XLIVE). They will be treated to over 40 dance music artists from multiple genres across several island venues while participating in day and night costume theme parties such as the "Roaring '20s" in the Grand Casino Ballroom with the largest circular ballroom dance floor in the world to celebrate 100 Years of Wrigley's Catalina. Additionally, Groove Island captains can indulge in an array of mouth-watering food available 24 hours a day, Whet Oasis chillout experience with yoga, meditation, and wellness workshops, a silent disco, side-splitting stand-up comedy, and plenty of other adventures also await.
Video:
Website:
https://www.facebook.com/GoGrooveIsland/
Outlook Festival – 4th  – 9th of September
Fort Punta Christo, Croatia

This September, Outlook Festival in Croatia will again gather together more that 12,000 international music fans to experience one of the best sound systems a festival can offer at an unbelievably surreal location. Set in an abandoned 19th-century fort nestled over the Adriatic sea, with daytime beach sessions and countless boat parties. The festival is the perfect choice for a music lovers who are looking for a festival with quality sound and line up as well as a summer holiday. The line was revealed early in January and includes some of the most up-to-date and respected artists from various genres – drum & bass, hip-hop, garage, grime, dubstep, dub, reggae, house, techno and electronica. To find out more about the tickets and the full line up visit their facebook, website or resident advisor pages.
Tickets: https://www.residentadvisor.net/events/1213209
Event: https://www.facebook.com/events/252337602102050/
Soft Centre Festival – 14th of September 2019
Casula Powerhouse Arts Centre, Australia
Soft Centre is only a one day festival. The festival will take place in Casula Powerhouse Arts Centre in South West Sydney in Australia. It is aiming to offer something quite unique. If you are looking for a typical summer housey-groovy festival, this might not be the place for you. Expect to have your expectations broken, and hear experimental electronic music, radical performance art, large-scale light installations and new media works. The music festival was awarded 'Music Event of the Year' at FBi Radio's 2017 and 2018 Sydney Music, Arts & Culture Awards. Check out the line-up if you are into this type of music or if you want to familiarise yourself with it in advance.
Line-up:

110%, 33EMYBW, Atro, D-GRADE, Defektro, Female Wizard x Jada pres. What Is Human ?, Gail, Priest x Karul Projects, Gooooose, INNR & Thrax pres. ○̥͚̐̔, Jannah Quill pres. SIGHT with House of, Vnholy, Kilimi, Lilly Kane, MILAT, Monako, NETTI, Nkisi, Shohei Fujimoto, Tralala Blip, Wytchings§
Tickets: https://www.bit.ly/SOFTCENTRE19
Event: https://www.facebook.com/events/332736167644297/