Check out the biggest Winter Festivals this year with world class DJ's such as The Martinez Brothers, Ricardo Villalobos and Sasha & John Digweed.
Summer might be over and Ibiza a distant memory, but the parties don't stop.
In fact, this winter there are more raves than ever in some really spectacular locations, all of which make for superbly festive experiences with world class sound tracks.
Here are some of the best.
————————————————————————————————————————————-
SXM Festival
Saint Martin, The Caribbean
https://sxmfestival.com/
https://www.facebook.com/SxmFestival/
March 11 – 15, 2020
Set on the paradise island of Saint-Martin / Sint-Maarten in the Caribbean, featuring a wealth of international DJs and electronic music talent, SXM Festival prides it itself upon drawing the most discerning crowd of music lovers. A reaction to large, faceless festivals around the world, SXM sees an influential group of dancefloor aficionados – who value and respect the scene's history and culture – come together in beautiful surroundings to dance together and experience the joys of one of the Caribbean's most fun and friendly locations.
Lineup includes: Bedouin, Blond:Ish, Britta Arnold, Cassy, Chaim, DJ Tennis, Enzo Siragusa, Holmar, Jade (CA), Jan Blomqvist (Live), Jenia Tarsol, Loco Dice, Luca Bacchetti, Maga, Maher Daniel, Marco Carola, Parallells (Live), Ricardo Villalobos, Rony Seikaly, Sabo, Sainte Vie (Live), Serge Devant, Sonja Moonear, Unders, wAFF, YokoO
Envision Festival
Uvita, Costa Rica
https://envisionfestival.com/
https://www.facebook.com/EnvisionFestival/
Feb 17 – 24, 2020
Envision is the world's biggest eco friendly festival, a 7 day wellbeing and music experience held on Costa Rica's Pacific coast where the jungle meets the ocean. There's a big focus on yoga: classes run all day in two 'yoga temples', with top teachers from around the world. Expect workshops on anything from permaculture to natural remedies and astrology, while music – across four stages – will be provided by local and international live acts and DJs. 2020 will mark the 10th year anniversary of Envision, so expect bigger and longer celebrations for this special global landmark event.
In an effort to leave a positive footprint, Envision hosts a reforesting program which has planted more than 12,000 trees over the last 8 years. To protect the environment and cut down on waste, ALL single use plastics and outside alcohol are banned, while vendors serving foods onsite pledge to uphold Envision's commitment to buy locally grown produce for an authentic dining experience that can't be found anywhere else in the world.
Lineup includes: Rufus Du Sol, Tipper, Clozee, Monolink, Yokoo, Be Svendsen, Random Rab & many more

Groove Cruise
Miami
https://groovecruise.com/
January 9th-13th 2020
Headlining the world's premier electronic music cruise are internationally acclaimed artists Above & Beyond, KSHMR, Loco Dice, Markus Schulz, Nora en Pure, Roger Sanchez, Solarstone, Cocodrills, and 40 other artists who the winner will appear alongside, plus a free stateroom for the winner and a guest aboard the Celebrity Infinity, as well as airfare for two (a prize worth more than $3,500!). What's more, the winning mix will also be featured on Groove Cruise Radio with an audience of more than 100,000 subscribers. The second-place mix picks up a fantastic prize in the form of Two Adam Audio A8X Studio Monitors (valued at $2,000) courtesy of contest platform partner SoonVibes.
Mixes of 30-60 minutes focusing on electronic music must be uploaded by November 15. To get a sound of the floating music festival, check out the Official Groove Cruise Miami 2020 Spotify Playlist featuring all the artists that will be onboard.
Voting opens to the public from November 15 to 22, and the top 10 most popular mixes will go on to the second round November 23 to 26. The five final mixes will then be judged by a panel including industry experts, our partners at EDM.com, and Groove Cruise headliners, plus resident DJs and previous contest winners who have become Groove Cruise regulars!
Project Sound
Tulum, Mexico
https://www.facebook.com/projectsoundmx/
January 4th / January 6th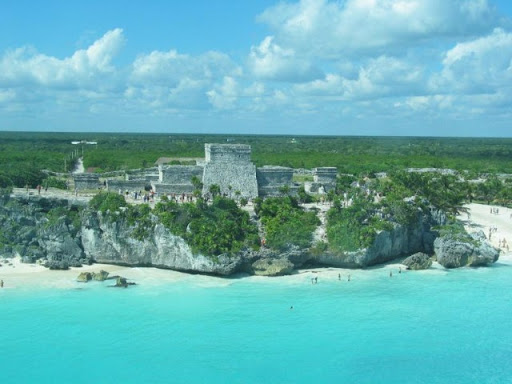 Cult and long established promoters Project Sound invite you to spend the New Year with them, deep in the mystic jungle of Tulum, Mexico at their specially built new club, Templo Xunanha. This organic structure will come alive with Mayan spirits and world class sounds from Solomon, Maceo Plex, Ame, Dixon.
Project Sound have been creating special, high quality events at the Riviera Maya for more than 12 years. They are always respectful of the magic of the Mayan land and put together tasteful line ups in unreal locations, always with a focus on world class sound and production.
After that on January 4th is Solomun's world renowned +1 concept makes the trip over from its home in Ibiza and will see the Diynamic label founder play with Maceo Plex, the space techno pioneer behind the Ellum Audio label, all amongst the incredible nature of the jungle.
Then, on January 6th, masters of deep house emotions and Innervisions founders Âme and Dixon will play back to back for an extended all night set that will find them go into every corner of their record bags to serve up a truly enchanting set.
These three parties are set to be historic night in the heart of the Mexican jungle that will be talked about for years to come.
Les Dunes Electroniques
Nefta, Tunisia
http://www.dunes-electroniques.com/
https://www.facebook.com/LesDunesElectroniques/
Nov 16 – 17, 2019
Les Dunes Electroniques was founded in 2014 as a collaboration between the Ministry of Tourism and Handicrafts of the Republic of Tunisia. After three years away, the festival makes a welcome return in 2019 from September 21-22nd. The action goes down at Ong Jmel, near Nefta, at the gateway to Tunisia's southern desert—globally recognised as the setting of Luke Skywalker's hometown, Mos Espa, in the original Star Wars franchise. This unique musical adventure will serve up 30 hours of uninterrupted music from the Tunisian, French and international electronic scenes with more than 30 artists on the bill.
An unprecedented format, an exceptional natural scenery, a strong representation of the Tunisian youth … all the ingredients are gathered to make this third edition unforgettable, in the process providing a unique experience to the public of DUNES ELECTRONIQUES.
Artists include: Axel Boman, Apollonia, Nicolas Lutz, Luciano, Behrouz, Stimming and many more
E Komo Mai 
Hawaii
February 14 – 17 2020
https://cutt.ly/he0set7
E Komo Mai means "All Are Welcome" in native Hawaiian and  is the ethos of a new dance music festival in America's paradise, Hawaii. The festival takes place on the island of Oahu, known as the gathering place by ancient Hawaiians and an international travel destination today. Celebrating the famous island and its Aloha Spirit through both music and culture, E Komo Mai is an intimate weekend of curated events that make the most of Oahu's unique scenery and settings. Taking place February 14th to 17th 2020 over a three day weekend with talent such as DJ Dan, Doc Martin, Mikey Lion, Sacha Robotti and Kill Frenzy plus many more names to be announced.
LXM Festival
Lisbon, Portugal
https://lxmfestival.com/
https://www.facebook.com/events/463071607842273/
December 13, 14, 15th 
So, it happens and we present something that we have definitely been settling since 2004, is the biggest event of LXMUSIC to date, an event only possible now, after 14 years of affirmation and sharing with Lisbon and the world the best of the universe of the world. electronic music. There were hundreds of artists above the thousand who shared with us and built the foundations, paths, new starting points for the present and the future.
The LXM Festival is based on an adult, concerned and responsible concept, which aims to affirm and believe electronic music as an expression and as an art form, no doubt. It is also a sample for the new generations; what is expected again; what is there to explore.
The LXM Festival also emerges based on the evolution of technologies and science. The venue for the event, the Parque das Nações International Fair of Lisbon, is located in Nova Lisboa, where the best means and accessibility are located, constituting as a reference of technological development, with road, rail and air communications. few minutes from each other.
FRIDAY – 13th December
Boris Brejcha [In Concert / Album Release Tour]
Ann Clue
Deniz Bul
Theydream
SATURDAY – 14th December
I Hate Models
Benjamin Damage (Live)
SUNDAY – 15th December
Ben Klock
Dax J
Paula Temple
Answer Code Request (Live)
Etapp Kyle

Heart Festival
Miami, Florida
December 6th & 7th 2019
https://factory.electrostub.com/event.cfm?id=210868
https://www.facebook.com/heartfstvl/
On December 6th and 7th, 2019, attendees of Heart Festival at Wynwood Factory will have the unique opportunity to experience the return of a legendary concept.
For Art Basel 2019, the team behind Heart Nightclub is reawakening the beloved brand as a 2-day, 63-act, genre-bending festival at the beautiful Wynwood Factory. Designed by the experienced team behind Heart Nightclub and Humans Alike, Heart Festival at Wynwood Factory features over 60 of the best electronic DJs and live performers utilizing three distinct rooms and one open-air lot, each featuring a top-of-the-line sound system and a distinct energy. The lineup features top-tier techno staples such as The Martinez Brothers, Sasha & John Digweed, Damian Lazarus, Cassy and Bedouin, but also brings live performers and creative up-and-comers, such as Rodriguez Jr.
Lineup Includes: The Martinez Brothers, Sasha & John Digweed, Damian Lazarus, Bedouin, Andrea Oliva, Artbat, Boris, Brina Knauss, Carlo Lio, Cassy, Chelina Manuhutu, Cocodrills, Culoe De Song, Davide Squillace, Denney, Fiin Guy J, Hector, Hugo Bianco, Ilario Alicante, Popof, Rodriguez Jr. (live), Technasia & many more
EPIZODE⁴
Phu Quoc, Vietnam
https://epizode.com/
https://www.facebook.com/epizode.official/
Dec 27, 2019 – Jan 7, 2020
EPIZODE is a unique coming together of music, art and culture in Vietnam's most picturesque island getaway, Phu Quoc. The 11-day long festival kicks off after Christmas and ploughs through the hustle and bustle of the New Year with magical sunsets, gorgeous sunny days and endless chances to explore the culturally rich local island all with a world class soundtrack.
Over the last three editions, the festival has quickly attracted a friendly, culturally curious crowd looking for new experiences. In 2019, attendance rates doubled from previous years, with more than 10,000 people from 79 countries attending including ravers, industry folks and avid travellers who get lost in a dreamy environment that comes alive with next level production, gigantic sculptures, installations and light shows that make it an unreal artistic setting.
This year the festival will focus on green credentials with a new eco-initiative that will substitute plastic straws with organic ones made in Vietnam, introduce a cup-sharing system, reusable pocket ashtrays and a focus on educating the team, local partners and the audience about the responsibility that one can take to prevent the collapse of the ecosystem, through a series of advisory meetings, lectures, cleaning actions on the beach, in the forest, on the road and so on, all of which adds to the importance of Epizode Festival.
Artists include: ANJA SCHNEIDER, APOLLONIA, BEN UFO, CRAIG RICHARDS, GUTI, LEHAR, LILLY PALMER, LOCO DICE, LUCIANO, NICOLAS LUTZ, RARESH, RICARDO VILLALOBOS, wAFF, WILLIAM DJOKO & MANY MORE