The 24th release on Clubsonica Records finds the label showcasing its first ever ADE Sampler.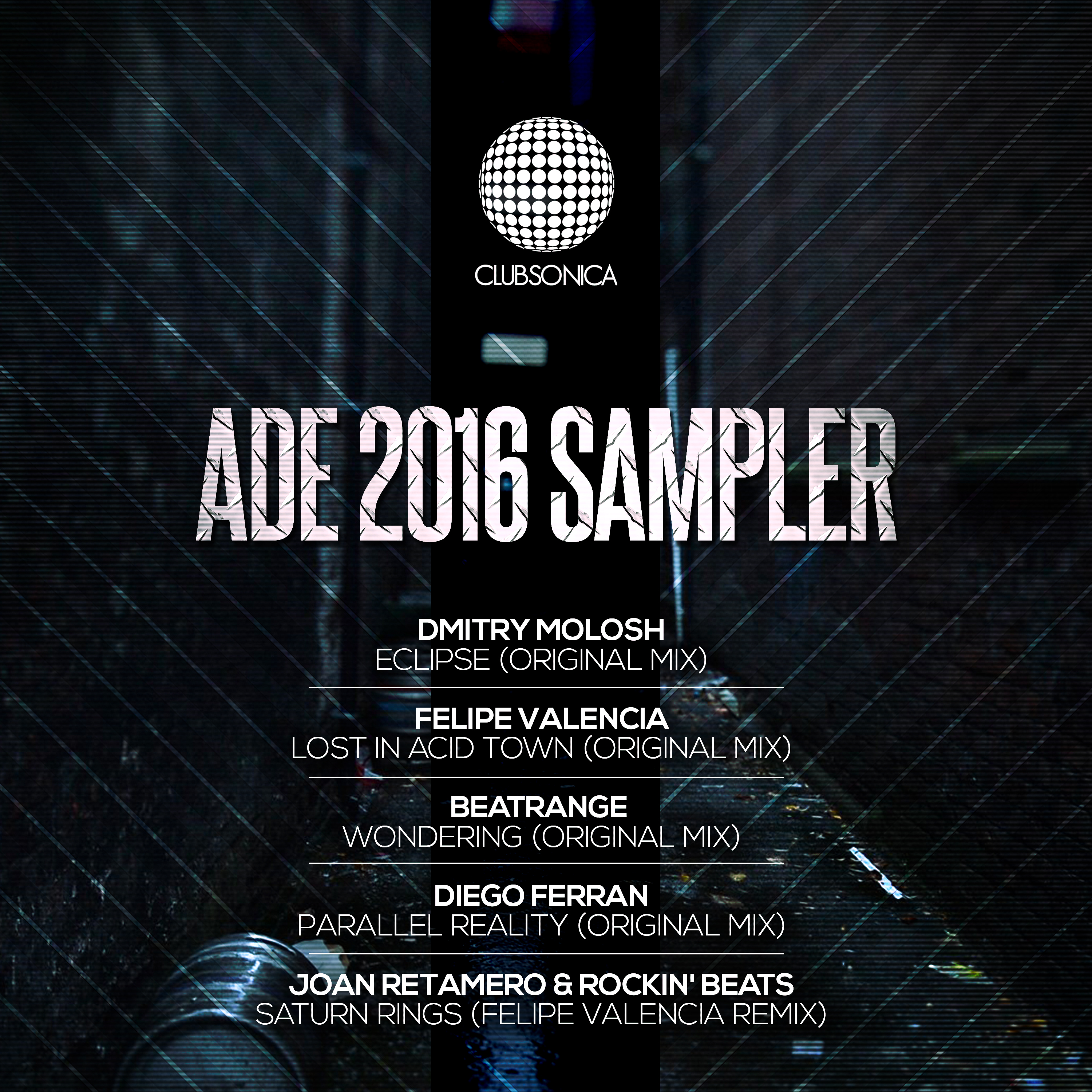 The Amsterdam Dance Event has long been a testing ground for the fall season's biggest records and has fast become one of our industry's biggest and most important annual conferences. Featured on Clubsonica's inaugural ADE Sampler are Dmitry Molosh, Felipe Valencia, Beatrange and Diego Ferran.
Leading the collection off and making his first appearance on Clubsonica is Dmitry Molosh. The Belarus based artist calls Cid Inc's Replug Records and Guy Mantzur's Plattenbank Records home. Now regarded as one of the leaders in the progressive house sound Dmitry presents some of his best ever work with 'Eclipse'. Electric grooves, firing percussion and sweeping effects make for a monumental first act before leading the track into a section of acidic hooks. Rough and rugged in all the right ways it's an infectious energy Dmitry has conjured up and with a tension filled break it's sure to leave a lasting memory on the dance floor.
Next up, Felipe Valencia returns to the label for his third appearance. The Colombian artist last appeared with his remix of Kamilo Sanclemente's 'The Art of Voice' from November of last year. Now embarking on his first ever original for Clubsonica, Felipe presents his latest studio creation 'Lost In Acid Town'. Aptly titled the scrappy tech house groover flows through a storyboard of acid lines while elusive effects and billowing tonal themes take you further into the cosmos. A timely break sees Felipe build tension through his warped constructions before the full percussive complement drops for one of the track's many magic moments.
The EP's third selection welcomes more Colombian talent with Beatrange making his label debut. Mateo Escobar Duque has just one release under his Beatrange alias but has also recorded under the Matthouse alias where he has appeared on Sleepless Music and Xpace Music. Now fully committed to building the Beatrange moniker Mateo presents 'Wondering' which looks set to be his most sought after creation to date. Beginning with a funky groove the piece slowly develops several hypnotic motifs, which get intertwined into a mesmerising, thought provoking first act. The break might be its strongest suit with the introduction of a piano, furthering the emotional storyboard as the perfectly placed vocal samples continue to tease the senses.
The fourth selection welcomes Diego Ferran to the label for his debut appearance. Also hailing from Colombia, Diego has already amassed a well kept discography over the course of his two and a half year production career. Appearances on Soundteller Records and Suffused Music have been highlights and the future looks bright with a bevy of new material on the way. His contribution here 'Parallel Reality' comes in dark, moody and incredibly groovy. Brooding bass tones, percussive waves and an ominous atmosphere fills out a great beginning. Spiralling synth motifs flow through a chain of tastefully tripped out modulation, before the main break brings indistinct vocal elements and a huge drop setting up a mesmerising conclusion.
The Sampler concludes with Felipe Valencia making his second contribution. This time with a remix of 'Saturn Rings' by Joan Retamero & Rockin' Beats which was the label's 18th release from March of this year. Its emotive qualities still resonant and Felipe has reinvented them wonderfully with an edgier techno inspired interpretation. Following its rough and funky beginnings Felipe brings the main motifs in for a moment of shimmering hypnotic beauty. All set over a minimalistic yet monumentally funky groove it not only brings a unique emotional vibe but closes the release out on a thought provoking note.