The 341st episode of our 12 Questions segment features producer Rodrigo Kesovija.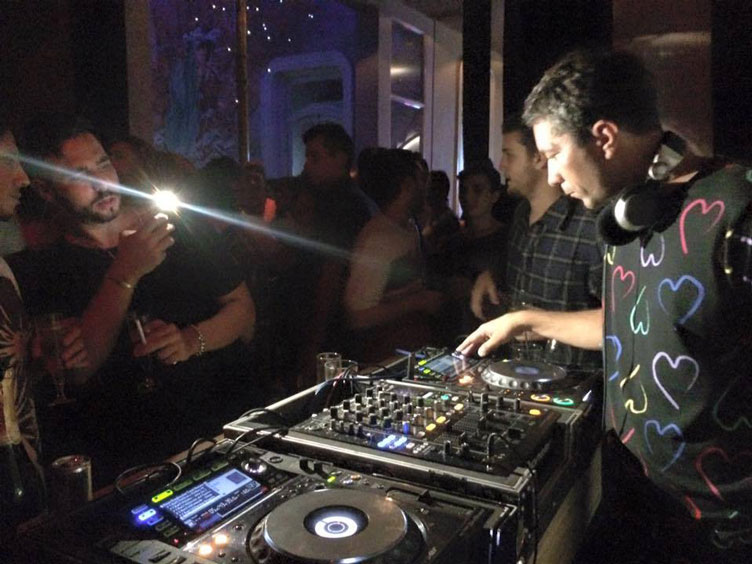 1. How old are you, where are you living and how long have you been producing and Djing?
Hello , I am 38 years old , I live in Rosario City , Santa Fe , Argentina , Started to produce about 2 years ago, and as a DJ took about 13 years.
2. Where do your musical roots lie, what are your first memories of electronic music and when did you know you wanted to pursue it seriously? Are there any particular productions or artists from the past that really made you think to yourself 'this is what I want to do."
I Remember, that would assemble small parties with our friends and listened to artists like Depeche Mode, Madonna, Pet Shop Boys, Erasure, EMF …. Then at age 14 went dancing at a nightclub Matinee , where they spent early music House , new Beat, Techno, Acid and for me it was something totally new and truly loved me, listen to artists like KLF, Snap, C & C Music Factory, Doctor Alban, Barbara Tucker, Junior Vasquez, Erik Morillo, Master at Work, to name a few, but I never thought I'd devote myself to produce music really only limited me to dance.
Then at age 17 I began to discover more underground Lifesaving or clubs for adult people, also with Music House or Techno there was where I started to hear national artistes and local talents and already started to link me a little more with the music was going to record stores to listen vinyls, listened to a lot more music in some radius linked to electronic music and started recording my first cassettes, sinta cut, splice, making homemade mixes cutting just the subject in the fourth stroke, or on the downhills.
3.How difficult was learning to produce for you in the beginning? Did you take any Audio Engineering programs or production courses to help you out or are you pretty much self taught? And did anyone give any advice early on that really helped?
Actually I still still struggling to be honest, I started watching tutorials on youtube, about how working Ableton live and how I could create my own music and to this day I still do, only I also count on the help of great DJs & Producer , some close to my city as Ivan Miatto or Mario Puccio and also those I know thanks to the music and have dialogue often via Facebook and living in other cities such as Lucas Rossi, Julian Rodriguez, Diego Berrondo, Maxi Iborquiza, Martin Gardoqui by to name a few with which I have always more fluid contact and exchange ideas and ask any advice.
4. What parts of the production process do you find the most difficult and what comes easiest for you? When you do hit a creative block what helps you through it?
Generally, I start with a base and then follow with low and there with everything else, often it happens to me that I start a project and can not find a way to finish it, so either I show a friend, to see as I can go, or I send it and we do it together or as often happens to me, I leave saved and get inspired listening to a nightclub to some dj I like, then I get home and open it and finish it.
5. What's a normal day like for you? Do you have a job outside of electronic music? And what do you like to do when you're not working on music?
I work in a food distributor, get up early, I come home in the afternoon, spend a moment with my dogs, I start to check the mails, talking to friends via facebook, I listen productions that sent me and usually just listen to music the way to work or when I'm on the road home, with headphones, I see a movie, but not every day the same, sometimes if I get to listen to music at home, or go out with some friends for a drink etc …
6. Apart from electronic music what other genres do you listen to and who are your favourite artists outside of electronic? and do these genres or artists have a direct effect on your own productions?
As a teenager if he heard other styles more varied music for calling him somehow, Punk, Rock melodic and much Pop, but as I got older I was staying with what today I listen and always will listen, Musica Electronica, House in different variants, but if I have to be somewhere with friends who listen to other music does not bother me the truth.
7. What was the first and last physical (CD, Vinyl, Cassette etc) piece of music you bought?
The first was a CD of Paul Oakenfold, called Tranceport in 1998 and the last purchase was also about that time, in 2000 a CD triple called Cream Anthems , indeed even those I keep …. after just I bought minidisc and I recorded a lot of music
8. Tell us something about yourself that might surprise people?
Very few know, so I'll share, from very young I hired split dancing in nightclubs, loved dancing, we got together at someone's house to watch videos of Madonna or videos of pop music in general, to copy the movements and then We put into practice in the nightclub !!!!!
9. Which producers in your opinion get consistently overlooked?
There is a lot of talent in my country, which could you name are already well known on the world stage as far as production is concerned, but at the national level should give more support artists like Julian Rodriguez, Lucas Rossi, Ivan Miatto, Nicolas Rada, Antrim, to name a few.
10. Which producers consistently inspire you? And where else does your inspiration come from?
Generally does not inspire me to hear another artist, when producing a track, because end up doing the same as others, if I can inspire listen to someone when doing a DJ set or perform a presentation to some disco and I really like John Digweed does is, it is only the truth as to what musical and as leads to the public all night.
11. There are countless producers out there trying to find their way and create their own unique sound, what advice do you have for them?
While we are all unique and incomparable, lately I've been listening to many producers sounding very much like each other or hear people who only makes music for someone in particular, the advice I could give is to be authentic and you will not look like someone, because eventually they will lack identity and if ever you see are not sure a track or do not like at all, not make you listen to your head, share it be heard some friends and see that everyone has a different perpectiva to what one listen out.
12. If the final DJ/live set of your career was next week what would your last track be?
Robert Babicz – Dark Flower (Joris Voorn Magnolia mix)
'Deep Romance' is out now on Clubsonica Records, you can purchase the release: here