The 342nd episode of our 12 Questions segment features producer Emi Galvan.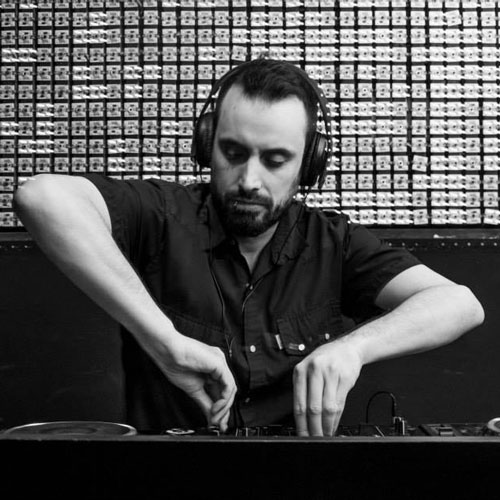 1. How old are you, where are you living and how long have you been producing and Djing?
Hi, my name is Emi Galvan, I'm 33 years old and I'm from San Antonio de Padua, a little city in Buenos Aires, Argentina.  I started producing about 2 years ago and I have been Djing for the last year and a half. I'm fairly new in the electronic scene!
2. Where do your musical roots lie, what are your first memories of electronic music and when did you know you wanted to pursue it seriously? Are there any particular productions or artists from the past that really made you think to yourself 'this is what I want to do."
Well, first of all I'm a musician. Guitar player and singer of the band "Lokesea". So, my musical roots are more like from "the rock side". I grow up listening bands like The Beatles, Pink Floyd and Queen. My first memories of electronic music are like 20 years before,  experiencing with my old Cakewalk , programming drums beat by beat and any synth that my Sound Blaster 16 bits supports. It sounded awful… I always take it as a hobby, but 2 years ago I started to focus more on electronic music and wanted to pursue it seriously. I think that artists like The Chemical Brothers, Groove Armada, Underworld and Faithless started to make some noise in my head and want me to do something like that.
3. How difficult was learning to produce for you in the beginning? Did you take any Audio Engineering programs or production courses to help you out or are you pretty much self taught? And did anyone give any advice early on that really helped?
Is always hard at the beginning. It's that difficult what keep me wanting to continue learning. I love to learn and the electronic music world is so big and has a lot to learn.I think YouTube is one of the best academy you could have and its free! I learn A LOT there. But I also take some courses to learn some specifics tips and tricks that maybe they aren't on YouTube. Fortunately, also have some sound engineer friends that helped me a lot.
4. What parts of the production process do you find the most difficult and what comes easiest for you? When you do hit a creative block what helps you through it?
The creative part is the most difficult. I always start with a melody in my head, then I recorded it on my phone, because 2 minutes later I will forget it (sad but truth, this is crucial!). Then I build up the track on the computer.  If you are not inspired, the best thing you can do is going to bed and come back the other day
5. What's a normal day like for you? Do you have a job outside of electronic music? And what do you like to do when you're not working on music?
Yes, I have a full time job. I get up at five o clock and go to work. I'm a multimedia designer in a big retail company. Then back home some days I play with my band, others work with new tracks or record new episodes of my podcast "Sound System" for Main Radio. When I'm not working on music, I like to go out and LISTEN to music! I have a lot of Dj Friends, so always have parties to go. If I'm tired I like to rest at home and see some movies.
6. Apart from electronic music what other genres do you listen to and who are your favourite artists outside of electronic? and do these genres or artists have a direct effect on your own productions?
I listen a lot of other genres outside the electronic music. I started listening grunge bands like Nirvana, Soundgarden and Pearl Jam. I'm a big fan of Faith No More. I love all the New Metal genre, big fan of Korn, Deftones and Limp Bizkit. Punk, reggae, pop, if it is good, its good! Im too open mind to only like a few genres. That's why I love electronic music, its different from a band and makes me feel different things, different feelings, different connection with people. Of course I think that all this artists have some effect on my productions. All that melodies are in my head, drum fills, baselines, feelings…
7. What was the first and last physical (CD, Vinyl, Cassette etc)  piece of music you bought?
My first cassette I bought was "The Spaghetti Incident" by Guns 'n Roses, I was 10 years old! And my last I don't really remember. I think it was a CD of "Aenima" by Tool, great band!
8. Tell us something about yourself that might surprise people?
I don't like dogs! jaja
9. Which producers in your opinion get consistently overlooked?
I don't really know about overlooked producers. But I can say that here, in Argentina, there are a lot of new producers that they deserve to be heard because of their great music and all their passion for the electronic music.  I think you have to check N'Pot music, he has a great deep and dark feeling with great groove, Nicolas Petracca for a nice progressive and melodic journey, Juan Astudillo is constantly making great music and Seba Bustos has a lot of high quality tracks and also so much future. I support them a lot!
10. Which producers consistently inspire you? And where else does your inspiration come from?
I like the way Alex'O Rion mixes his tracks, I listen and learn a lot from him, I'm a big fan. His productions sounds amazing! Donatello is another of my favs, another genre but I love that hard tech sound. Lee Van Dowski also made a lot of freaking tracks that I like. But they are all artist I like to listen, I think that my inspiration comes from my head and the day I have. All start with a melody, a vibe in my head.
11. There are countless producers out there trying to find their way and create their own unique sound, what advice do you have for them?
Well, keep trying! Nowadays it's difficult to sound different and stand out, there is a lot of great music out there. You need to learn and practice a lot until you find your style, your sound, your path. I'm still searching! The electronic music gives you that possibility of experiment something new in each track, you can create whatever you want and that's the reason why I'm here.
12. If the final DJ/live set of your career was next week what would your last track be?
I can't even think about my last Dj set of my career, that would be hard! But I think that my last track would be one that reminds me my beginnings. "Star Guitar" of The Chemical Brothers will be a nice emotive closing track. Or "Cowgirl" of Underworld would be a great choice if I want to blow up the dance floor for the last time!
'Hunter' is out now on Balkan Connection, you can purchase the release: here