The latest release on Tim Penner's Slideways Music finds Aerodroemme & OPL with their first collaborative project alongside remixes from RPO and Tripswitch.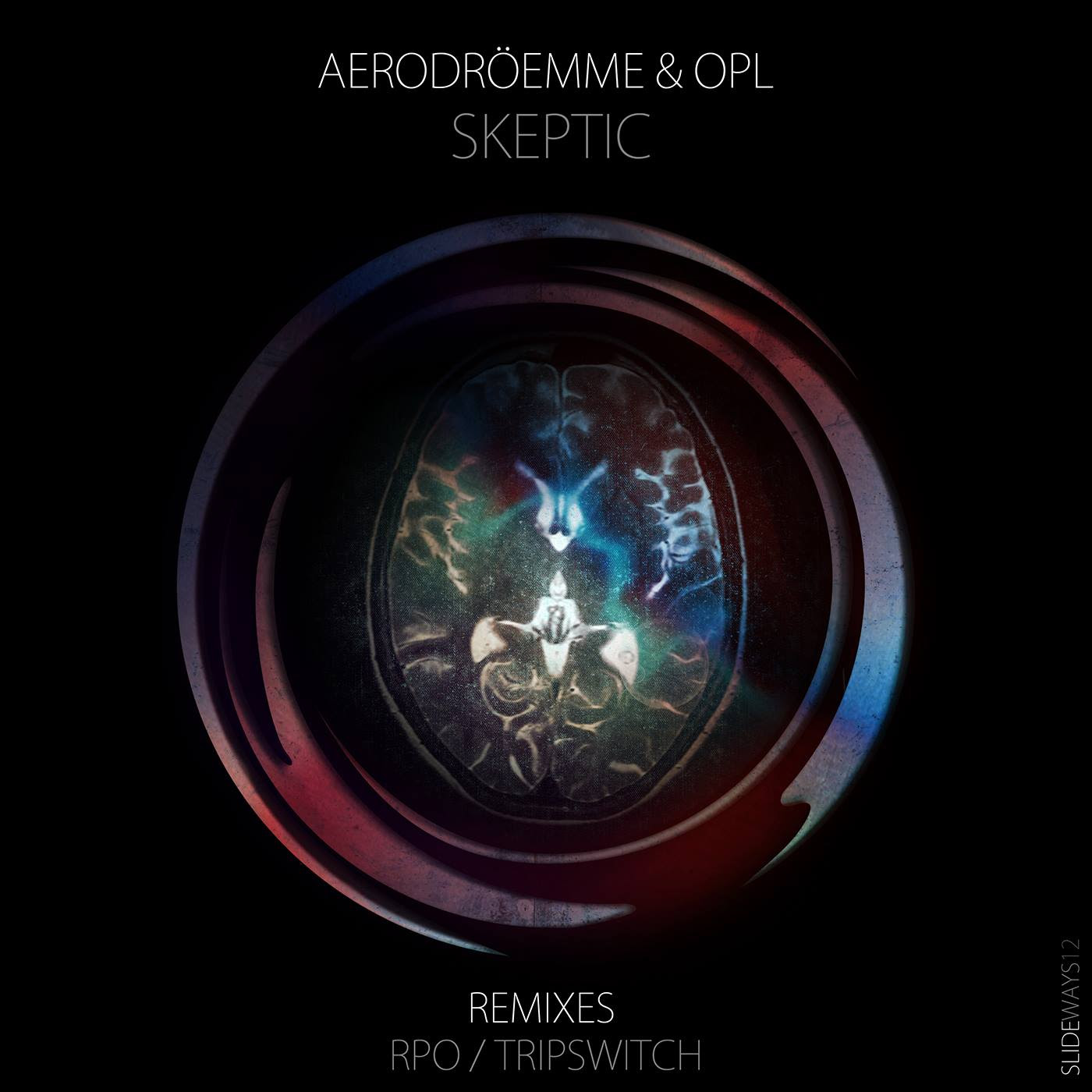 Hailing from Toronto, Canada; Boris Shankar and Steve Chan make up the Aerodroemme production team while OPL is well known vocalist / producer Amber Long. OPL is a more techno inspired alias for Amber and given Aerodroemme's pendant for crunchy, psychedelic beats this is certainly an exciting release.
The EP begins with the title track 'Skeptic' and right away you can feel Aerodroemme's psychedelic roots coming through in the track's foundation. Tough and driving, the first act is a chugging, energetic ride filled with dark stabs, cymbal rides and waves of white noise. This takes you into the break where a recurring 'Skeptic' vocal sample slowly gnaws away at your senses and builds some huge tension as a result. The stripped back drop is perfect as well, nicely scaled down with those dynamic kicks doing just fine on their own. Big original from Aerodroemme & OPL.
The companion piece 'Enceladus' finds Aerodroemme & OPL going into more subversive territory with pulsating grooves and spacey designs. Amidst the driving energy there's a foreboding vibe locked in those evolving soundscapes. Quirky synth hooks and a fluid percussive wave play heavily here, making for a mesmerizing journey. A stripped down second act only adds to the intrigue before a wave of white noise unleashes the two lead motifs for a fiery finish. Definitely one for a late night floor. 
RPO and Tripswitch are two artists that I would definitely associate with what is quickly becoming the Slideways sound, and they both deliver on the money remixes here. First up RPO takes 'Skeptic' into deeper, chunkier territory with a spacious groove and smooth hypnotic cadence. The vocal storyboard and granular decay are the star of the show here making for a truly colossal sounding production, add to that a monumental build out of the main break and you've got one of Rick's biggest productions in quite some time. This one's mean, don't miss it! 
Closing the release out is Tripswitch who is making his first appearance on Slideways. Nick Brennan aka Tripswitch has a been a primary contributor to leading European label Iboga Records over the last four years. His unique hybrid of progressive minded grooves and psychedelic design seems tailor made for this release and he's turned in a brilliant remix of 'Enceladus'. With a warmer and more emotive approach Nick has complemented the original wonderfully. Rolling grooves, spiralling vocal gates and crunchy synth work make for an electric vibe throughout. The highlight for me though is an ethereal break with its effects storyboard and spaced out vibe. Wonderful remix from Tripswitch and another stellar release for Slideways Music who continue to push the sonic envelop with his one. Highly Recommended.