The latest release on Superordiante Music welcomes Aguizi & Fahim to the label for their debut EP.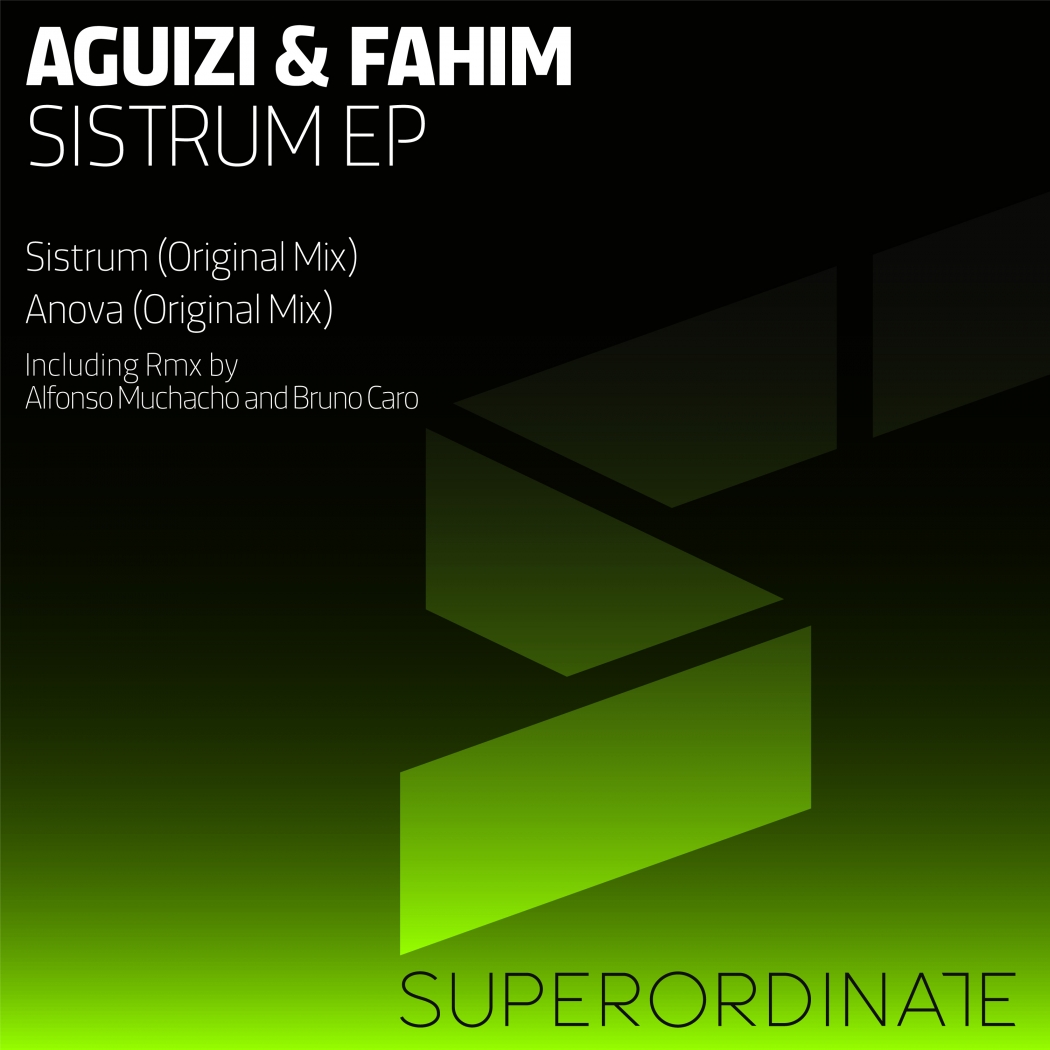 Youssef El-Aguizi and Yehia Fahim have become household names in their home country of Egypt. The much loved duo are regulars behind the decks at one of Cairo's hippest venues and their production career has started to take off as well with appearances on 238W Inc. and Golden Wings Music. Now they make their much anticipated debut on one of the UK's premier progressive house imprints Superordinate Music with 'Sistrum'.
The release begins with its title and showcase piece 'Sistrum' and finds Aguizi & Fahim crafting a dark, mysterious beauty in their own inimitable style. Churning synths and a tough driving groove make for a great first act before clustered electronics and a gorgeous vocal stab push the track into overdrive. The 10 minute journey gets broken up by a ethereal centrepiece with swirling effects and soulful vocal wails, upping the emotional energy before that titanic kick drops and it's full steam ahead. The third act flows through a wonderful storyboard with a peak time beginning before the vocal overlays descend over the framework for a trip to dreamland. Excellent stuff from Aguizi & Fahim.
There lone remix of 'Sistrum" is supplied by Bruno Caro who is making his first appearance on Superordiante Music. The Buenos Aires based artist has a short but well kept discography with releases on Plattenbank, Genesis Music, Stellar Fountain and Stripped Digital. Most recently Bruno appeared on Deersky's Soundteller Records with his 'Auxiliar EP which was received with much acclaim. Now making his long awaited Superordinate Music debut Bruno takes 'Sistrum' into groovier territory with a spacious foundation and a markedly slower feel. Chord changes in the bass line bring some nice emotion early before the main themes from the original get showcased to great effect. The vocal gates are a nice touch but ultimately it's the strength of the groove that makes this such a great rendition. Dark moody and full of interesting modulation along the way it's definitely one for the dance floor. Great remix from Bruno.
The companion piece 'Anova' comes in much groovier and less peak time than 'Sistrum' but with the same mystical design profile. Again there's great use of vocal elements, albeit in a very subtle way, but they add a lot to the melodic hooks and rolling low end. The second break is perhaps where the most magic happens, with a quiet moment followed by some lovely design that certainly dazzles the senses. A great complement to the bigger lead cut and definitely one for all the progressive groovers out there. 
The lone interpretation of 'Anova' is provided by Alfonso Muchacho who is making his fifth appearance on the label. It's been quite a busy year for the UK artist already with almost 40 credits added to his discography. His last Superordinate appearance come in May where he delivered a killer rendition of Michael A's 'Solid' and now he returns with a dreamy interpretation of 'Anova'. All the ethereal qualities which made the original so appealing get overhauled here for an even more otherworldly effect. What's most striking though is how Alfonso has transformed it into an emotive gem with subtle chord changes and soulful motifs. Definitely the standout mix on the release for me and no better way to close it out. Great stuff from Alfonso and another stellar release from Superordinate Music. Don't miss it.