Clinique Recordings returns this week welcoming Andrei Niconoff back to the label for a brand new single.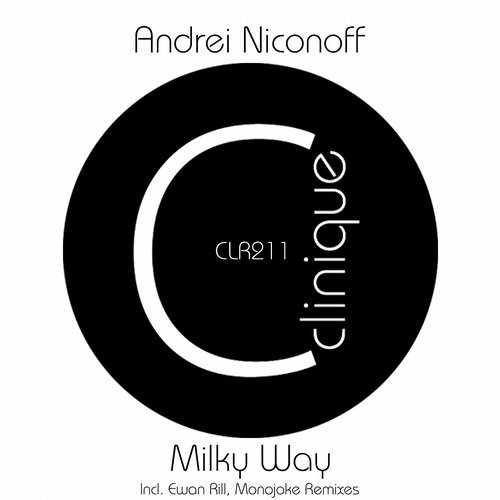 The Mexico based artist last appeared on the Russian imprint in June of last year with his 'Overworld' single (produced in collaboration with Nicolas Agudelo). Now making his much anticipated return Andrei presents his latest solo work entitled 'Milky Way' alongside remixes from Ewan Rill and Monojoke. 
Coming in two versions the Original and Retro Mixes, Andrei brings his much loved melodic sound with 'Milky Way'. Anchored by a warm, fluid foundation the track moves with an effortless flair as sparkling melodies and emotive chord changes bring several amazing moments along the way. The break pretty much defines the track as a sparkling top line accents the warm bass swells perfectly. A tasteful build transitions into a section of broken beats before an eventual rush brings the full driving groove back for a gorgeous finish. Andrei's 'Retro' Mix meanwhile brings a funkier and yes more retro-style low end while keeping the same gorgeous storyboard of melodies. The break is perhaps more solemn with a delicate presentation of the lead elements in conjunction with a downplayed broken rhythm section before the kick drops. Both tremendous versions and will likely see a fair share of play from the old school aficionados. 
First up on the remixes is Ewan Rill who returns to Clinique for his 17th appearance on the label. The Russian artist has been a core part of the long standing imprint since its inception in 2012. Fresh off a collaborative single with Caspar and Mindcure for his own Sever Records imprint Ewan brings his unique style to 'Milky Way'. Always a very creative remixer Ewan brings a very different approach here with a funkier, deeper groove and tripped out storyboard which plays out over the first act. Dramatic bass stabs make for an ominous break and the way the track evolves you never really expect the main melodies to appear but they do during a subtle but highly emotive finale. A gorgeous remix from Ewan. 
The release concludes with another long standing Clinique artist Monojoke returning to the label for his 31st appearance. Hailing from Poland, Monojoke had a very successful 2016. His partnership with Tuxedo reached new heights, so much so that the duo eventually coined the Fluente alias for the project just prior to their debut on Hernan Cattaneo's Sudbeat Music. Now following up a great remix of AudioStorm's Monumental Architecture' we see another brilliant progressive interpretation here. The main themes from the original are well conveyed but with a much more rugged and electric feel. It's that trademark Monojoke sound which has become so distinctive in recent years and also a favourite of Guy J. This is no different with its epic sweeps and grandiose moments abound. A lovely remix from Monojoke which rounds out a great release from Clinique recordings in epic fashion. Don't miss it.