The third release on the newly formed Hot Cue Music welcomes Deepsec back to the label for his debut single.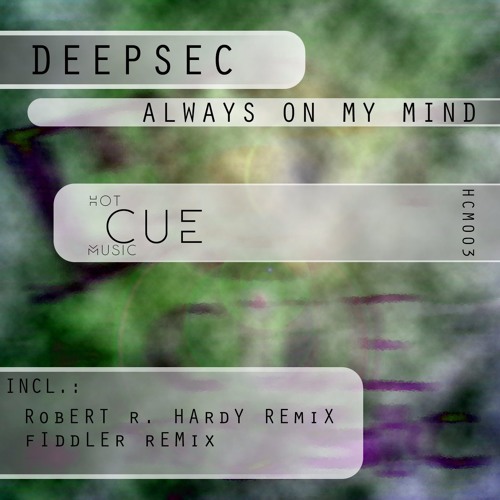 Hungarian artist Attila David Doboczi aka Deepsec was part of Hot Cue's first release when a mysterious Robert R. Hardy remix of 'Always on my Mind' was showcased as part of the sampler. As it turns out that release foreshadowed what was to come and now we see the label presenting 'Always On My Mind' with a full release alongside Robert's remix and also Fiddler. 
For those unacquainted with Deepsec, the majority of his releases have come out through Morninglory Music as well one appearance on Julian Rodriguez's Massive Harmony Records. I can't say I had heard much or any of his music prior to this so 'Always On My Mind' is a pleasant surprise. Beginning with tough beats and indistinct vocal gates the track flows through a myriad of subtle melodic motifs and drifting themes. It's delicate and a touch trippy but most of all just a pleasure to listen to. Great stuff from Deepsec.
The first interpretation is Robert's previously released remix and for those that didn't catch it on the sampler it's another deep and engaging journey from the Hungarian. All of Robert's productions come with some hypnotic qualities but this one is really mesmerizing. Textural drifts and floating vocals slowly converge for the ultimate swirling vortex. Only flanked by a brief break, the first and third acts take you into a deep meditative state, very reminiscent of what Sasha would open his sets with circa Global Underground Ibiza. So if you're a fan of the golden years then you're sure to fall in love with this one pretty quick. Lovely remix from Robert.
The second and final interpretation finds Fiddler making his first appearance on the label and taking the track into dreamland as well. With a markedly slower tempo, punchy groove and a bevy of washed out effects the Hungarian artist has delivered one of his career best remixes. It's methodical build, heavenly qualities and excellent use of the vocal really stand out over its 7 minute journey. Definitely one to get lost in and a great end to a fabulous release from Hot Cue Music. Don't miss it.