The 117th release on Suffused Music finds DP-6 making their label debut with a brand new single.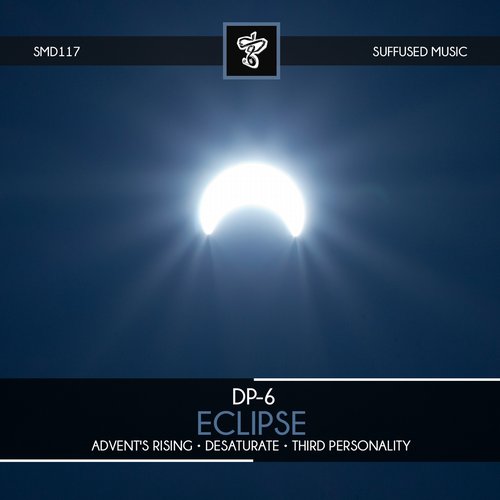 Alexey Filin and Vadim Indigo hail from Russia and make up the DP-6 production duo. Famed for their releases on Baroque Records, Bonzai Records and Vapour Recordings the Russian duo now make their hugely anticipated first appearance on Suffused Music with 'Eclipse', alongside remixes from Advent's Rising, Desaturate and Third Personality.
Long noted for their genre less production approach, DP-6 is quite adept at producing a variety styles, all of which they excel at. On 'Eclipse' we find the duo crafting a deep and trippy progressive number. Beginning with a DJ friendly intro lead by a heady atmosphere and a wall of rolling sub bass, the track quickly builds a large presence. Alien-like sirens and marching drums gradually pick up the pace before spacey sweeps reveal the cavernous groove. What follows is a storyboard of effects, each one more compelling than next, ultimately carrying the track to spaced out conclusion.
The first interpretation of 'Eclipse' is provided by Advent's Rising who is making his 18th appearance on the label. The Greek producer has long been a core artist on the Lithuanian imprint, dating all the way back to his first appearance in June of 2013. Here he reworks 'Eclipse' into a peak time progressive bomb. Anchored by a driving groove it packs some punch early on before an array of metallic designs and beefed up drums drop for a big moment. A stripped down middle section, dominated with eerie vocal stabs and sinister electronics, proves to be the perfect transition into a massive third act finale where a new tonal theme is sure to raise a goosebump or two.
The second interpretation of 'Eclipse' is provided by Desaturate who is making his first appearance on Suffused Music. One half of the famed Progress Inn duo has garnered much hype since adopting his new moniker earlier this year. A string of hits for 238W, Sound Avenue and Sudbeat in recent months have been heard throughout the underground, and he's delivered another great production here for his 'Eclipse' interpretation. Always one to cleverly coin a remix Desaturate has aptly titled this one 'Lone Star' and he hits the peak time nail dead on the money with it. From its mountainous groove to electric rhythms and a barrage of fresh effects the first act is lively and carries a wicked flow of energy. With the breakdown commencing a more distinct theme develops and the beats quickly return, surrounded by a stripped down framework. It's a transition full of wicked effects, ultimately building to the bass line dropping in, which is sure to light up all the progressive floors out there. Huge remix from Desaturate.
The third and final interpretation of 'Eclipse' is provided by Third Personality who is making his first appearance on Suffused Music. The Bulgarian producer is perhaps best known for his Andrez alias where he has accumulated close to 200 releases since 2007. Third Personality was born in 2012 as an outlet for Andrez to explore more techno inspired productions. Since adopting the alias he's appeared on 238W, BCSA and several other top underground imprints. For his 'Eclipse' interpretation Third Personality has stripped the track down a touch and reworked the groove into a driving menace powered by titanium coated kicks. Razor sharp effects slice through the atmosphere while the tension continues to rise towards the break. Panning vocals add a pronounced effect as the drama continues to grow before those punchy beats return with harrowing effort. Massive remix from Third Personality which should be a delight for all the darker floors out there. It's rounds out the package on a serious note and adds another notch to Suffused Music's excellent discography.