The 18th release on Clubsonica Records finds Joan Retamero & Rockin' Beats collaborating on their new single 'Saturn Rings'.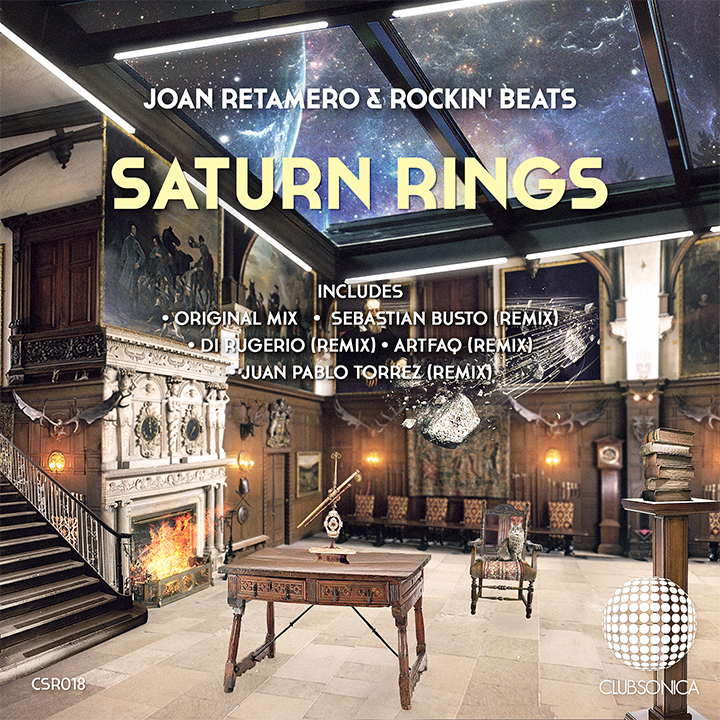 Hailing from Argentina this is Joan and Rockin' Beats first project together. It follows an impressive 2015 with both having their solo productions featured on Hernan Cattaneo's Sudbeats Volume 3 collection. The duos debut collaboration 'Saturn Rings' has been much anticipated and features remixes from Sebastian Busto, Di Rugerio, Artfaq and Juan Pablo Torrez.
The release gets under way the original mix and showcases a unique hybrid of the duos individual sound profiles. Anchored by a deep, dubby groove it's a piece that becomes almost instantly captivating. Rolling rhythms and spacey designs soon fill the air as an otherworldly vibe begins to form. A delicate lead line complements its smooth rhythmic cadence and carries into the break amidst a trail of sonic haze. The shimmering beauty builds with a tasteful subtlety before warm chord changes reignite the beats for an emotive conclusion.
The first interpretation of 'Saturn Rings' is provided by Sebastian Busto who is making his first appearance on Clubsonica Records. In addition to earning support from Hernan Cattaneo, the Argentinean producer has amassed an impressive discography over the last year with releases on Electronic Tree and PHW Elements being the most notable. For his 'Saturn Rings' interpretation Sebastian has gone the more traditional progressive route with swirling electronics and gleaming bells intertwining for a gorgeous lead motif. A heartfelt break lead by elegant piano accents and a soft textural backdrop provides a wonderful moment before the chugging groove takes you home.
The second interpretation of 'Saturn Rings' is provided by Di Rugerio who is also making his debut on Clubsonica Records. The Mexican producer has been pushing his brand of deep house since 2011. He's found a home on Jelly For The Babies' The Purr Music along with 24 Hours Records and Mirabilis Records. For his Clubsonica debut Di Rugerio has taken the original into funkier territory with a wonderfully carved foundation and descending tones. Keeping the melodic spirit alive the Mexican producer makes great use of the main themes from the original, all set against a backdrop of colourful sonics. Great remix from Di Rugerio.
The third interpretation of 'Saturn Rings' is provided by Artfaq who are making their first appearance on the label. The Argentinean duo were one of 2015's most pleasant surprises. Two impressive EPs for Golden Wings Music and Lowbit Records highlighted the year and now for their first production of 2016 they deliver an excellent interpretation of 'Saturn Rings'. With a more contemporary vision the duo have reshaped the original into a deeper, dubbier and more haunting version. Hypnotic vocal loops and spooky synths make for a great first act, before smooth chord changes lead the track into an exhilarating break and even better pay off to conclude the piece. Wonderful work form Artfaq.
The fourth and final interpretation of 'Saturn Rings' is provided Juan Pablo Torrez who is making his sixth appearance on Clubsonica Records. The Colombian producer rose to prominence in the progressive underground last year when his 'Arisen' (co produced with Kamilo Sanclemente) was played and charted by Hernan Cattaneo. He gets 2016 off to a great start with an amazing interpretation of 'Saturn Rings' to close the release out. Backed by thick slabs of melodious bass, the emotional impact of the track is felt even early on. Building with waves of percussion and haunting synths Juan expertly generates strong momentum throughout the first act. A spacey break brings things down nicely, but one lone synth keeps that emotional grip tight, before the beats drop and the melodies lift the emotion one notch higher. An epic remix from Juan and a perfect way to round out the release. A great start to 2016 for Clubsonica Records. Don't miss it.