The 60th release on Nikko.Z's Dopamine Music welcomes Kosmas back to the label for a brand new single.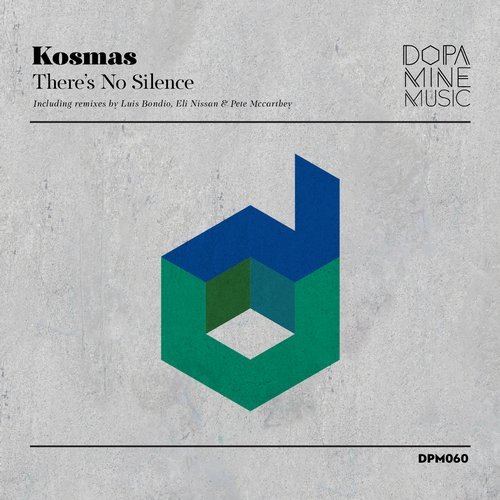 The Greek artist last appeared on the Greek imprint with his 'Around The Corner' single from May of this year. Now returning for his third appearance Kosmas presents his much anticipated new single 'There's No Silence' alongside remixes from Luis Bondio, Eli Nissan and Pete McCarthey.
Never one to get locked into a particular trend or style 'There's No Silence' finds Kosmas bordering on the fringes of Deep and Tech House. Anchored by a pumping, energetic framework the Greek native works some of his finest rhythmic magic, as tight tonal themes and metallic synths play off each other perfectly. As percussive waves fire through the framework momentum builds before a short and timely break builds further tension. It's steady meditative flow stays intact as one final sonic rush follows a quick drop for the ultimate third act finale. Floor burning stuff from Kosmas.
The first interpretation of 'There's No Silence' is provided by Luis Bondio who is making his third appearance on the label. The Argentinean artist and Classound label boss last appeared on the Greek imprint in November of 2013 with a remix of Praveen Achary's 'Suspended Animation'. More recently Luis has been focusing on collaborative projects with excellent releases on Movement Recordings and Stripped Digital. Now back to his solo ways Luis puts his own unique twist on the track taking it into deep and funky territory. Undulating bass tones make up the foundation as bright synths and phasing noise carry the track into the break. As the near two minute interlude takes shape dark tones pierce the air. Hypnotic motifs and playful chord stabs then fade to prominence as tension builds, before a quick drop reignites the groove for what should be a magical dance floor moment. 
The second interpretation of 'There's No Silence' is provided by Eli Nissan who is making his first appearance on Dopamine Music. The Israeli producer is fresh off his 'Frames' single for Movement Recordings and also owns releases on Guy Mantzur's Plattenbank Records. Eli's brand of electronic club music has been praised by some of the industry's biggest DJs. Both Hernan Cattaneo and Guy J are fans of his work and he's delivered an excellent rendition of 'There's No Silence' here. Backed by a low slung groove, Eli's musicality shines as he reshapes the lead elements into a kaleidoscopic swirl. An expertly executed break highlights the track, bringing a dramatic flair and leading to the ultimate payoff as dark tones cut through the atmosphere for an electric conclusion.
The third and final interpretation of 'There's No Silence' is provided by Pete McCarthey who returns to Dopamine for his eighth appearance. The Greek artist has become loved for his borderless approach to electronic music and also owns releases on Alola Records and Movement Recordings. Here he closes the release out with a late night techno rework which complements the previous versions wonderfully. Appropriately styled, Pete's fluid framework brings wonderful hypnotic qualities, quickly putting you in a state of meditative bliss. Waves of percussion and phasing noise get offset with timely drops before the main break brings a dubbed out theme as one final rush of beats ensues. A masterful remix from Pete which rounds out a top notch offering on Nikko.Z's Dopamine Music in style. Don't miss it.