The 123rd release on Tash's Movement Recordings welcomes Li-Polymer to the label for his debut EP.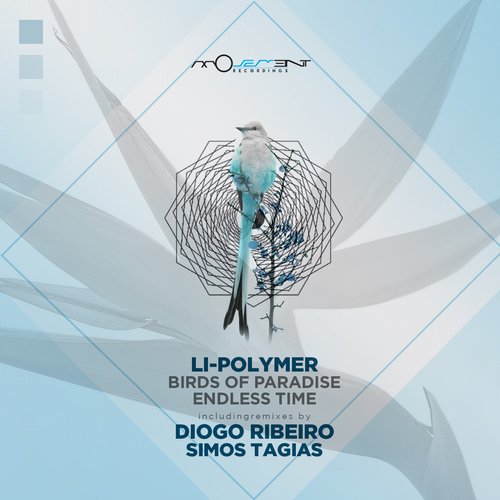 Long regarded as one of Portugal's premier progressive house artists, Fábio Pereira aka Li-Polymer has been crafting his own unique brand of groovy, atmospheric electronic music for years. His sound has been a staple in the sets and charts of Hernan Cattaneo for the last year and his first offering for Greece's premier progressive house imprint is much anticipated. Li-Polymer's debut EP for Movement Recordings is entitled 'Bird Of Paradise' which features two brand new originals alongside remixes from Diogo Ribeiro and Simos Tagias.
The Li-Polymer sound has evolved a lot over the years and something more mystical has been coming out of his studio of late. The lead piece here 'Bird Of Paradise' proves once again why Fabio is one of the best at crafting compelling atmospheric storyboards. Backed by warm beats and a chugging groove the framework is soon surrounded with ethereal designs and misty textures. Dynamic stabs offset a smooth rhythmic flow with moments of electricity piercing the air. Two breaks flank a second act full of hopeful vibes and subversive themes, before one final push delivers a moment of underlying beauty. Gorgeous music from Li-Polymer.
The lone interpretation of 'Bird Of Paradise' is provided by Simos Tagias who is returning to the label for his fifth appearance. The Greek producer has been an integral part of the Movement roster over the last year, highlighted by his 'Straight to the Sky EP' released in late December. For his 'Bird Of Paradise' interpretation Simos has brought his groovy, club friendly style to the production with great results. Anchored by a spacious, subterranean groove the Greek producer builds a captivating vibe with timely vocal effects and the hazy atmospheric sheen which played so nicely through the original. Rolling slabs of bass give it a great nose for the dance floor and two short breaks add just the right dramatic effect to seal it's brilliance. Wonderful remix from Simos.
The companion piece 'Endless Time' finds the Portuguese artist crafting one of the most engaging sound stories of his career. It's a journey that evolves over eight minutes with a swing heavy groove and smooth rhythmic tones anchoring the production. Already perfectly dialled for the dance floor, an array of clustered stabs and fresh designs just adds to its overall brilliance. The main break, although brief, serves to further the glacial soundscapes, culminating with a ringing tone reigniting the beats for a sublime moment. 
The lone interpretation of 'Endless Time' is provided by Diogo Ribeiro who is making his fifth appearance on Movement Recordings. Also a native of Portugal the 24 Hours Records boss has been a regular on the festival circuit for years, and his unique hybrid of progressive and techno is one of many reasons why his music remains so fresh. For his 'Endless Time' interpretation Diogo has beefed up the framework considerably and given the production a more distinct techno state of mind. A romping groove lays down some smooth momentum before razor sharp synths begin to cut through the air. A wealth of intricate designs keeps the vibe incredibly fresh, while a short break introduces a waning tonal theme and glimmering hypnotic line, which converge for the ultimate third act finale. Big remix from Diogo which rounds out another top shelf release from Movement Recordings. Don't miss it.