The 63rd release on Sound Avenue finds Dominique Heyninck aka Madloch collaborating with Eze Ramirez for their debut single together.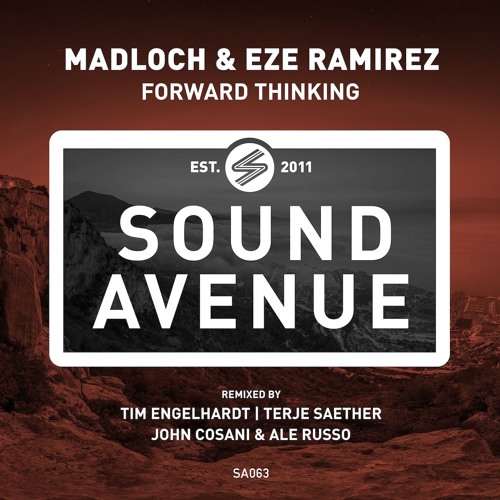 Belgian native and Sound Avenue label boss Madloch has always searched for unique projects, not only for the label but his own studio work. Having collaborating with some of the labels core artists in the past Dominique now meets Argentinean producer Eze Ramirez on 'Forward Thinking'. Their creative fusion has resulted in one of the labels most intriguing projects, accompanied by a great set of remixes from Tim Engelhardt, Terje Saether and John Cosani & Ale Russo.
Initially scheduled for release on Sound Avenue's sister and more eclectic imprint Crossfade Sounds, 'Forward Thinking' became a huge part of Madloch's live gigs, which called for a broader platform and a variety of takes on the track. Beginning with rolling beats, the original mix sets a big precedent with dark stabs, glacial sweeps and a mesmerizing resonance. It's slow methodical approach and heady vibe may be it's strongest suit, before an intense build takes centre stage to bring the house down in one magic moment. A monster tune made for a big cavernous room.
The first interpretation of 'Forward Thinking' is provided by Tim Engelhardt who is making his first appearance on Sound Avenue. The German producer was one of 2015's breakout artists with key releases on Manual Music, Parquet Recordings and Pokerflat. Tim's debut for Sound Avenue has been much anticipated and he's reworked 'Forward Thinking' into a melodious gem with a techno state of mind. Beginning with a smooth rhythmic cadence, Tim's harmonic approach and cross cultural motifs make for a smooth yet exhilarating ride into the main break. Filled with emotive qualities and an effervescent glow, the tracks kaleidoscopic keys and warm bass swells are a never ending chain of sonic delight. It makes for a breathtaking centrepiece, ultimately setting up an exhilarating finale. Already charted by Hernan Cattaneo for January, this looks set to be one of Tim's most sought after remixes of the year.
The second interpretation finds Terje Saether returning to the label for this third appearance. The Norwegian producer who got his career started with releases on Darkroom Dubs and Hope Recordings had an amazing year in 2015. His 'Too Late' feat. Malin Pettersen turned out to be not only one of Sound Avenue's best releases but also a highlight of Madloch's 01 CD. Further work for 238W Inc. and Connaisseur Recordings furthered Terje's unique approach to all things deep and groovy. Here he provides another stand out production and takes 'Forward Thinking' into the darker realms of deep house. A reworked groove adds mountains of funk while dubby stabs and mysterious vocals collide for the ultimate late night vibe. A perfectly executed break adds tension with some clever vocal edits, setting the stage for a beefed up finale as waves of drums and acid-like lines take you home.
The third and final interpretation of 'Forward Thinking' is provided by John Cosani & Ale Russo who are making their first appearance on Sound Avenue. The Argentinean duo got attached to the project upon hearing the original during Madloch's recent Argentina tour. Ale opened for the Sound Avenue boss at Bahrein and the track seemed like a perfect fit for a remix, which they tackled with great results. Taking the groove back to progressive house territory, John and Ale slowly build a wonderful atmospheric storyboard. Reprocessed vocals, squelchy stabs and a hazy drift make for a wonderfully tripped out break; culminating in a rush of white noise and igniting the meaty groove for a smooth finale. A great mix to round out the release which continues Sound Avenue's strong start to 2016. Don't miss it.