The latest release on Superordinate Music welcomes Marcelo Paladini to the label for his debut single.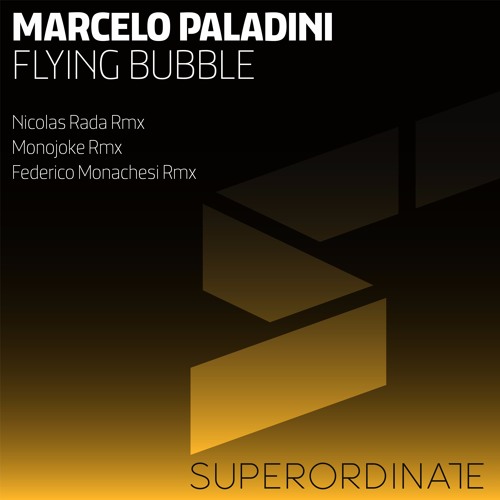 The Argentinean artist has been a mainstay of the Balkan Connection and Soundteller rosters in recent years and also boasts appearances on Classound Recordings and Genesis Music. Now making his much anticipated Superordinate debut Marcelo presents his latest single entitled 'Flying Bubble' alongside remixes from Nicolas Rada, Monojoke and Federico Monachesi. 
Marcelo's warm, richly textured sound has become loved in the progressive underground and he's brought something great once again on 'Flying Bubble'. There's a heavy old school influence on this one, particularity during the first half with classic rhythms and big cosmic sweeps. It makes for a bouncy, floor friendly beginning before vocally pads and a quirky line initiate the main break. Things get a little more mysterious here with darker tones and some timely drum elements building drama, setting up an exhilarating build and wicked finale. Great stuff from Marcelo. 
A wicked selection of remixes only adds to the great original with Nicolas Rada, Monojoke and Federico Monachesi all turning in nice renditions. First up fellow countryman Nicolas Rada takes Marcelo's dreamy parts and goes deeper, trippier and more techno inspired. A tough and punchy beginning makes way for waves of hypnotic synths before offset rhythms complement the groove. Perhaps the star of the show, a tailored down third act brings intricate electronics to the forefront while easing some of the atmospheric tension. Great remix from Nicolas.
Next up one of the most beloved names in the underground Monojoke makes his label debut and brings his pure progressive sound to 'Flying Bubble'. The Polish artist has become a favourite of Guy J and after a quick listen to this one it's not hard to understand why. His groovy, emotive sound seems tailor made for Guy's sets and this comes in as one of this best remixes this year. Definitely heavy on synthy textures but the great feeling it invokes is hard to deny and an epic break not only shows nice musicality but sets up a stellar finale perfectly. Big remix from Monojoke and my fave on the release.
Closing the release out is Federico Monachesi who is also making his Superordinate debut here. The Argentinean artist has been a staple of Balkan Connection South America and Clinique Recordings in recent years where his progressive sound has flourished. Here he provides a tough yet dreamy version of 'Flying Bubble' which sits nicely alongside the previous versions. Plucky melodies are the star of the show here with a gorgeous break acting as the ultimate showcase before a stripped down re-entry keeps things nice and clean. Beautiful remix from Federico and a great release for Superordinate Music once again. Don't miss it.