The 27th release on Clubsonica Records finds the label showcasing new remixes of Michael A's 'Analog'.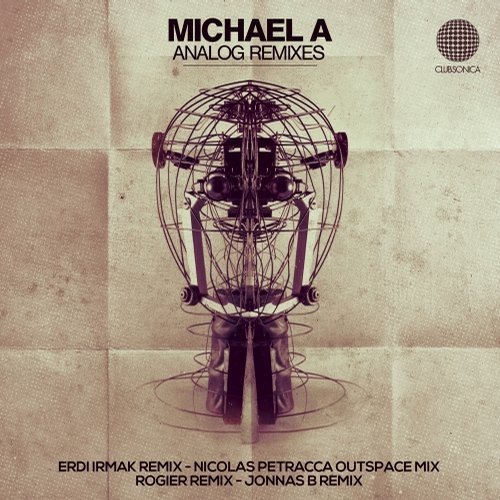 Released in July of this year, the original mix showcased the Belarus based artist at his best with a production that was both groovy and emotive. The track was met with immense support as top DJs Sasha and Hernan Cattaneo were the first to chime in. Now as 2017 is set to begin we see Clubsonica Records inviting Erdi Irmak, Nicolas Petracca, Rogier and Jonnas B to reinterpret the track.
The first interpretation of 'Analog' finds Erdi Irmak making his debut on the label. The Turkish artist has been a staple of the both the Manual Music and Movement Recordings rosters this year where his unique take on progressive music has flourished. Here he takes Michael A's 'Analog' into groovy, tripped out territory with great results. Long noted for having a psychedelic flair Erdi paints a wonderful sonic picture with mountainous bass lines, vocal narratives and waves of mind bending effects. An elastic-like synth comes to prominence, particularly during the main break, carrying nicely into the third act and ultimately delivering an exhilarating conclusion.
The second interpretation of 'Analog' is provided by Nicolas Petracca who is making his second appearance on Clubsonica Records. The Argentinean artist first appeared on the Colombian imprint with his remix of 'The Red Knot' by Symmetry Obs in July of this year. As a favourite of Hernan Cattaneo, Nicolas has also notched releases on Paul Hazendonk's MNL imprint and Nikko.Z's Dopamine Music. Now making his much anticipated return to Clubsonica, Nicolas brings his unique melodic approach to 'Analog'. The Argentine's rugged groove immediately draws you in as swirling atmospheres cast an ethereal glow over the framework. Its cosmic appeal is undeniable as granular sweeps and astral pads lift the vibe higher with each successive loop. A serene air comes over the main break bringing you into meditative, spiritual territory before the beats drop for a magic dance floor moment.
The third interpretation of 'Analog' is provided by Rogier who is making his first appearance on Clubsonica Records. The Dutch producer has become loved industry wide for his warm, fluid grooves and he brings that magic here once again. Old school flavours abound, Rogier's chugging rhythms are perfectly dialed for the dance floor, while dark electronics tantalize the mind. It's a devilish first act with atmospheric tension at a premium, before a spaced out main break brings a meditative vibe. As the beats return the cosmic storyboard advances, with multifarious designs taking you further into sonic layers for a gorgeous conclusion.
The release concludes by welcoming Jonnas B back to the label for his second appearance. The Colombian artist first appeared on the label in November of 2015 with a remix of Kamilo Sanclemente's 'The Art Of Voice'. The remix proved to be the beginning of a great run which saw Jonnas with subsequent releases on Hydrogen and Sonnet Speciale. Now kicking off 2017 in style the Colombian delivers one of his finest remixes to date, bringing his boundless energy to 'Analog'. Anchored by meaty slabs of bass the foundation rolls with a wondrous momentum. Tough drums and clustered claps bring further electricity while a hook heavy rhythm locks the groove down a notch tighter. A stripped second act keeps the energy flowing, avoiding any major break, instead transitioning the piece into a third act of wistful atmospheres and charged beats. An excellent rendition by Jonnas which rounds out a superb remix package from Clubsonica, kicking 2017 off in style. Don't miss it.