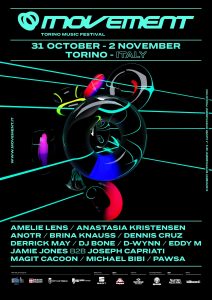 Over the years, Movement Torino has established itself as one of Europe's leading dance festivals. This year the festival returns for its 14th edition boasting a main event (31st October) and two club shows (1st & 2nd November) crammed with some of the most eclectic and electrifying names in techno. With the theme set to mark the 50th anniversary of the moon landings, fans can expect an immersive, intergalactic experience through the cosmos. This year hosts one of the festival's best ever line ups so we've compiled a list of the acts you simply can't miss out on!
AMELIE LENS
Currently one of the world's most in demand selectors, the Belgian DJ/producer is enjoying a lengthy stay at the very peak of the European techno scene. Having gained worldwide acclaim through relentless touring, her mesmerising and whisper-driven beats makes her a more than worthy candidate to top the bill for the main event.
Catch Amelie Lens on 31st October @ Lingotto Fiere.
ANASTASIA KRISTENSEN
Positioned not too far behind is Denmark's most exciting female export. Having already succeeded in gaining the dance community's undivided attention, she's proved herself as one of techno's most eclectic performers.
Catch Anastasia Kristensen on 31st October @ Lingotto Fiere.
JAMIE JONES B2B JOSEPH CAPRIATI
The main event's exclusive back-to-back performance sees this experienced Welsh/Italian duo team up to deliver one of the festival's 'must see' sets. Fusing Jones' appreciation for vibrant and colourful house hooks with Capriati's opposing fundamental techno beats, their performance promises to push genre boundaries and be a fascinating pairing of styles.
Catch Jamie Jones B2B Joseph Capriati on 31st October @ Lingotto Fiere.
BRINA KNAUSS
The Slovenian girl band singer turned DJ has been causing a real stir of late with her melodic techno landing her amongst the nominees of the highly regarded DJ Awards 'Best Newcomer' in 2018 and 'Breakthrough Artist' in 2019. Expect to witness an out of this world performance from the in-form selector.
Catch Brina Knauss on 1st November @ Milk Club.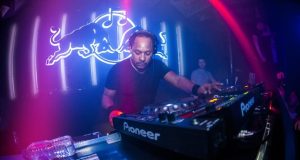 DERRICK MAY 
Last, but certainly not least, one of the founding fathers of techno himself wraps up Movement Tornio 2019 by transporting the iconic Detroit dance scene to this momentous European festival. Derrick will also be joined by fellow Detroit spinner D-Wynn.
Catch Derrick May on 2nd November @ Audiodrome Live Club
TICKETS:
31st Oct: Main event @ Lingotto Fiere HERE
1st Nov: Club event @ Milk Club HERE 
2nd Nov: Club event @ Audiodrome Live Club HERE
FOR MORE INFORMATION PLEASE VISIT:
For more information on Movement Torino please visit: Website | Facebook | Instagram | Twitter | YouTube