The latest release on Stellar Fountain Records welcomes Nicolas Petracca back to the label for a brand new single.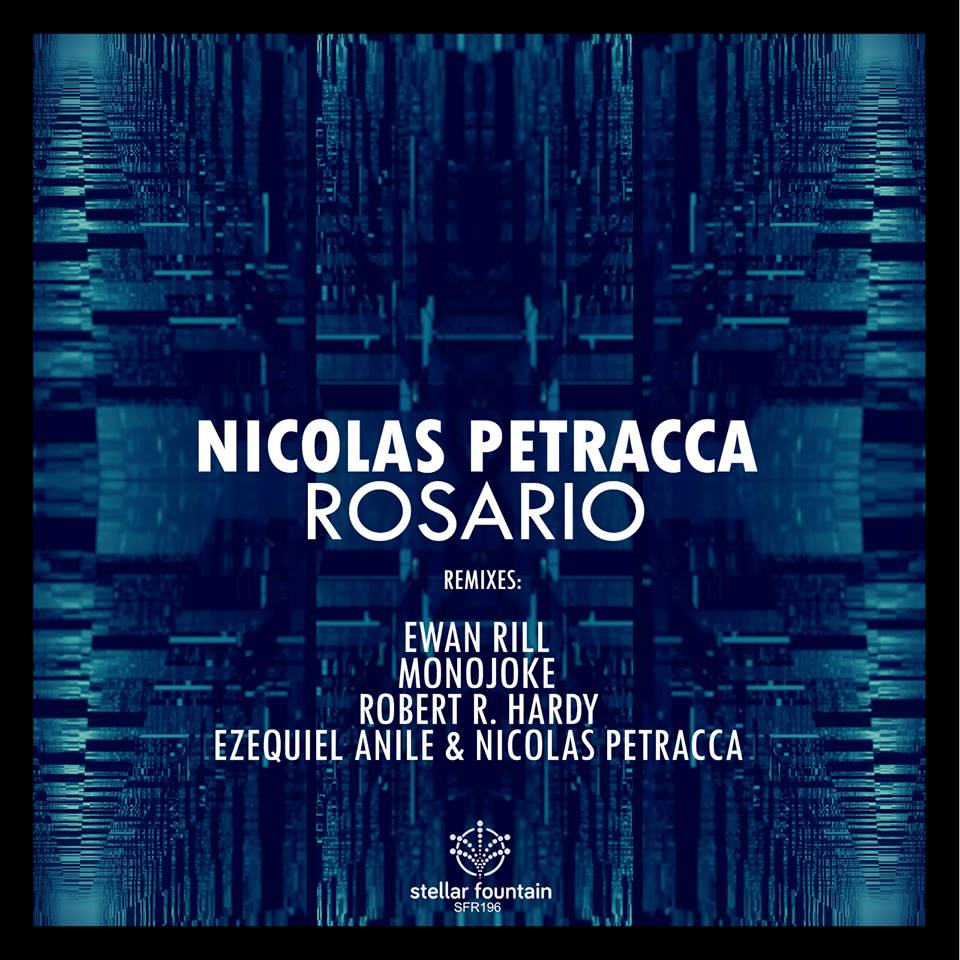 The Argentinean producer brightened up 2015 with his progressive minded grooves and pixie-esque melodies. It led to a full discography with stand out releases on Dopamine Music, Genesis Music and Soundteller Records. Now as 2016 begins we see Nicolas returning to Stellar Fountain for a brand new single entitled 'Rosario', alongside remixes from Ewan Rill, Robert R. Hardy, Monojoke and Ezequiel Anile & Nicolas Petracca.
Not known for writing a deeper style of progressive house 'Rosario' actually comes in as one of Nicolas' deepest productions to date. Beginning with a spacious groove, it slowly gets filled in with mountains of bass while a tripped out vocal storyboard develops. Acid-like hooks complement the framework nicely and lead the track into a mystical break. With the groove locked Nicolas builds tension before a quiet calm comes over piece, as sparkling keys descend over the framework and a subtle roll reignites the beats. It's a gorgeous moment and the track finishes with the same deep and mysterious sensibility that it started with. Beautiful work from Nicolas.
The package is remix heavy with four and from some of the brightest stars in the underground. First up Ewan Rill returns to the label for his 13th appearance and takes the track in a more club friendly direction. A radical reshape of the groove and some strong rhythmic elements make for a really promising beginning which Ewan subtlety adds his own airy designs to as the track builds momentum. Much like the original the break brings a moment of calm with gleaming keys and a wispy atmosphere hovering over those distinctive bass tones. No fanfare on the drop, just a smooth transition back to the groove and the vibe of the track is all the better for it. Classy stuff from Ewan.
Next up Stellar Fountain label artist Robert R. Hardy makes his 14th appearance and brings his dubby sound to 'Rosario'. Generally thought of as a deeper artist in the progressive realm Robert has stepped it up a bit here with a large sounding interpretation. The groove is enormous which accounts for it's large presence but the vocally pads and accents bring a big sense of space as well. The framework gets dialled down considerably though as the main break approaches and the piece focuses on a more minimalistic vibe as the third act begins. Robert then unleashes that monster groove once more for a powerful conclusion. Excellent remix.
Long time progressive house devotee Monojoke is up next and brings his full, peak time approach to the track. There's a certain madness in each and every one of the Polish artists productions. A definite throwback to the wall of sound, Sunday Club style tracks from the late nineties which I always enjoyed. He's more than lived up to that here as well with a sonic assault nothing short of brilliant. Acidic designs and sweeping synths tear through the atmosphere as waves of percussion send shivers down your spine. It's an intense first act, which a dramatic break only adds to, with clustered bells and a slow methodical build that brings it all together for one magic moment. Huge remix from Monojoke.
Ending the EP off Nicolas teams up with sometime studio partner Ezequiel Anile for what is perhaps the darkest interpretation on the release. A mid tempo groove adorned with dark, squelchy designs and clattering drums sets the track in motion. As bands of white noise pass, the bass line drops and before you know it your in deep tribal heaven. Panning vocals add to the audio collage before something more distinct begins to develop. The cross-cultural motifs which lead into the break are the star of the show, and with the tribal infused drums there's a great synergy there. A mystical presence comes over the track during the drop and makes for one of the coolest moments on the release actually. A great way to finish it off that's for sure and definitely leaves us hoping for more joint productions from Nicolas and Ezequiel.