The 125th release on Movement Recordings welcomes Stan Serkin & Nick Koplan to the label for their debut single.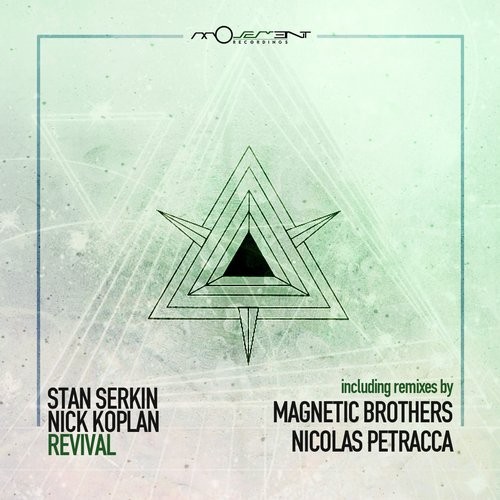 The Russian duo is collaborating for the first time following efforts on Prospection Records and Balkan Connection respectively. This new studio project has produced something extra special in 'Revival' which comes alongside remixes from Magnetic Brothers and Nicolas Petracca.
Stan and Nick have showcased a unique take on progressive music in recent months and their first collaboration might be their best production yet. Beginning with a warm atmospheric drift and distinctive vocal elements, a chunky bass line then drops and powers the floor friendly groove. Dark and mysterious, the piece flows through a variety of indistinct motifs and smooth vocal styling's. It's a wondrous creation for the two young Russian producers and one which a melancholic break highlights nicely. A drummy build creates tension before a filtered apex summons the stripped beats back for a magical moment. Sure to be a delight on the deeper, progressive minded floors and a fabulous debut collaboration for Stan and Nick.
The first interpretation of 'Revival' is provided by the Magnetic Brothers who are returning to Movement Recordings for their eighth appearance. Fresh of their '8' LP for the Greek label, brothers Anton and Arthur Golubev deliver another outstanding production for their 'Revival' interpretation. With a greater focus on the esoteric hooks from the original the Russian duo have reshaped the piece into an unpredictable story of quirky designs and ethereal vocals. A smooth groove adds move drive and a band of rhythmic hooks locks down some deadly swing. A short and well executed break along with a drummy finale seals the tracks brilliance and sits as one Magnetic Brothers all time best remixes.
The second and final interpretation is provided by Nicholas Petracca who is making his first appearance on Movement Recordings. The Argentinean artist has quickly grown into one of the underground's most loved melodic producers. His appearances on Dopamine Music, Just Movement and Soundteller have been consistently excellence. Here he brings his unique melodious vision to 'Revival' for a great interpretation to close the release out. Beginning with a deep and dubby groove, Nicholas slowly begins to work wonderfully reprocessed and mysteriously indistinct vocal elements into the mix. It makes for a tripped out first act, ultimately leading to a stripped down middle section of dazzling effects and emotive moments. Waning tones build tension as the drums converge for a smooth rush before getting washed away in favour of a stripped back groove and those haunting vocal elements. It's a magical moment and one that's sure to find it's place on many dance floors in the coming months. Another fine offering from Tash's Movement Recordings and a great debut for Stan and Nick on the label. Don't miss it.