The Underground Sound of Ibiza is more than just a summer compilation album; it's a statement.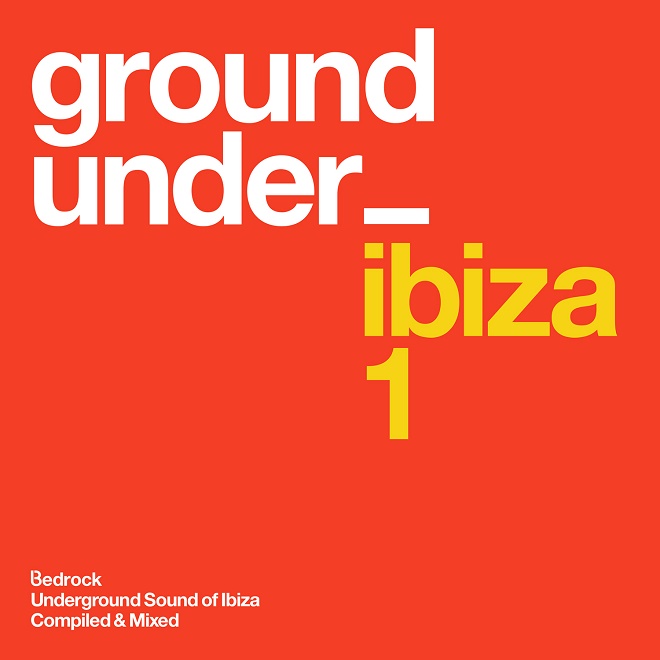 Bedrock, one of the foundational institutions in underground dance music, has openly stated that with this release they have looked beyond merely throwing together a new collection of their favorite new tracks and have instead opted to represent what quality, cutting edge underground electronic music stands for in the modern music world. This is no small task, so join us as we delve into examining whether or not John Digweed's iconic brand has fulfilled its ambitious message.
The compilation is broken into sections, Poolside and Clubside, the first of which is an ambient styled journey that starts us off with the likes of one of progressive hottest acts at the moment, King Unique. "Brake's Pads," the title of KU's first addition to the mix, takes a haunting approach to downtempo with airy, voxish pads playing a minor chord progression, a bell synth reminiscent of older classic tunes (think of the lead from PPK's Resurrection), and a simple but groovy drum line that adds perfectly to the background ambience of the track. The airiness of the highs, brought together with shakers and hats that remind one of older, classic downtempo rock like the Doors or Jefferson Airplane, perfectly compliment the almost eery vibe that one takes away from the track. Dark and powerful, it's a strong start to the mix from the British producer.
Charlie May, the production legend that with the likes of Sasha helped bring progressive house into the limelight, continues the mix with "Barely Audible," in which he takes the darker premise built earlier and slowly transitions it into a more positive emotion coupled with a heavy experimental flavor. The beautiful percussion, highly processed but softly mixed, is brought nicely into focus with some classic electronic toms, similar to the original Roland synthesizers we all know and love. Additionally, the background pads, warm and swelling, have a perfect relaxed feel to them that combine in such a way as to almost give an orchestral presence. Indeed, May's contribution almost feels as if it were a live electronic symphony as opposed to a programmed track. Relaxing, deep, and moody, May's work shines as another strong point in CD 1 so far.
The Japanese Popstars are next, with "Out of Nowhere," which grabs your attention right from the start with heavy, swirling background echoes and panning that not only feel pleasantly trippy, but keep you interested in the action happening all around the sonic landscape that has been created. I appreciate the tribute paid here to classic trance melodies and 80s synth pop, both influences which feature prominently in the main melodic structure of the song. Simple arpeggios, large epic synths, and an underlying saw that adds power and force to the track brings the whole arrangement together quite nicely, and the song leaves you feeling like it was an enjoyable journey through the minds of the enigmatic duo.
Jemmy's ambient rework of "Waterloo Blues" smoothly takes over where Out of Nowhere left us off, and moves in a more simplistic, organic direction. Utilizing a classic guitar, raw sounds of nature, and a heavily distorted piano lead focuses you in on key sounds and keeps you heavily engaged with their variations, much like in Jemmy's original version of the track. There is a touch of Flamenco inspired movement in the piece thanks to the guitar, but moreover, the track has a very Mediterranean electronic feel to it, which rings especially true with the introduction of an arpeggiated vox synth and some more pads during the melodic climax. That mixture of organic and electronic spells peaceful, serene beaches on the sea and the beach electronic vibe that captures what dance music in southwestern Europe has always been such a strong reflection of: the peaceful unity of music and nature.
Charlie May makes a welcomed return to the compilation again with "We Control Everything," that chooses a much different path from his previous contribution. The influences here are quite prominently World Music, Traditional Breakbeat, and even a twist of vocal Trance thrown in for good measure. The main beat has ties to mellow breakbeat sounds and even some older trip-hop work, in my mind somewhat like early Portishead. The soaringly beautiful vocal, loaded up with such nicely programmed effects, is where the Trancier tinges make their appearance, complimented by the very World Musicky synthesis of acoustic and electronic bass. A nice, smooth combination all excellently crafted together by May that would feel just as home in a Cirque du Soleil performance as it would relaxing by the poolside.
Oniris's Blissed Out Mix of "The Rebirth," featuring accompaniment from Pat Brooks, comes next, with a groove inducing beat, some nice tribal influences, and a sexy, titillating guitar that takes you back to the golden days of Funk. Additionally, a nice touch of Disco-influenced percussion, background strings, and horns really brings the whole feel of the 70s into full circle for this track. Finally, the lead string riff, with just a touch of Classical, New World, and 90s New Age feel to it, adds that emotionally deep context to the song that really gives it power. Well thought out and orchestrated as far as a serious piece of musical work goes.
Things start to pick up nicely at this point in the mix, and here to take it up yet another notch is the Downtempo Mix of Ramon Tapia and Stavroz's highly acclaimed "Havana." With it's name and the quintessential Spanish horns flowing throughout the track, it's hard to negate the heavy Latin influence here, and just as in the original, the 2 producers do justice once again to the rich musical culture they aimed to capture. My favorite element here overall, however, is the warm bassline, which really helps to convey and reinforce the emotional melodies put forth by the lead instruments. The Downtempo Mix is an excellent addition to the great collection of versions that Tapia and Stavroz have so far created for the Havana concept.
Keeping with the new quicker pace, Jimmy Van M & Affkt's Ibiza Summer Balaeric Remix of "Dreams" (featuring Luxor T), leads right into the first four-to-the-flour beat of the compilation with a smooth, groovy feel that really exemplifies the best of the Van M/Affkt collaborative sound. A bass/kick arrangement that has the classic progressive house sound that we all know and love, some techier percussive blips, and a nice background ambience all make this the perfect summer-styled mix that could very well move you to get up from that pool seat and start dancing. The trippy vocal, which to me has the kind of pleasant effects that made Empire of the Sun so popular and enjoyable to listen to, accompanies the rhythm excellently, and helps to carry the addictive, psychedelic vibe throughout the duration of the song.
Next we take a step back and re-explore a more synthetic-oriented melodic soundscape with "Roots," by Mantis. I'm very much enjoying the throwback to 90s chillout here, with the open vox pads, a lead synthesizer that modulates creatively with every note, and the simple piano chords that provide for some emotional force. The steady, unwavering simple drum groove keeps the track going, and the strings give it some nice sonic depth. There's a lot of hints to early downtempo here aside from the melodic 90s references, and the song does a great job of bringing you back to the "good old days" without sounding too dated in that regard.
The highly respected duo of Pig & Dan join us next with their own take on the slower side in "Sahara." First off, I want to say there's some great P&D motifs that fans of the team will appreciate right off the bat. The jazzy influences, particularly with dissonant note fills, will be a welcome sight right away for anyone familiar with the harder techno work of the two: they have always loved to surprise you with classical influences like this and it fits in perfectly here once again. The vocals add an additional contemplative layer, and serve well here once again to bring the song forward as an effective movement maker. Relaxing, viby, and sonically on point, this track demonstrates yet another strong piece of work from the legendary techno duo.
Mantis makes his second appearance with "Stargazing," and chooses this time to take a very different route from his previous contribution. While "Roots" was built around a highly synthesized atmosphere, Stargazing opts for an organic, acoustic sound that has influences covering everything from classic rock to those vintage 90s pads that really brought Chillout from obscurity to popularity in it's formative years. The piano, with a markedly live feel, sounds like a jam session more than a programmed piece of work, and thus gives us the sense we are experiencing the song along with the musician. This level of intimacy works great for the context of the Poolside Mix, and adds some depth to the overall vibe so far created.
"On The Rocks" is Pig & Dan's second feature as well, and follows up well on the warm vibe created from Mantis by adding yet another layer of complexity with it's own piano riff, a live feel guitar, and some interestingly mixed vocals that follow along with the guitar's melody. A little Flamenco, a little Indie folk, and a lot of soul, it's this beautiful crafted guitar that makes the track soar and takes us on a wonderfully creative journey. The classic saw bass synth, coming in on the downbeat with just a tinge of Electro, gives it just the right amount of electronic juice to keep it nicely funky as well.
"Poolside" ends off with an enjoyable second cut from none other than the man who started us off, King Unique. Featuring a powerful vocal, excellently worked percussion, and all the twists and effects KU is so well known makes this the perfect finale to an impressive collection of tunes. We see a different side of King Unique here, as we've seen with so many artists on this CD, that show their depth and skill extend far beyond the music we're used to hearing from them, and it stands as a testament to their superb musical talent and ability to step outside the box to deliver us something new and special.
That ends Poolside: now it's time to turn up the volume and head into Clubside for part 2 of The Underground Sound Of Ibiza's musical journey…
CD 2 wastes no time in drawing us in and capturing our imaginations. We've had a good experience at the pool, but now it's time party, and the fun starts off quick with a stellar track from Marco Bailey called "Cataleya." A nice combination of Bailey's signature techiness with some organic instrumentation and dark, warm pads give this track a really nice bite to it: it's enjoyably edgy! Never becoming too melodic, nor too techno, Bailey does a great job of shifting in and out of different worlds to bring us a fine eclectic mixture that will make you both dance and think. A great way to start off part 2, and we're already hungry for more.
The tension is rising quickly with as we transition into the new smash hit from Marc Marzenit entitled "Fictional Crossover." Marzenit has been on fire lately with hit after hit of his dark, melodic sound, and perfectly captures the bouncy low end richness of modern underground dance with catchy and memorable synth riffs that infuse a progressive life into the soul of the track. The Spanish producer, like his colleagues Luis Junior and Henry Saiz, is able to capture the best elements of all genres, with tech house, techno, and progressive all featured superbly well and so aptly energetic all at the same time. Another standout production from Mr. Marzenit.
Yet one more expertly crafted fusion track awaits us next with Sasha Carassi's "Tale of Memories," which once again brings a powerful, thought provoking melody into a rhythmically addictive context. The chunky, crisp percussive flair of tech house and the sound, rolling melodies of progressive are featured in fine fashion with Mr. Carassi's take. Additionally, we're given a nice deep house tinge that ripples throughout, along with some powerful background vocal stabs that give just right dose of "housiness" needed to keep bodies dancing.
Ramon Tapia and Stavroz return as well with yet another version of "Havana," and this time we're treated to the Dub, which is a solid piece of work in it's own right. This track fits in perfectly with the mix's premise so far, as it features a nice melodic combination with darker textures: a major theme we've seen in Clubside. There are some infusions of melodic/progressive techno here that I particularly enjoy; the bassline has a rolling tone that changes notes with the chord progression of the song, and the combination of several layered pads in the background keeps things moody, which builds great tension.
Things get taken up a notch yet again with "Hypernova," from Eagles & Butterflies, which moves in a much harder direction and will make you happy you decided to bring your dancing shoes! Unapologetic tech grooves, all expertly combined to create one solid, defining sonic rhythm is what makes this a winner. The song is truly modern tech house done right: it's got just the right amount of elements merged into a solid whole so that it's not shallow, and yet at the same time doesn't overload you with information. Everything compliments the main groove impressively well, and we are further treated with subtle melodic twists that not only keep the track in line with the themes we've seen so far in the mix, but additionally give it an added depth that will likely please fans of other genres and entice them as well.
A surprise twist in the mix welcomes us, as this track is not originally mentioned in the songs included in the album, but is a a great one to see make an appearance none the less. Ramon Tapia's remix of "Julienzzz" from Michel De Hey and Raukwost is cool for a couple reasons, but primarily because it captures everything crowds around the world have been digging about the modern sound and makes it even better. The low mid bass first and foremost is both sophisticated and captures that hot, deep sound that put stars like Maceo Plex on the map. The melodies are unique, fresh, and unexpected, yet still all fit together to keep you dancing, and the drum beats are open, chunky and oozing with sonic color. Having reviewed this song once already and enjoyed the hell out of it, I'm happy to see it included along with the best of the best for representing the underground. These days, you simply can't go wrong with Tapia's sound.
We take a turn for the progressive goodness that put the Bedrock sound on the map with a fresh cut from progressive techno master Ian O'Donovan, another producer who's been having nothing short of a stellar year so far. O'Donovan keeps it dirty, with a pounding kick-bass combination, a moody low mid bass that carries the chord progression of the track with it, and some simply dynamite melodies that just epitomize all the great emotions you feel in the club. The drama and tension built by a sophisticated array of synthesizer sounds all working in tandem is released all too well by the driving bass just mentioned: they are truly two great sonic peas in a pod.
From here, we jump head first into the deep with "Tomahawk," by Dave Angel. Capturing a great retro vibe, reminiscent of some of the early laid back tech work that really set the stage for where we are now and which has seen a nice resurgence lately, Angel captures the true meaning of "timbre" in a track: where every instrument is an effective team player. Not unlike Robert Babicz's recent work, we see no fear in stepping back into classic house and tech sounds with bouncy bass, wide open hats, and strong leads that aren't afraid to back down from the energy they build. Still fitting nicely in the modern context, Tomahawk flows in such a way that is both smooth and energetic, which will surely make it a favorite for DJs in clubs around the world.
The venerable Misstress Barbara is next to grace the soundstage, with "Tenno 5," and with it the heat gets turned up once again. Capturing the rhythmically catchy elements of modern melodic progressive house, keeping it techno with big hats, rides, and hits, and finally adding her own touch of the old school in the styling of her background synths, we have another enjoyable hybrid track that will surely keep a lot of fans very happy when they hear it. I hear quite a bit of classic Misstress Barbara making it's way into this track's sound as well, and for me this is encouraging to know that the Canadian techno legend hasn't been afraid to stick to her guns and keep pushing the kind of quality sounds that continue to withstand the test of time.
For those of you purchasing the digital version, a very special bonus is included with the likes of Sebastian Leger's exclusive remix of Guy J's infamous "Lamur." Including all the smooth, bouncy arpeggios that makes Leger's sound so enjoyable, a seriously groovy bass line, and some fast, energetic drum work, this new interpretation breathes a fun, proggy new life into what has come to be considered a modern classic. The minimal house feel that really put Sebastian on the map is there was well; with a percussive timpani-like synth playing the role of one of the leads and in doing so pulls in just the right amount of techiness for good measure. Well rounded and catchy, this final track is a fun piece that will be great to listen to as a standalone as well as in the rightly timed set.
Now that we have taken all into account, and knowing that we came into a compilation made to be a clear statement from the Bedrock crew about the sound of the underground, we must finally ask ourselves: did The Underground Sound Of Ibiza achieve it's goal and capture the best of the underground? It was hard to find a weak link in the chain sonically from this reviewer's perspective, and as we have seen, every track featured here has been both expertly produced as well as meticulously thought through. The energy that emanates from the quality shown here is undeniable, and both CDs have maintained an addictive feel that never let up throughout listening to them. We could have delved further into a myriad of the production techniques, theory, and mixing that clearly went into the high sound quality shown here as well, but let's face it: the music was just good, and there's not much else needed to say about it.
From start to finish, I thoroughly enjoyed this compilation, and I feel the bold statements made about it hold completely true: this is one of the defining albums of the modern underground sound. It shows who we are and what stand for from the best of the best, and regardless of your particular tastes, there's something in here that I can guarantee you will like. Beyond genres, beyond classifications and biases, The Underground Sound Of Ibiza shows why in a world of fickle trends and mainstream monstrosities, you still can't beat quality. And this, my friends, is some serious quality work. 9/10
Click here to buy the CD version of Bedrock's Underground Sound of Ibiza