Marc Marzenit is without question one of the scene's most talented and respected artists. We took some time out with him. 
Your interest in music started very young and at the age of 11 you studied classical music. Do you read music? And can you write it too? Was it difficult to make the transition from classic music to dance music? Or did it just give you the foundation to be able to create what you wanted?
To be honest, I was an electronic music fan way before classical music. At the age of 7, I was already into it and at 9 I was trying to connect a keyboard to the Atari sequencer of my father, obviously without success because the keyboard didn't even had a MIDI connection and I didn't know what MIDI was by that time. I started to buy regularly the Keyboard and Future Music magazines. Then at the age of 11 got my first synth and got enlisted to the music academy because I loved piano and knew that if I wanted to create electronic music, I should have this classic knowledge. I have never been a good interpreter of classic music or neither a good student. My devotion was to compose music, so I had learnt the necessary to develop my composition techniques. Although I can read music and play some pieces, I don't consider myself a proper interpreter.
Would you ever consider making a conceptual album project or working on any non dance related music. Maybe a symphony perhaps?
That project is already done, it's called "Suite On Clouds", even though it came to light for the first time at Sónar 2008, only two years ago I could perform a concert with musicians directly on an auditorium, with an 8 violin section, symphonic percussion, an arp, a pianist and me, All of this with 3D mapping above an special structure that was built for the occasion. All the music involved was composed by myself, and was a mixture between classic and contemporary music, very similar to a movie soundtrack. The whole show was a complete success and will be out this year on DVD format.
Your release "Alchemist Desert" on Selador is so mystic, where did you got the inspiration to create this fantastic track?
First of all thank you for the feedback ! The truth is that I created it one night on the beach during my vacation (yes sometimes i worked on vacations) it began with that vocal i had stored since 2003 but had never used. By the time I listened to it i knew i had to make something mystical.
You have your label Paradigma Musik. Can you tell us more about it? What are you looking for when it comes to choose a new release?
Paradigma was created with the idea to promote new artists, we create it on october 2006 y we're proud to say we had worked with artists like Paul Ritch, Henry Saiz, Anthony Collins, Simon García, Architectaural and myself between others. It's been a while since our latest release as we're searching for new talents. Right now we're working with a band called Warmhall. They are doing a great job. But we're searching for total newcomers that hadn't have the chance to get exposed to the global movement yet.
Do you have a personal favourite of the tracks/remixes you've produced?
For the complexity of the track, I would pick without doubt my remix of "Stringer Bell" from Muzarco and Nhir Shoshani for Punch Music. It has an structure and harmonic complexity very elaborated. To be honest it was a truly nightmare while I was making the remix, but I think was totally worth it.
The rebuilding of your studio is almost finished, what pieces of hardware or software are your favourites?
See you're very well informed 😉 Yes finally it's done, i'm very happy with the result. I get to optimize the space I had in the studio to get a proper blend between Analog and Digital. In terms of hardware, I will highlight the Oberheim OB-8, Korg MS-20, Rhodes 73, Apogee Ensemble y mi monitors Dynaudio BM6A and Yamaha NS-10. For software, my favourites are UAD plugins, Ableton Live and the Komplete pack from Native Instruments.
Can you describe your day when you're not performing or travelling?
I would rather describe a whole month; last January, I decided to take a 1 month vacation with one of my best friends. I simply took a light backpack and NO NOTEBOOK! The trip was 1 day in Qatar, 3 days in Kuala Lumpur and over a month in Thailand. It was my best trip ever and helped me to get totally disconnected from the world. I met fantastic people and it was a huge source of inspiration. I think all artists should do this 1 time per year. It was great to get back to the studio and start making music again.
At what time of the day are you the most creative?
Without doubt by night, most of my music is written by night. I'm in a really creative mood and in i love the silence and tranquility that night provides. For mixdowns is better during the day as your ears are fresh. It's good to take advantage of the different hours of the day for each one of the tasks of music production.
What makes you happy? What things makes you feel inspired? What are you passionate about? 
This must be one of the better questions I had been asked on an interview, but at the same time it's so complex to answer it that I could easily write an entire book to answer it, so i'll try to be short. The music, travel to places with natural paradises, help people and the most underprivileged, diving and everything that get you out of the routine day by day.
Where would you like to play where you haven't played yet?
Japan is still in the goal list. Is one of the countries i'd dreamed to go and play and hadn't been possible yet.
What do you prefer when you're performing? A livesets or dj-set? Can you tell us about your live set and how you're performing? The equipment you use? How you're preparing the music?
I haven't played a live set for more than 2 years. I previously played live for almost 8 years, so I decided to make a stop and start creating dj sets. This has allowed me show another part of me and also to deliver larger sessions of 2, 3 or even 7 hours. I love to play long time sessions. I feel much more comfortable and satisfied as that I can make a more detailed musical progression. In my sessions i'm using Traktor plus an S1 controller and the 4 channels at the same time. I love to tweak tracks live – it's like making a remix.
Regarding to the Live Acts; now i'm preparing a new one to present my new album. I guess I'll start by the end of this year to present it. I don't have decided about the equipment yet , but i guess it's going to be something different from what i had done until now. Making a choice between live and dj set it's impossible. I think everything has its right moment.
Which international artists draws your attention? Can you recommend any new talent we should check out? 
James Blake work has blown me away last few years, but he isn't a new talent. As a new talent in Paradigma Musik we're working with Warm Hall. A band that has been very interesting for us, they have a Detroit rooted sound but with more actual tints. Even though I would really like to get to know more newcomers. We had been a while on that search but it's difficult to find people with their own identity performing new ideas. For me most of demos are sounding similar and a lot have a lack of personality.
I know you like to travel. What spot on earth do you really want to discover?  And please tell us why.
The truth is that i have had the opportunity to visit a lot of countries. But there still some places i would really like to go like Africa, India and any Glacier. Hadn't go to India and Africa as i know those places are going to change me forever, and i know that because i don't know any person that had gone there and returned the same.
I hadn't gone there yet as the moment hasn't appeared yet and I want to make it special. I don't want to go all inclusive to any of these places. I really want to get to really know their authenticity. Regarding the glaciers, I always had found them exotic and very out of the common as I live in a very remote place from them. So that's what catches my attention. I'm really looking forward to going there someday.
Your gifts to the world are not only music. We´ve seen you on many occasions being part of charity events or asking the audience to be a part of them. Can you share with us a recent experience? 
My parents had teach me to always be connected with charity and helping other people. I believe music is a way to help people also. So I mixed that and had the chance to meet a lot of new beautiful people. As an anecdote; I can tell you that a few weeks ago, before a gig in Madrid I decided to godfather a kid from India through the Vicente Ferrer Foundation, so little before playing I filled out the form from my mobile. I know it sounds a little impulsive but now i think it has been one of the best decisions in my whole life.
---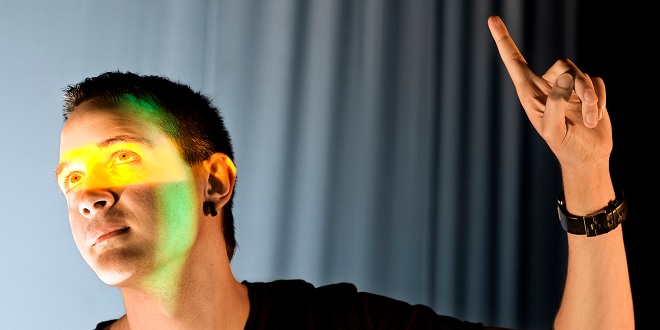 Tu interés por la música comienza desde muy temprano y a los 11 años empezaste a estudiar música clásica. Lees música? Puedes escribirla también? Fue muy difícil hacer la transición de música clásica a la electrónica? O te enraizó dándote los conocimientos para crear lo que querías?
En verdad yo tenía devoción por la música electrónica antes que la clasica, a los 7 años ya me encantaba la música electronica y a los 9 años ya intenté conectar un teclado al sintetizador atari de mi padre, obviamente sin exito ya que ese teclado no tenía MIDI, y yo ni siquiera sabía lo quera el MIDI por esa época, así que empecé a comprarme la revista Keyboard y Future Music. Más tarde a los 11 años conseguí mi primer sintetizador y me apunté al conservatorio de música porque me encantaba el piano y sabía que para poder hacer música electrónica, me iria bien tener esos conocimientos clásicos. Yo nunca he sido un buen intérprete de música clasica y nunca he sido un buen estudiante, mi devoción era componer música, así que he sabido aprender lo necesario para desarollar mis técncias de composición, aunque si puedo leer música y tocar algunas piezas, no me considero para nada un buen intérprete.
Has considerado hacer un album conceptual o trabajar en música "no bailable"? Talvez una sinfonía?
Este proyecto ya está echo, se llama "Suite On Clouds", aunque salió a la luz por primvera vez en el Sónar 2008, no fué hasta hace dos años cuando hice un concierto con músicos en directo en un auditorio, con una sección de 8 violines, percusión sinfónica, una arpa, un pianista y yo. Todo esto con mapping en 3D sobre una estructura especial que se construyó. Toda la música del espectáculo fue compuesta por mi, y era una mezcla entre música clásica y contemporánea, siempre con un toque parecido al de una banda sonora. El espectáculo fue un éxito rotundo y verá la luz en formato DVD a finales de este año.
Tienes tu label "Paradigma Musik". Puedes contarnos más de esto? Qué buscas a la hora de escoger un nuevo lanzamiento?
Paradigma fue creado con la idea de promocionar nuevos aristas, lo cremos en octubre del 2006 y podemos estar orgullosos de haber trabajado con gente como Paul Ritch, Henry Saiz, Anthony Collins, Simon Garcia, Architectuaral y yo mismo entre muchos otros. Hace un tiempo que sacamos muy poco porque estámos a la busca de nuevos talentos, de momento estamos trabajando con un grupo que se llama Warmhall y que están haciendo un gran trabajo, pero estamos buscando a gente nueva que no hayan tenido aún ningúna oportunidad en el mercado musical.
Tu último release, "Alchemist Desert" en Selador posee una escencia muy mística. De dónde salió la inspiración para crear esta fantástica pieza?
Primero de todo muchas gracias por el feedback! La verdad que lo cree una noche cuando estaba de vacaciones en la playa (si porque se trabaja a veces hasta en las vacaciones) y todo empezó con esa vocal que tenía guardada desde el 2003, y que nunca había utilizado, una vez la escuché me vino a la cabeza que quería crear algo más místico.
Dentro de todo el trabajo que has desarrollado, cuál sería tu track/remix favorito?
Por complejidad sin duda mi remix de "Stringer Bell" de Muzarco y Nhir Shoshani para Punch Music, tiene una estructura y una complejidad harmónica muy elaborada, fue la verdad una auténtica pesadilla mientras hacía el remix, pero creo que el esfuerzo valió la pena.
Hemos estado al tanto que tu estudio está casi listo. Cuáles piezas de equipamiento (hardware o software) son tus favoritas?
Veo que estáis en todo 😉 Pues finalmente ya está listo, la verdad que estoy muy contento con el resultado, he conseguido optimizar al máximo el espacio del estudio para conseguir una buena mezcla entre analógico y digital. De hardware me quedo con el Oberheim OB-8, Korg Ms-20, Rhodes 73, Apogee Ensemble y mis monitores Dynaudio BM6A y Yamaha NS-10. De software me quedo con los plugins de UAD, Ableton Live y el pack Komplete de Native Instruments.
Podrías describirnos un día cuando no estas tocando o viajando?
Mejor te voy a describir un mes entero, y fue el pasado enero, donde decidí irme un mes de vacaciones acompañado de uno de mis mejores amigos, y lo más importante, con una mochila ligera y SIN ORDENDADOR. El destino fue un día en Qatar, tres dias en Kuala Lumpur y casi un mes entero en Thailandia. Ha sido el mejor viaje que he echo jamás, y me ayudó a desconectar totalmente del mundo occidental en el que vivo, conocí gente fantástica y fue una gran fuente de inspiración. Creo que todo artista debería hacer esto una vez al año. Aún me acuerdo la sensación de volver al estudio después de estar un mes sin tocar un ordenador y poner las manos en el teclado, y darte cuenta que casi ni te acordabas de como escribir., esa sensación fué mágica!
A qué hora del día te encuentras más creativo?
Sin duda de noche, la mayoría de la música la hago de noche, me encuentro mucho más creativo y me encanta el silencio y tranquilidad que la noche conlleva. Aunque para mezclar es mucho mejor de dia y con el oído fresco. Creo que es bueno saber utilizar las horas del día para una cosa o otra.
Qué te hace feliz? Qué cosas te hacen sentir inspirado? Qué es lo que amas? En definitiva, Qué te mueve para seguir viviendo?
Esta pregunta podría ser la mejor que me han echo jamás en una entrevista, pero a la vez puede ser tan compleja que podría redactar un libro entero para contestarla, así que voy a intentar ser lo más breve posible. Me hace feliz y me hace sentir vivo, la música, viajar a lugares con paraísos naturales, ayudar a los demás y los más necesitados, bucear y todo aquello que se sale de la rutina del día a día.
Qué lugar o club del mundo te gustaría visitar para tocar?
Me queda pendiente Japón, es uno de lo países que siempre he querido tocar y aún no he visitado.
A la hora de presentarte, prefieres el formato live set o dj set? Podrías contarnos más sobre tu live set y cómo lo estás desarrollando? Qué equipamiento ocupas? Cómo preparas la música?
Actualmente llevo más de dos años sin hacer un live, llevaba casi 8 años haciendo casi íntegramente lives, así que decidí hacer un parón y desarollar sets como dj, que me han permitido mostrar otra faceta, y sobre todo desarollar sesiones largas de 2, 3 o incluso 7 horas. Me encanta hacer sesiones largas, me siento mucho más cómodo y satisfecho, ya que así puedo hacer una progresión musical más detallada. En mi sesiones utilizo el Traktor con una S1 y los cuatro canales a la vez, me encanta poder variar los tracks en vivo, es como hacer un remix al momento. En cuanto a los lives ahora mismo me encuentro a punto de prepara un nuevo directo para presentar mi nuevo album. Supongo que empezaré a finales de año a presentarlo. El equipamiento aún no lo tengo decidido del todo, pero seguro será diferente de lo que he hecho hasta la fecha. Elegir entre Dj Set o Live es imposible, creo que cada cosa tiene su momento, la gracia está en saber elegir el adecuado para cada situación.
Existe algún artistas internacional que se robe tu atención? Podrías recomendarnos algun nuevo talento al cual debemos ponerle oreja?
Me ha fascinado el trabajo de James Blake en los últimos años, pero bueno no es ningún nuevo talento. Como nuevo talento en Paradigma Musik estamos trabajando con Warm Hall, un grupo que nos ha parecido muy interesante, tienen un sonido tipo Detroit pero con matices más actuales. Pero me encantaría encontrar otro artistas nuevos, llevamos tiempo en busca de gente nueva, pero es difícil encontrar gente con identidad que hagan ideas nuevas y no copie al estilo de moda. Por desgracia la mayoría de demos suenan igual, y muchas no tienen personalidad.
Sabemos que te gusta viajar. Qué lugar en la tierra te gustaría descubrir? Porfavor cuéntanos porqué.
La verdad que he tenido mucha suerte de poder visitar muchos países en los diferentes continentes. Pero aún así me falta visitar varios lugares que siempre he querido ir como son Africa, la Inda y algún glaciar, que todavía no tengo decidido. El porque de India y Africa es porque se que me van a cambiar para siempre, y lo se porque no conozco a nadie que no le haya cambiado visitar esos lugares. Si aún no he ido es porque aún no he encontrado el momento, quiero que sea algo especial, y quiero saber que estoy preparado tanto mentalmente como físicamete, no creo que todo el mundo esté capaz de visitar esos lugares, y cuando vaya no quiero ir de turista con pulserita de resort, quiero descubrir lo auténtico de esos países. En cuanto a los glaciares siempre me han parecido exóticos y muy fuera de lo común del lugar donde he vivido hasta ahora, y creo que también es porque me gusta tener la sensación de estar en lugares remotos.
Tu entrega al mundo no sólo es mediante la música. Te hemos visto en muchas ocasiones siendo parte de obras benéficas o llamando al público a ser parte de éstas. Cómo nace la relación con estas instituciones y lugares? Cuéntanos alguna anécdota o situación que te halla marcado.
La verdad que siempre he tenido un vínculo con las buenas obras gracias a dos buenos profesores, mi padre y mi madre, que han sabido educarme los valores de la vida y a valorar muchas cosas. Creo que la música es una manera de ayudar a la gente, a mi me ayuda tanto escucharla como hacerla, así que si vinculas tu faceta como artista con alguna obra social, creo que hace aún más especial el echo de ser músico. Como anécdota te puedo contar que hace pocas semanas, antes de un gig en Madrid, decidí apadrinar un niño de la india en la fundación Vicente Ferrer, así que poco antes de tocar rellené todo el formulario desde el mòbil, y aunque pueda parecer un poco impulsivo, a posteriori creo que ha sido una de las mejores decisiones que he echo en mi vida. Ya me ha llegado la guía de apadrinamiento y me ha parecido fantástica.