The 325th episode of our 12 Questions segment features producer DJ Beat2.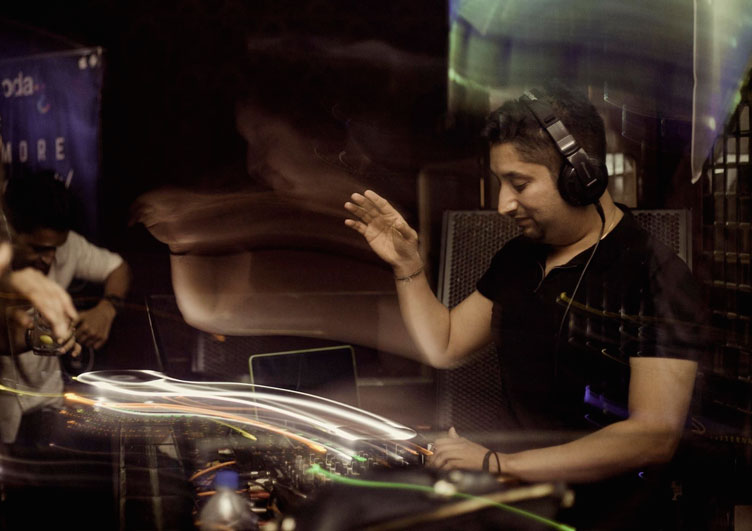 1. How old are you, where are you living and how long have you been producing and Djing?
I'm 35 years old living in Mumbai, India. I've been DJing for 13 years and producing for almost 10 years (mostly bootlegs and mashups) but only got my official release in the last 4 years.
2. Where do your musical roots lie, what are your first memories of electronic music and when did you know you wanted to pursue it seriously? Are there any particular productions or artists from the past that really made you think to yourself 'this is what I want to do."
My musical journey started in 1994-95 when my brother used to get me live sets recorded on a cassette at local clubs by his friend DJ A-myth (India).The sequencing of the set and how the energy would build up was just incredible. I had no idea why I was listening to it, maybe because it was just so good. My plans were to get into sports but somehow music sucked me in big time subconsciously. Tracks like ATB- 9pm Till I Come, Josh Wink- Higher State Of Consciousness, Scorchio- Sasha & Darren Emerson and Prodigy had a very strong impact in my early years. Another important impact was BBC Radio 1 Essential mix, Mr Pete Tong's introductions still ring in my head as I write this.
The internet boom and Napster gave me access to a lot of unknown music and artists, which is where my real discovery began. My quest for knowing more helped me find artist like Sasha, Paul Oakenfold, John Digweed, Nick Warren, Paul Van Dyk etc. and many more legends of today. Around this time my cousin sister who was living in London gifted me Ministry Of Sound- Annual Summer Mix cassette which I would blast in my car and drive around my college friends like a maniac. I still remember my favourite was the Tall Paul mix. Then 2 live gigs with Paul Van Dyk and Sasha in 2001 & 2002 had a serious impact on my mind as well.
After some years, I went for A-myth's Album launch party and experienced a live set and how one man was in charge of the mood and journey of so many people. From listening to live sets to experiencing that moment at a live gig in 2002- I knew 'this is what I want to do'.
At this point I trained myself from Joe Azaredo's academy in Mumbai and got a high profile residency where I met Sanjay Dutta who helped me steer my career in a more meaningful direction. I would hear him live every week at a club called Avalon on Wednesdays, playing 8 hour sets, only Vinyl in 2005 when the whole world was debating about the medium.
Inspiration keept flowing in different forms and events throughout- I remember travelling to Dubai and London specially to hear Sasha & Digweed individually. They are like machine's, you know you'll have a memorable night if you just let them be and do their thing, without expecting the same thing they did in the past. Then I got invited to chill in the back room of Ministry Of Sound with my other favourites, Nick Warren & Hernan Cattaneo doing a b2b in 2011, I felt I was in heaven with the Gods.
These highlights contribute to what I'm doing today!
3. How difficult was learning to produce for you in the beginning? Did you take any Audio Engineering programs or production courses to help you out or are you pretty much self taught? And did anyone give any advice early on that really helped?
I was in good hands from the beginning. A-myth insisted and guided me through Ableton and along with that I started my piano lessons with Benedict D'silva who's training helped me finish 4 Grades with London College Of Music. So playing with Ableton in 2003 was like a natural extension to DJing for me.
Since I was listening and playing music which was mostly coming out of Europe, I was always intrigued by the process which was being followed to produce music there. In 2007, I shuffled between Nottingham and London for 2 months grabbing as much experience and did a crash course in music production from Manchester.
Then last year we had Sahar down with Coalition Music and we were chilling in my studio before his flight. I started playing Sahar my music and he kind of changed the game for me. He encouraged and guided me for my big release with Hernan, still does whenever I need an experienced ear to steer me.
4. What parts of the production process do you find the most difficult and what comes easiest for you? When you do hit a creative block what helps you through it?
The most difficult part is to start off with a clear head. I am constantly juggling between different roles, so this becomes a real challenge. Once you're in the groove or get a musical hook, it's an open road ahead from thereon. It's more like a spiritual process really. You reach a point and realise, you are just the medium and things are happening through you. Our job is to tune our head and the music comes along 😉
When I feel I have hit a creative block, I take a break and do the most opposite things. I make follow up calls, watch tv or to find inspiration most of the time watch an interview by Sasha, Digweed, Sven Vath etc. Apart from being such brilliant DJs they know how to explain things with words too.
5. What's a normal day like for you? Do you have a job outside of electronic music? And what do you like to do when you're not working on music?
I run a company i.e. Coalition Music along with Sanjay Dutta which focusses on pushing Underground Music through events, record label, a monthly radio show on Frisky Radio called 'ORIGIN'. Last year Coalition Music toured India with Dave Seaman, Guy Mantzur, Sahar Z, Darin Epsilon, Mariano Mellino and Pedro Aguiar.
So my day starts off with planning and executing things for Coalition Music which dominates most of my day. The remaining part of the day, I'm training students in the field of DJing, Music Production and Music Business. Due to the sheer number of people showing interest in our work, we are launching Coalition Music Academy in July 2016 and pass on the knowledge in the best possible manner. As the week continues, my days (rather nights) are diverted to my club residency at Royalty and Korner House.
In the past, I was teaching at Future DJ Academy and also took seminars for AVID Group by corporate giants ESSAR. I used to conduct a weeklong crash course on DJing for people who wanted to know more about our world and if it was lucrative enough for them to convert their passion into a career.
I have tried my hands on things outside electronic music, but my heart lies here. So every work that I do is connected to electronic music in someway.
When I'm not working on music, I go for movies and chill with a select few close cousins and friends. Most of the times we hit my very dear friends farmhouse which also has a horse riding institute, where I love to connect with nature and not worry about any of the things that I do back in the studio. It really helps me disconnect really!
6. Apart from electronic music what other genres do you listen to and who are your favourite artists outside of electronic? and do these genres or artists have a direct effect on your own productions?
I love to listen to all genres of music. It all depends on my mood. Most of the times outside electronic music I find solace in western classical music. Beethoven, Mozart etc. but trust me I have no pattern or particular like to follow. I like to go into the wild and find new inspiration.
My favourite artists outside electronic music are RD Burman, AR Rahman, Hans Zimmer, Yanni etc..
The genres and artist  that I like are imbedded in my subconscious mind and at some point reflect in my work. Its like a small idea explodes into a track in another dimension, but it all begins from what we're listening to at some point.
7. What was the first and last physical (CD, Vinyl, Cassette etc)  piece of music you bought?
The first physical cassette I bought was Best Of Trance on Sony Music which was a compilation of hit melodic tracks. The last physical CD I bought was the Sudbeats3 compilation- as my track Sublime Memories featured on it 😉 –
Luckily enough all the Vinyls I posses have been gifted to me- Need To Feel Loved- Reflect was gifted by Sanjay Dutta and Nothing But You- Paul Van Dyk by a dear friend Pankil and many more…
8. Tell us something about yourself that might surprise people?
I'm known to be a hard party guy in the circuit here which I plan to drastically change in the coming days- people are not believing me at the moment- but soon they'll be surprised coz i'm very unpredictable, in a nice way but 😉
9. Which producers in your opinion get consistently overlooked?
Deepfunk I particularly like and I think his work is super and should get more attention in my opinion.
10. Which producers consistently inspire you? And where else does your inspiration come from?
Sasha, Nick Warren, Robert Babicz, Guy J, Dave Angel and many more.. My inspiration comes mainly from the dance floor and from random places- I see tones, frequencies and patterns in everything nowadays.
11. There are countless producers out there trying to find their way and create their own unique sound, what advice do you have for them?
Inspiration is beginning but what will stand out is your identity. Your identity comes from within, your uniqueness will come from how you perceive and combine the sounds to label them as your own.
DO NOT TRY TO REPLICATE, will take you somewhere but soon you'll realise you've reached nowhere!
12. If the final DJ/live set of your career was next week what would your last track be?
Unrest – Clarian or Candyland (King Unique Mix) – Guy J
'Subterrestrial' is out now on BC2, you can purchase the release: here