The 42nd release on Perspectives Digital sees label boss Darin Epsilon stepping back into the spotlight.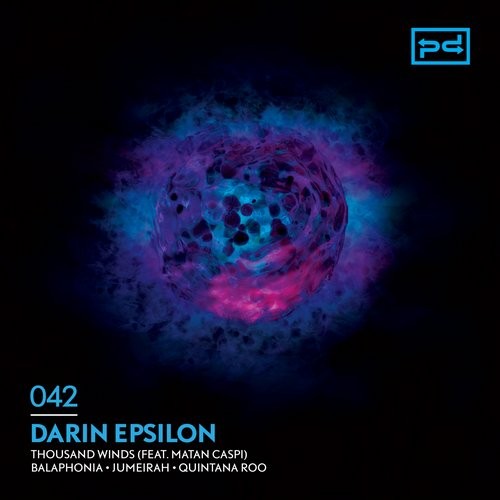 It's been a landmark year for the much loved US artist. Following the release of his 'No Regrets' LP last November, Darin has been to 8 different countries pushing his unique take on melodic house and techno. Recent shows at the BPM Festival and Miami WMC, along with tours of Argentina, Colombia, and Ecuador have brought Darin into the spring season with his fans hungry for new music. Now after a long period of production silence, Darin is back in full force with his much anticipated 4 track EP, as well as upcoming releases on Sudbeat, Global Underground, Parquet Recordings, and Chapter 24. 
The US artist has never been confined to one genre or stylistic blueprint and that proves prevalent once again throughout the entire EP. The title piece 'Thousand Winds' finds Darin collaborating with world-renowned artist Matan Caspi. The Israeli producer has been a staple of the electronic underground dating back 10 years with releases on Global Underground, Deeperfect, and Spinnin as highlights of his discography. His penchant for tough, club-friendly grooves has melded well with Darin's talent for crafting memorable melodies. Harmonious synth swells and rolling beats provide an intense yet emotive 8 minute journey. An electric break is one of many highlights, preceding an exhilarating conclusion that's perfectly dialed for peak hour. 
The EP's second selection 'Balaphonia' proved to be one of the most hyped tracks from this year's Miami Music Week and Winter Music Conference. Initially aired by Nick Warren & Hernan Cattaneo on their infamous 'Never Get Off the Boat Cruise', its foundation of house grooves and vibrant melodies was one of the most memorable moments in their B2B set. Cascading mallets and xylophone clusters converge before a four note lead lifts you higher and steals the emotional air. Much sought after as the conference concluded, the track is available just in time for the summer club season ahead. 
Darin continues his borderless approach with the deep and sultry 'Jumeirah'. Its shuffling groove and dubby tones make for a smooth hypnotic journey. As vocal loops oscillate with mesmerizing flair, the bouncy beats and meditative bass become all the more appealing. With a smooth rush into its second act, the late night rhythms prove irresistible as a charming build delivers yet another magic moment. 
Finally, the summer narrative closes with 'Quintana Roo', named after the Mexican state that is home to Playa Del Carmen and its annual BPM Festival. Timeless tones, phasing noise, and soulful vocal gates complement the warm groove. With a seaside appeal, the main break lifts time and space for an exhilarating drift, transporting the listener on an endless coastal plane. A charming conclusion to a broad and creative collection of music from Darin.