The latest release on Tash's Movement Recordings finds the label showcasing new remixes of Alejandro Manso's 'Beautiful Sins' EP.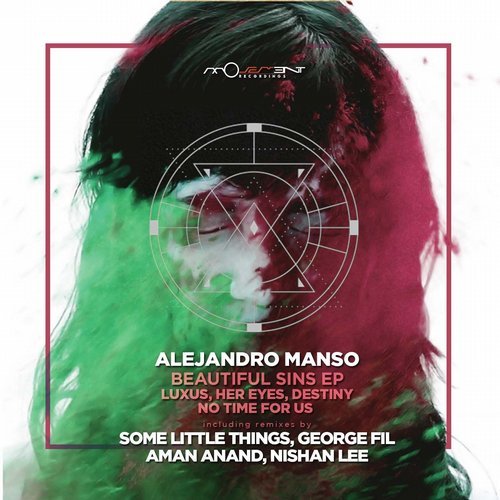 Originally released in February of this year the four track offering showcased the Mexican artist's versatility with a an array of styles from techno to progressive house. Now almost a year later the label invites Aman Anand, George Fil, Some Little Things and Nishan Lee to reinterpret the project.
First up Aman Anand makes his much anticipated Movement Recordings debut following strong releases on Juicebox Music and Northern Lights. In a year filled with evolution, the Indian artist kicks off 2017 with a superb interpretation of 'Her Eyes'. Aman takes the progressive techno sound showcased in the original into deeper more modern territory with hypnotic grooves and stellar sonics. It's meditative qualities are offset with a remarkable effects storyboard, shifting with each passing loop and enlightening the mind as a result. Definitely one for all the cutting edge DJs out there.
The second interpretation is provided by George Fil who returns to the label for his fourth appearance. The Greek artist made his Movement Recordings debut just last year, compiling the 'Modern Filosphy' compilation and collaborating with label boss Tash on 'Vigilance'. Three subsequent appearance's have showcased George's unique take on progressive music with an interpretation of Michael A's 'One Day' coming is as the highlight. Now getting the new year off to a great start George provides a stunning interpretation of Alejandro's 'Luxus'. From its deep, mysterious atmospheres to grainy effects and a tight punchy groove it's got all the makings of a late night gem. A smooth modular storyboard through the second act proves poignant, igniting an emotive conclusion as luminous pads drift skyward.
Some Little Things are no strangers to Movement Recordings having appeared on the label twice previously. Most recently the Argentinean duo remixed the critically acclaimed collaboration 'Dust' from Movement boss Tash and Michael & Levan and Stiven Rivic. Now kicking off 2017 in style Some Little Things put their own unique spin on 'Destiny'. The duos pollinated sound continues to evolve here with a deep yet tough, club ready rework. Classically styled, the tightly knit framework houses a wealth of smooth rhythmic elements and mallet-like motifs. A melancholic break proves to be the ideal centrepiece before a more melodic third act carries you home. 
The release concludes with Nishan Lee making his much anticipated label debut. The Sri Lankan artist had a groundbreaking 2016 with appearances on Lonya's Asymmetric Recordings, Praveen Achary's Juicebox Music and Michael A's Genesis Music. His nu-progressive sound earned support from Hernan Cattaneo and 2017 holds much promise with a large interpretation of 'No Time For Us' to kick it off. Organic design, tribal-infused drums and a mysterious groove have you instantly hooked, before hypnotic trails bring you further into the cosmos. In many ways a progressive house aficionado's dream and perhaps the most heady production of Nishan's career. A perfect conclusion to a release full of variety and talent from Movement Recordings. Don't miss it.