The 126th release on Suffused Music finds the label showcasing new interpretations of Bruno Caro's 'Entre 2 Mundos' EP.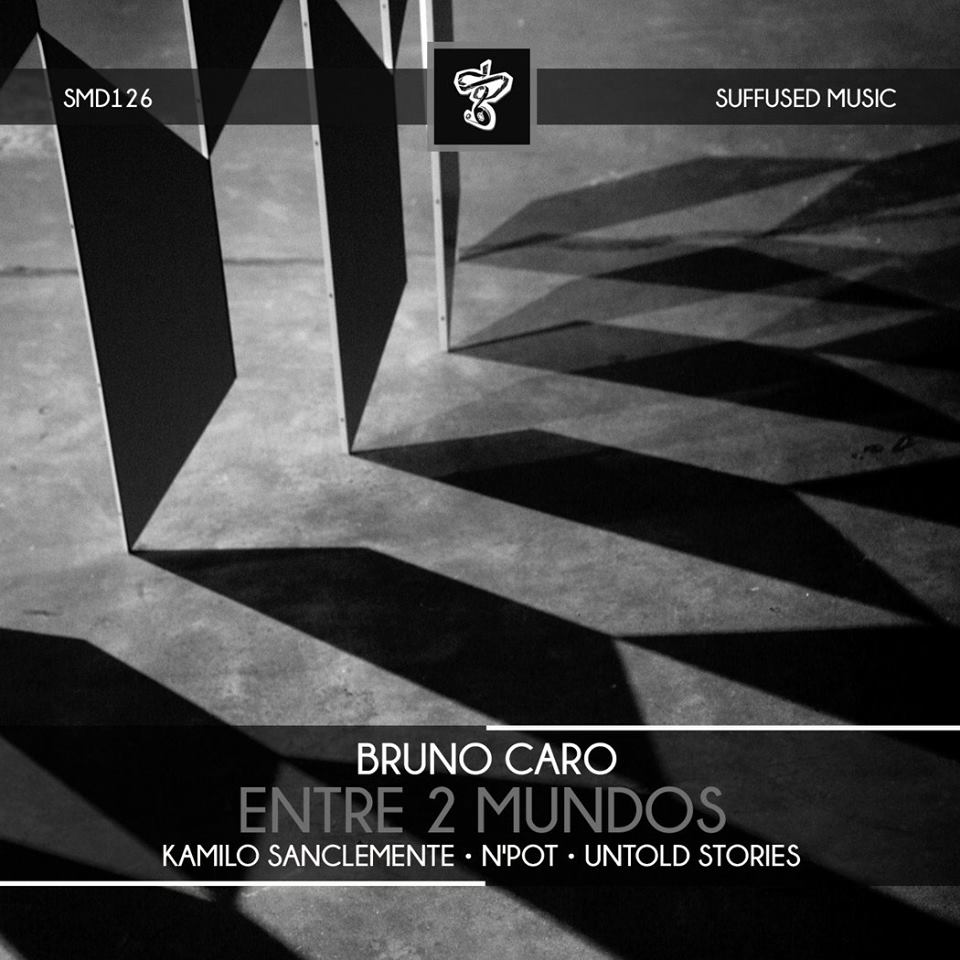 Originally released in June of 2015, the 3 track offering showcased the Argentinean's pendant for melodic progressive which eventually led to an appearance on Guy Mantzur's Plattenbank Records. Now we see Suffused Music revisiting 'Entre 2 Mundos' with new interpretations from Kamilo Sanclemente, N'Pot and Untold Stories.
The first interpretation on the release finds Kamilo Sanclemente reworking 'Entre 2 Mundos'. The Colombian producer has been hotly tipped of late with releases on Baroque Records, Einmusika and Perspectives Digital. His dreamy yet club friendly approach to production has worked wonders on 'Entre 2 Mundos', transforming it into a beefy dance floor rendition. Rolling slabs of bass anchor the mammoth groove while tribalistic drums and smooth hypnotic motifs push the momentum forward. Airy pads lead the piece into a stripped down section before the beats drop out and a mesmerizing theme steals the air. Kamilo shows resistant with a tasteful build, ultimately leading to a rumbling drop and elegant conclusion. Brilliant work from one of the undergrounds most underrated talents.
The second interpretation finds N'Pot overhauling 'Ansias' into a groovy hypnotic number. Nicolas Delfino aka N'Pot hails from Argentina and was part of the Monster Of Density trio, who had a nice run from 2011-2013 with releases on Dopamine Music, Movement Recordings and Sound Avenue. Since focusing on solo material Nicolas has reshaped his sound and kept the alias quite exclusive with just 5 releases in two years, including appearances on 238W, Soundteller Records and Stellar Fountain. For his 'Ansias' interpretation Nicolas has crafted what is likely his most mature work to date with a driving groove and mesmerizing motifs leading the way. Bubbly bass tones make for some incredible bounce while vocal stabs pierce the air and trail off into a tripped out break. Swirling textures add an air of mystery while panning gates and a rush of white noise lead to a tasteful drop, revealing the undulating groove once more. Big remix from N'Pot.
The third and final interpretation on the EP welcomes Untold Stories back to the label for his second appearance. The Argentinean producer made his debut on the Lithuanian imprint with his 'Prologue EP' in February of 2015. The five track sound story introduced the underground to an artist with a wealth of studio experience and there has been an air of intrigue around the project ever since. Now just over a year later Untold Stories returns and reworks 'Arpegio Un Cinco' in his own inimitable style. With a markedly slowly tempo and chunkier groove, the Argentine takes straight aim at the dancefloor. As vibrant electronics pierce the air, tonal themes and panning effects tantalize the senses. The main break proves to the highlight with its hypnotic drawl and tactful build, ultimately leading to a stripped down drop and effects heavy third act. Unique and wonderful work from Untold Stories and a top notch remix EP from Suffused Music. Don't miss it.