The 119th release on Suffused Music welcomes Elliot Duquai and No One back to the label for a new single.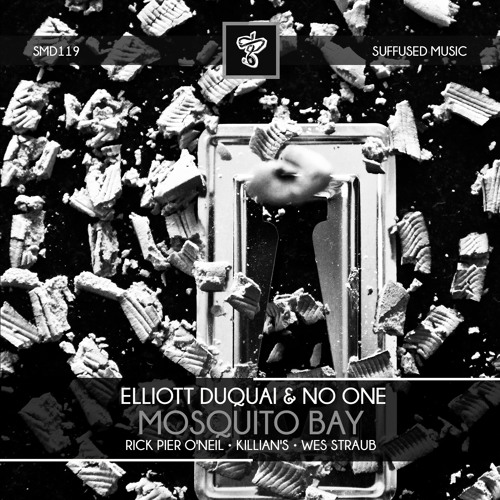 The French duo made their debut on the Lithuanian imprint in April of 2014 with 'Specific F-Influencia'. The EP featured two up-tempo productions which showcased the trancier spectrum of progressive house. Then almost exactly a year later the duo returned with a fresh approach and their newest studio creation 'Maschine' which was a contemporary take on progressive techno. The much loved duo has been quiet ever since and with a productive time in the studio the duo now emerge with 'Mosquito Bay' alongside remixes from Rick Pier O'Neil, Killian's and Wes Straub.
The release gets underway with the original mix and it shows that months locked away in the studio has been fruitful for Elliott and No One. The duos sound has evolved once again and 'Mosquito Bay' represents months of hard work. Anchored by a hook heavy, hypnotic groove it doesn't take long for this one to suck you in. As the piece builds layers of metallic synths, galloping rhythms, distinctive stabs and feathered electronics bring waves of momentum, which drive the track into an endless loop of infectious energy. Void of any real main break the duo keeps the groove locked with unique design and a relentless approach. A powerful production from Elliott Duquai and No One.
The first interpretation of 'Mosquito Bay' is provided by Rick Pier O'Neil who is returning to Suffused Music for his sixth appearance. The French producer and RPO Records label boss first appeared on the Lithuanian imprint with 'Shimmer of Lights'. Released just over 12 months ago the two track EP was part of a career resurgence for Rick who has been quiet for several years prior. Rick has now re-established himself as a top producer in the underground and boasts a discography with releases on Armada, Baroque Records, Blackhole Records, Bonzai Records and more. He's certainly found a home on Suffused Music with several of his best productions coming courtesy of the Lithuanian imprint. His 'Mosquito Bay' interpretation is no different as he takes the great energy from the original and transforms it into his own new school progressive techno vision. Rick's distinctive designs always push the sonic envelope and in combination with a mean, hypnotic groove it makes for a dubbier, more dance floor ready version of the original. A deadly interpretation from Rick which you'll no doubt be hearing a lot in the coming months.
The second interpretation of 'Mosquito Bay' is provided by Killian's who is making his first appearance on Suffused Music. The French producer has an extensive discography highlighted by releases on 1605, Toolroom and his own Cobra Records. Having earned support from Umek, Marco Carola, Richie Hawtin, Steve Lawler and more Killian has already notched his place in the underground. His club friendly fusion of Tech House and Techno has remained fresh and he's brought that vision once again with a great interpretation of 'Mosquito Bay'. Killian's percussive framework is backed with a rolling groove aimed squarely at the dance floor. Phasing tones and strong rhythmic elements drive the track into the main break. Here Killian drops a catchy vocal hook, propelling the track to even greater heights. The third act continues the storyboard with new found vocals along with the infectious swing which should make for dance floor devastation.
The third and final interpretation of 'Mosquito Bay' is provided by Wes Straub who is returning to Suffused Music for his second appearance. The Canadian born, now Mexico based producer first appeared on the Lithuanian imprint with a contribution to the label Initializing Vol. V compilation from May of this year. Well known as a DJ, Wes has shared the decks with Markus Schulz, Nick Warren, Jody Wisternoff, Max Graham and Laidback Luke to name just a few. A pivotal moment in Wes's production career came in 2013 when he was announced as the winner of the Markus Schulz and Ferry Corsten (New World Punx) remix competition. He has since gone on to appear on a variety of top imprints including John OO Fleming's JOOF Recordings, Kunai Records and Sound Avenue. His return to Suffused Music has been much anticipated and he's closed the release out with an excellent interpretation of 'Mosquito Bay'. Wes' energetic style complements the original really well as he takes a grander approach with cascading synth swells, bulging bass stabs and discernible hypnotic rhythm. The break builds tension with a bassy narrative and those epic lines seemingly reach a notch higher with each successive loop. It makes for a magical moment and one which closes the EP out on a high note. Huge remix from Wes and a quality offering from Suffused Music. Don't miss it.