Techno queen Fatima Hajji talks to us ahead of her Silver M party at Privilege and reveals why Carl Cox was right to choose the venue.
Hi Fatima, we hear you smashed Awakenings last weekend and are back at Privilege, Ibiza with your Silver M(oon) party on Tuesday. Who's on the line up and how does your party differ to other nights in Ibiza? What do you guys do differently?
Fatima Hajji: It was an honour and also a big pleasure to spin once again at Awakenings Festival this year. It's an incredible party with perfect energy between all the people, it's simply magic. So I'm really glad and happy.
For Ibiza at Privilege, we've tried to set up a line up under 2 main factors, 1st of all producers who I've admired for a long time and secondly artists/producers who want to be part of our label project with an energetic and stomping sound in the techno scene. This is what I consider necessary for a great party and I think that this is what people come to the island want. This is how we planned it last year and this year we're sticking to the plan.
We know there's politics on the Island. How difficult has it been securing DJs to play at your night?
Fatima Hajji: Unfortunately, the politics nowadays and in general are very distant from the people and any pure logic. But I think that who really needs to stand up to these problems are the club-owners and the big brands, our brand of parties has only just started and at the moment we've been lucky enough to be able to always work with stable and established clubs, which without a doubt makes us very grateful and let us concentrate on what's really important, which is to offer a great party to people who want to enjoy with us the genre of music that moves us, our passion.
Your party is only a year old yet you're hosting it in Ibiza's biggest club. How proud are you about managing to build a successful night at Privilege in such a short space of time?
Fatima Hajji: It's a dream what we've been able to achieve in such a short space of time and it really is a privilege to be in Ibiza in a club like Privilege and especially this season where they have a really strong bill of artists. We carry on working hard so we can grow and be able to bring our sound to more places.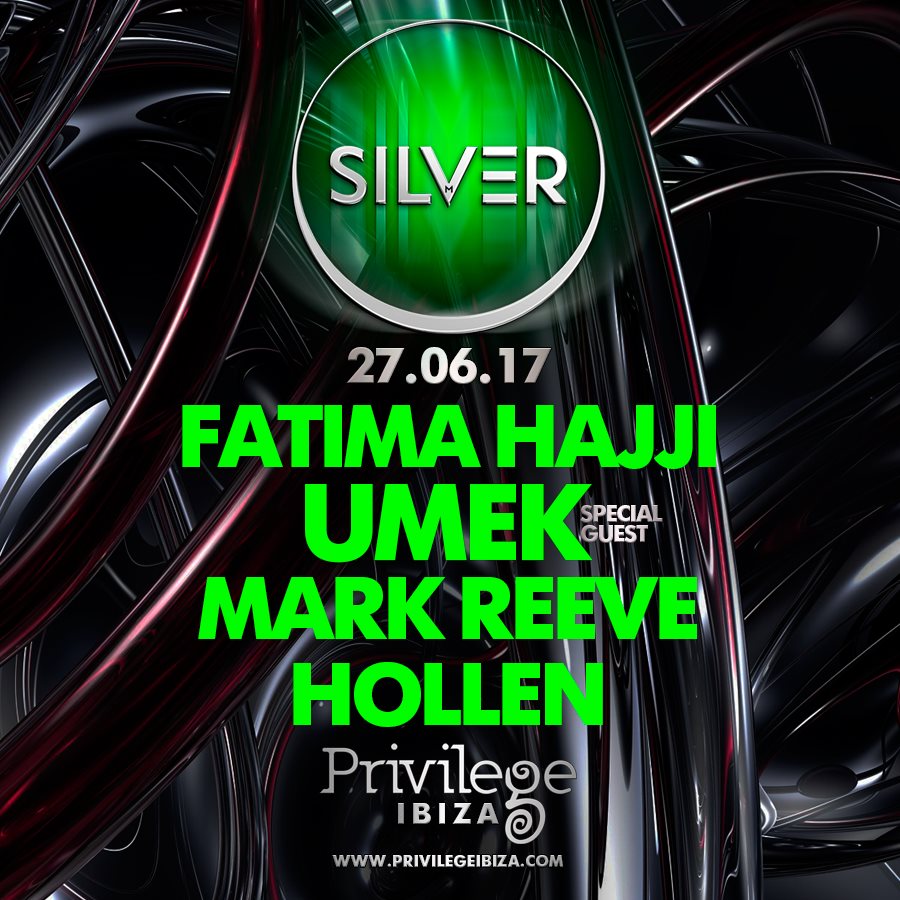 Carl Cox decided he could never relive the times he had at Space with Hi-Ibiza. It's really interesting that he chose Privilege as his new venue. Do you think this was more down to capacity or do you think Privilege better represents the underground in Ibiza?
Fatima Hajji: Obviously, I don't know the reasons, but without a doubt Privilege has the conditions to host the biggest artists like himself, it's also one the pioneer clubs of the island and part of the reason Ibiza is such a hit worldwide, so all I can say is I think it's a great decision.
Our team have been to Hi Ibiza and said the venue looks gorgeous but the sound is not as good as it was in Space. They said the main room is also packed with VIP areas just like in Vegas. Do you think we're in danger of the underground losing it's integrity and everything becoming about money if this VIP trend continues?
Fatima Hajji: His scene, in particular, I think that each genre has its particularities and in reality that doesn't affect in a negative way other genres "More underground" on the contrary, I think that there has been a huge growth in other electronic genres in some way they have benefited from the big promo from EDM. The last few years TV, radio, etc. It's been played everywhere it all sorts of public places and even in clothing stores (Before it was POP) and after a while the young fans start getting interested in "Deeper" or "Underground" sounds and in the end they end up discovering different sounds and once they get hooked it's normally forever. That's why the growth of Techno is more organic and longer lasting, maybe its focused in details like sound, because the people come for the music.
Where are your favourite real underground places to play in the world, which is just lights out and heads down on the dance floor action?
Fatima Hajji: That's a really difficult task to name a few because nowadays the clubs, the artists, the technical guys are so professional and always try their best. I love these clubs for their sound, format and most of all for the energy that builds up. Gashouder – Amsterdam, Razzmatazz -Barcelona, Factory 010 – Rotterdam, Depot – Amsterdam, Barutana – Belgrado, Florida 135 – Fraga.
That's not all of them, but these ones are wicked 🙂
We know you love your grooves. Can you tell us your go to labels right now.
Fatima Hajji: I've always wanted to have my own sound, and whatever I needed for each moment. I don't care if whatever's "Trendy" is with fewer vocals or the average BPMs, I do what I feel like and that fulfils me because any other way wouldn't be me. And with my label I want to do the same, for me, it's a necessity for a track to have punch (independently from its speed) it has to also transmit energy to be able to give it all on the dance floor independently from all the tags and labels people give.
C-U was founded as a platform for supporting emerging talent back in 2013. Can you share a few names of up and coming artists who deserve a mention?
Fatima Hajji: The growth of the scene has been marked by a decent number of artists each year, it's impossible to name them all because there are so many, Fabio Neural caught my attention lately and he'll be releasing the next EP on Silver M. Very soon we'll be releasing more new names on the label with really high-quality stuff, something that is always motivating for the label.
Finally, can you let us know what's coming up on your label Silver M and can you let us know other projects you're looking forward to this year?
Fatima Hajji: We're pretty much submerged at the moment in this season in Ibiza, We're planning to back to Holland for ADE, of course back to Barcelona and another destination where I really want to play is in my home city, Madrid.
Connect with Fatima Hajji 
https://www.facebook.com/fatimahajjidj
https://www.facebook.com/silvermofficial