Kassey Voorn is back again, this time with a new single on Secret Cinema's highly respected imprint Gem Records, with the remix coming from man of the moment, SQL.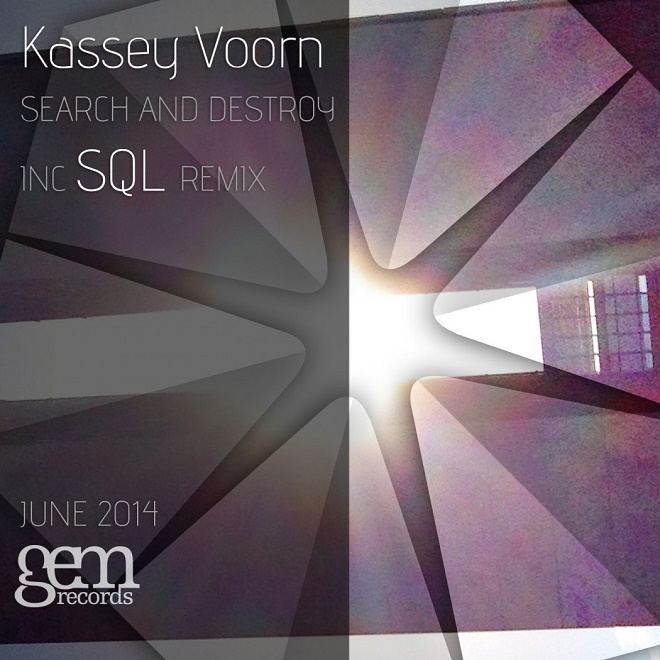 The track, entitled "Search and Destroy," starts off hitting hard, getting your attention, and not relenting much after. We're greeted with a heavy, dubby bass/kick combo, slamming percussion, and some particularly well placed glitchy effects. One of the first and foremost themes in this track that draws me in is the heavy use of distortion on almost all the elements that come into play. I personally love distortion, and the trend towards using guitar amp simulators, distortion pedals, and tape saturators to achieve a vintage sound in the modern digital world is one of the underground's strongest production trends at the moment, and it's kicking some major tail experimentation-wise when it comes to inventing new sonic possibilities. Voorn's track is positively dripping with it, and while it might feel like overkill to some, it's clearly intentionally executed to add an undeniable grittiness to the track. The percussion riffs probably stand out as my favorite groove elements here; I've long been a fan as well of heavily processed, glitchy, square-wave blips, claves, and cowbells because these elements in the club are such emotional gamechangers for the music. They add a dark edge that contrasts the low end in such a way as to propel a track forward, and here they do just that. The dubby, deep bass in addition is beautifully driving, and the main synth lead has a sweet melodic, retro tech sound that is gracefully sophisticated. I may be somewhat biased being a Kassey Voorn fan, but Search and Destroy is a win in my book.  Listen for yourself. 
SQL doesn't back down with the robust flavor the original gives us, and we have yet another track that comes in with a bang and continues heavy handed with some serious momentum throughout it's duration. Once again distortion plays hugely in many of the elements, although not nearly as much as the original. SQL clearly leaves some elements a bit cleaner for contrast, and the combination of clean and gritty here makes for a very enjoyable listen. The groove of this track, however, is really where the magic happens. The bass is dark, moody, and driving, implementing a well mixed combo of both a low end and low midrange instrument respectively that combined offer for a nice, full range sound. The vocal stabs play a large role here, and combined with some more blippy percussion (although much more subdued than the original), give a nice moody feel with a slightly more emotional undertone than the original that gives for nice variety in the release. The track also takes liberty with a minor chord progression that adds for yet another variation that keeps SQL's remix interesting to listen to and take in throughout. Finally, the breakdown is markedly dramatic, and given the strength of the groove elements, gives some great anticipation mid-track that will definitely provide for some magical moments on the dancefloor.
Both tracks are going to perform well in the clubs, and both artists, using several rhythmically powerful elements, have created a nice twist on a concept that is clearly made to do one thing: make you dance. Mission accomplished.