The latest release on Asymmetric Recordings finds the label revisiting Lonya and Mz Sunday Luv's 'Judgement Day'.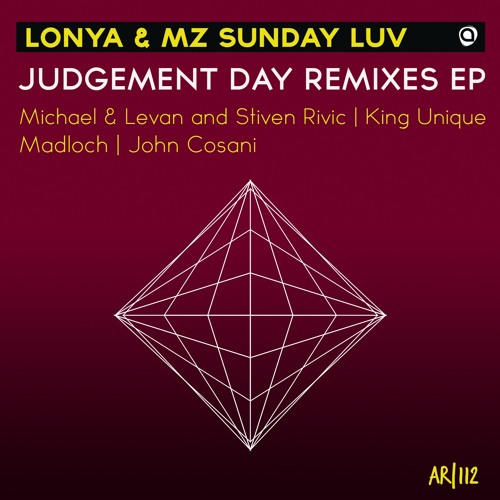 Originally released in August of 2015 it was the labels momentous 100th release and was backed by a remix from King Unique. Now almost a year later we see the label inviting Michael & Levan and Stiven Rivic, Madloch and John Cosani to update the track for 2016.
First up the Mistique Music label bosses Michael, Levan and Stiven make their Asymmetric debut and take 'Judgement Day' into groovy, hypnotic territory. It's rare we get to see the much loved trio work with vocals and they've done an amazing job here. Sitting nicely in the mix as the track builds momentum they gradually transform into an endless loop of meditative bliss. Broken up by the tracks centrepiece, the stripped groove works through a variety of sonic delights before dissipating to a lonely tonal theme. It's quite magical and once that warm, melodious groove returns it's game over. The icing on the cake would have to be the return of more indistinct vocal loops which drive you further into the hypnotic vortex. Likely Michael, Levan and Stiven's most broad and contemporary remix to date. Sounding like a winner for the summer as well.
Next up Sound Avenue's Madloch makes his label debut and provides another stunning interpretation. We last heard from the Belgian producer when he teamed up with Mexico's Hot TuneiK for a remix of 'Brain Damage' by Analog Jungs. It's been three months since then so the collective underground is hungry for more. Whereas Michael, Levan and Stiven used the vocal elements all the way through the mix Madloch has opted for a dubbier, more melodious approach. The underlying, almost indistinct nature in which vocals sit is almost subliminal in a way and the evolving tonal theme ultimately leads the track to greatness, particularly following the main break where it's glassy cosmic swirl takes full effect. Another great remix from Madloch and likely his career best I would say.
Closing the release out is John Cosani who is making his second appearance on Asymmetric Recordings. The Argentinean artist last appeared on the Israeli imprint with a contribution to the label's 'Off Springs #1' compilation released in April of this year. Most recently John has remixed 'Fresh Wave' by Ian Mayer for Clinique Recordings and also has 2016 appearances on BQ Recordings and Sound Avenue. For his 'Judgement Day' interpretation John has given the track his own unique tech house take all while making great use of the vocal elements, albeit in a very subversive way. Endless loops and glassy keys converge for a kaleidoscopic audio collage which carries the track into the break with ease. The gaseous interlude proves to be one of the trippiest moments on the release with a trail of decaying keys and granular haze setting up a driving third act perfectly. Massive remix from John and a great way to round out the release. Another excellent offering from Lonya's Asymmetric recordings. Don't miss it.