The 128th release on Tash's Movement Recordings welcomes Luis Bondio and Pedro D'Alessandro to the label for their debut collaborative project.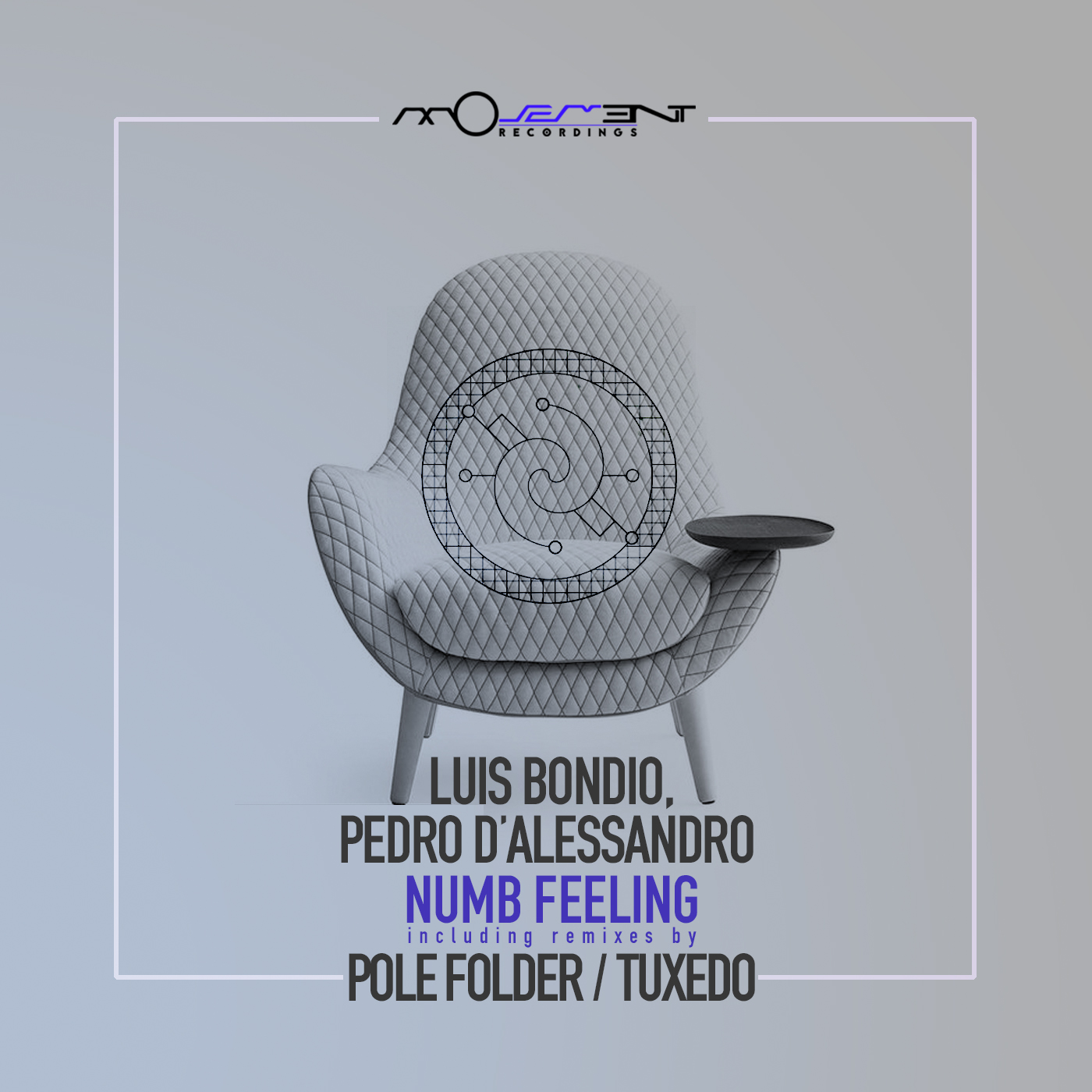 No stranger to electronic music fans, Luis Bondio boasts a discography with appearances on microCastle, Sudbeat and Traum, while also running his excellent Classound Recordings imprint. Meanwhile fellow Argentine Pedro D'Alessandro has been pushing his unique brand of soulful house and techno since 2013, with outings on Apparel Music, Astelaguel and Rationalism Records. Both quite diverse stylistically, Luis and Pedro locked themselves in the studio over the winter months and emerged with one of the finest productions of their respective careers. Movement Recordings is pleased to present the duo's debut project entitled 'Numb Feeling' alongside remixes from Pole Folder and Tuxedo.
Beginning with a tough kick and child-like motifs, Luis and Pedro unleash a bevy of cool designs all backed by a tribal infused groove. A moment of brightness breaks up a strong first act before rugged fills and granular sweeps initiate the main break. A solemn tension then comes over the track with sustained tones and an effects storyboard continuing to dazzle the senses. Looping vocals quickly morph into a swirling vortex before the beats drop and the jaunting journey continues towards an exhilarating conclusion. A fabulous first collaboration from Luis and Pedro. 
The first interpretation of 'Numb Feeling' is provided by Pole Folder who is making his first appearance on the label. The Belgian producer rose to electronic music stardom in 2001 when a string of productions including 'Apollo Vibes' and 'Dust' were signed to John Digweed's Bedrock Records. The label then commissioned Pole Folder to record his first studio album entitled 'Zero Gold' which was released in 2004. Fast forward over 12 years and the Belgian artist remains a staple of the industry's top labels from Hernan Cattaneo's Sudbeat Music, to rising brands like 238W, Sound Avenue and his own Reworck imprint. There are few better at crafting emotionally compelling productions than Pole Folder, and he's certainly done that once again on his 'Numb Feeling' interpretation. It's slow burning build, smooth chord changes and buzzing melodic energy are irresistible, all making for an epic first act. A stripped down break, short and well timed serves to lessen the atmospheric tension while melodic clusters provide the tracks most emotive moment. Magical work from Pole Folder as expected. 
The second and final interpretation of 'Numb Feeling' is provided by Tuxedo who is making his sixth appearance on Movement Recordings. The Polish producer and head of Electronic Tree has come off the best year of his career. His original productions for 238W, Hydrogen, Pro-B-Tech and Reworck have been outstanding along with remixes for Particles, Stripped Digital and Soundteller Records. He's also delivered some of his best ever work for Movement Recordings in the form of his 'Slideshow' EP released in December of 2014 and continues that trend with a superb rendition of 'Numb Feeling'. With a deeper approach Tuxedo has injected is own brand of electronic soul as soft tones and glimmering atmospheres steal the air. It's buzzing low end proves highly emotive as clattering designs and ethereal vocals drift through the framework on its unforgettable journey. A gorgeous remix from Tuxedo and definitely one that you'll being hearing a lot with the summer club season upon us. Another standout release from Tash's Movement Recordings that's not to be missed.