The latest release on Tash's Movement Recordings finds the label presenting new interpretations of Magnetic Brothers '8' LP.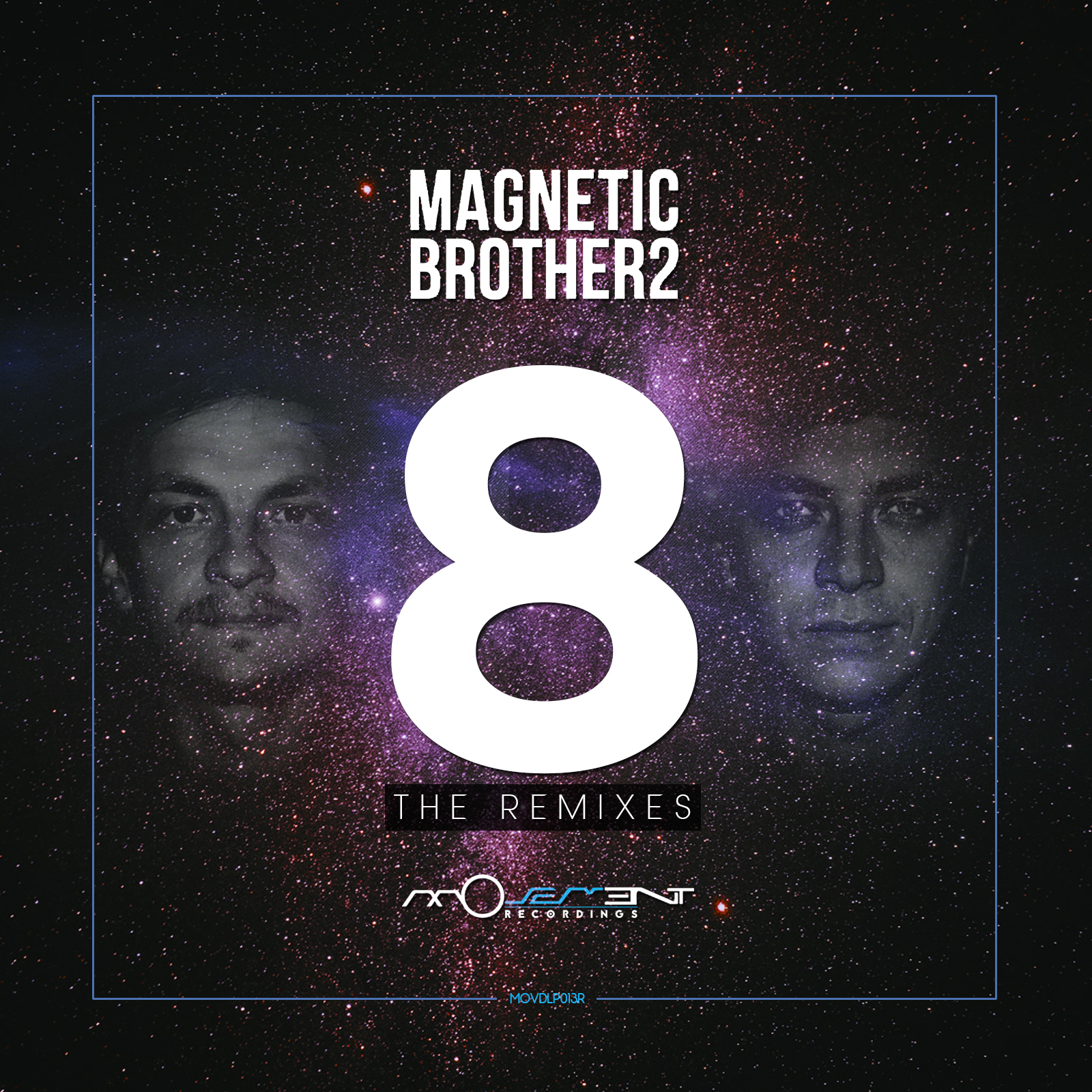 Originally released in February of 2016, the eight track journey showcased the Russian duo's borderless production scope with left-field electronica, deep dubby house all the way up to more progressive minded dance floor creations. Now getting the ultimate makeover Movement Recordings invites George Ledakis & Xiasou, Robert R. Hardy, Ewan Rill, Stergios Sigma, Nikko Mavridis and Toni Manga to reinterpret the album for 2017.
Beginning with the Magnetic Brothers themselves the Russian duo update one of the album's showcases piece's 'Confession' with two brand new interpretations. The first takes the album version into groovier yet still progressive minded territory. With a greater dance floor sensibility and stellar effects the first act is a smooth flowing, irresistible sonic collage. The vocal highlights the break making for a profound moment before the irresistible hooks return for a stellar third act finale. A Dub take has also been provided for the less vocally inclined which keeps the same great rhythmic flow as the previous version.
Next up George Ledakis & Xiasou make their MovementRecordings debut also giving 'Confession' new life. With a more hypnotic framework and traditional vocal arrangement the duo deliver a mix that is a delight for both the mind and feet. As the first act unfolds gentle rhythms bring a bubbly character while layers of vocals add an ethereal flair. Emotive chord changes initiate the main break; dominated by vocal effects and haunting motifs, it foreshadows a trippy yet heartfelt finale perfectly.
One of the industry's most tried and tested talents Robert R. Hardy also makes his Movement Recordings debut with a brilliant interpretation 'Reincarnation'. His deep, groovy sound is a welcome addition to any project and he's certainly delivered that again here. Backed by a chunky foundation the Hungarian artist expertly works in vocal fragments quirky stabs and distinctive drums. The main break proves dramatic as offset themes provide tension before an impactful drop brings all the rhythmic elements together for a magic moment.
Next up Movement Recordings also welcomes Ewan Rill to the label for his debut appearance. The Russian artist is a long-time staple of the progressive scene and also one of the most creative remixers which he proves here once again taking '8' into deep house territory. With only a slight nod to the original Ewan reshapes the core of piece into a heady rhythmic experience, powered by a shapely foundation and strong percussive elements. Another radical departure from Ewan and one your dance floor will certainly appreciate as well. 
Stergios Sigma is no stranger to Movement Recordings have contributed his 'Ode to Pain' to the label's 'Dynamic Visions' collection last year. Now the Greek artist returns for his second appearance delivering a superb rendition of 'Russian Astronaut Story'. Deep and moody at the outset the piece moves forward with quirky rhythms and a twisty, modern lead theme. A short yet timely break brings further intrigue as wispy motifs meander through the murky atmospheres before the kick drops for one final rush.
Next up Nikko Mavridis makes his Movement Recordings debut following a string of releases on Hydrogen and Just Movement in 2016. The Greek artist brings his deep and enchanting style to 'Welcome' with great results. Anchored by a warm, inviting groove Nikko expertly works in subtle motifs and delicate clusters for a gorgeous outdoor vibe. Charming and a touch trippy it makes for an engaging first act, ultimately leading to a break of glistening atmospheres and dulcet tones. As frayed vocals trail off in the distance the funky groove returns, setting in motion a gorgeous third act finale.
The release concludes with Toni Manga returning to the label for his 15th appearance. The German born, now Greece based artist has found a home on Movement Recordings where his unique take on deep house has flourished. Toni's last release however came in August of 2015 so his long-standing fan base has been anxiously awaiting new material for quite some time. 18 months and a revamped sound has done wonders for the German native as he remodels 'Come With Me' into a dance floor gem. Smooth lines, rolling grooves and a mesmerising cadence make for a great first act before the main break takes you from electric to exotic in just under a minute. A superb remix from Toni and a much welcome return to the spotlight for the long standing Movement artist. It completes a well rounded remix album which has a little something for everyone. Don't miss it.