The latest release on Michael A's Genesis Music welcomes Mariano Favre to the label for his debut appearance.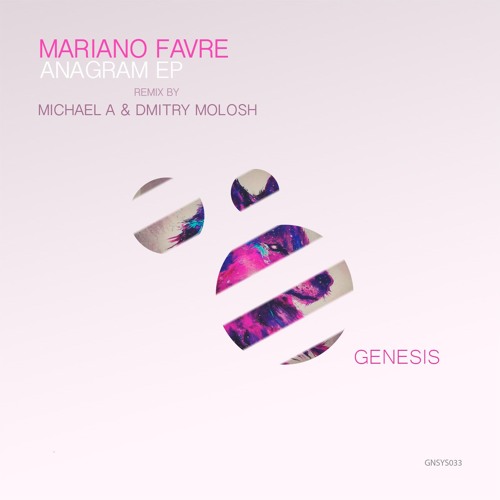 As part of the Golden Wings Music team and long time veteran of the Argentina progressive scene Mariano has enjoyed many successes throughout his career, with releases on Classound Recordings, Movement Recordings and Outside The Box highlighting his discography. Now for his much anticipated Genesis Music debut he presents his latest EP entitled 'Anagram' alongside a remix from Michael A & Dmitry Molosh.
Beginning with a deep, solemn presence Mariano effortlessly builds a mystical track. It's rolling low end is filled with funky undulations while vocal motifs and light tones tantalize the senses. The main break presents a piano motif which brings a sense of serenity and might be one of the most musical moments of Mariano's career. It's silky smooth from there on out with the piano getting teased over the third act while the warm, rolling groove keeps the dance floor sensibility high. Great stuff from Mariano.
The companion piece 'Polygon' comes in a bit bigger but with the same ethereal qualities of 'Anagram'. A chugging first act gets highlighted by poignant accents and swirling atmospheres, which carry the track into a spaced out second act with big bassy stabs leading the way. This one is straight from the cosmos and a final break brings some lovely emotive qualities which seals it's greatness. Lovely work from Mariano.
The lone interpretation of 'Anagram' is provided by the Belarus progressive mafia Michael A & Dmitry Molosh. The two pretty much came up at the same time and both were eventually discovered by Hernan Cattaneo, Guy J and Guy Mantzur who now regularly play and support their music. It's not that often we see a collaborative project from the pair so this one is extra special. They've taken Mariano's great sounds and themes into tougher, techno territory without losing the deep floaty vibe of the original. Tough kicks and a deadly groove make it an immediate winner for the dance floor but the break is what steals the show. Full of wonderfully crafted melodies and a gorgeous build it makes for a goosebump worthy moment before the drop, while a smooth third act just makes it all the better. Killer remix from two of the undergrounds best and another great release on Genesis Music. Don't miss it.