The latest release on Genesis Music finds label boss Michael A teaming up with sometime studio partner Dmitry Molosh for a brand new EP.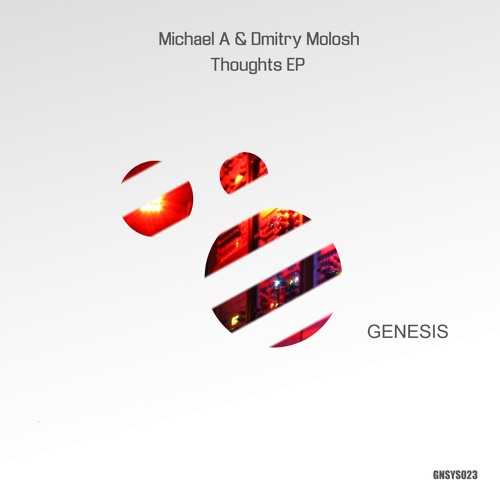 The Belarus duo have worked together periodically throughout their careers with great success, most notably for Luke Porter's Temporum Music. Now for the 23rd release on Genesis Music we see Michael and Dmitry collaborating on two fresh tracks entitled 'Thoughts' and 'Gehenna'. 
Both Michael and Dmitry have continued to make great strides in the their respective careers. Last year saw both earning consistent play and support from Hernan Cattaneo and Guy J. Recent signings to labels like Plattenbank and Tulipa have been monumental they've delivered a great collaborative project here. The EP's first cut 'Thoughts' brings exactly the kind of quality and progressive minded approach you'd expect. Anchored by a chugging, chunky groove it's certainly owns a place on the dance floor. While the well sculpted bass stabs are definitely something to marvel at it's the atmospheric storyboard which is most compelling. Drifting textures and airy pads combine for a lovely sonic environment while more distinctive stabs push the track forward. A short and well executed break adds an even deeper emotion, setting up a dominant third act perfectly. Probably one of the Michael and Dmitry's most powerful grooves to date. Excellent work. 
The companion piece 'Gehenna' comes with a tougher and more driving approach. The peak time sensibilities are quite high here with charged beats, metallic designs and rhythmic hooks that really work. Some great synth work makes for a twisted journey, highlighted by 3 building waves in particular, which are destined to blow the roof off an up for it dance floor. There is no break to speak of which is really quite nice for a change, just a peak time burner to round out the EP in fine fashion. Two top notch tunes from Michael and Dmitry which makes for one of Genesis Music's best releases to date. Don't miss it.