The 37th release on Cid Inc's Replug Records welcomes Michael, Levan, Stiven Rivic and Desaturate to the label for their first collaborative project.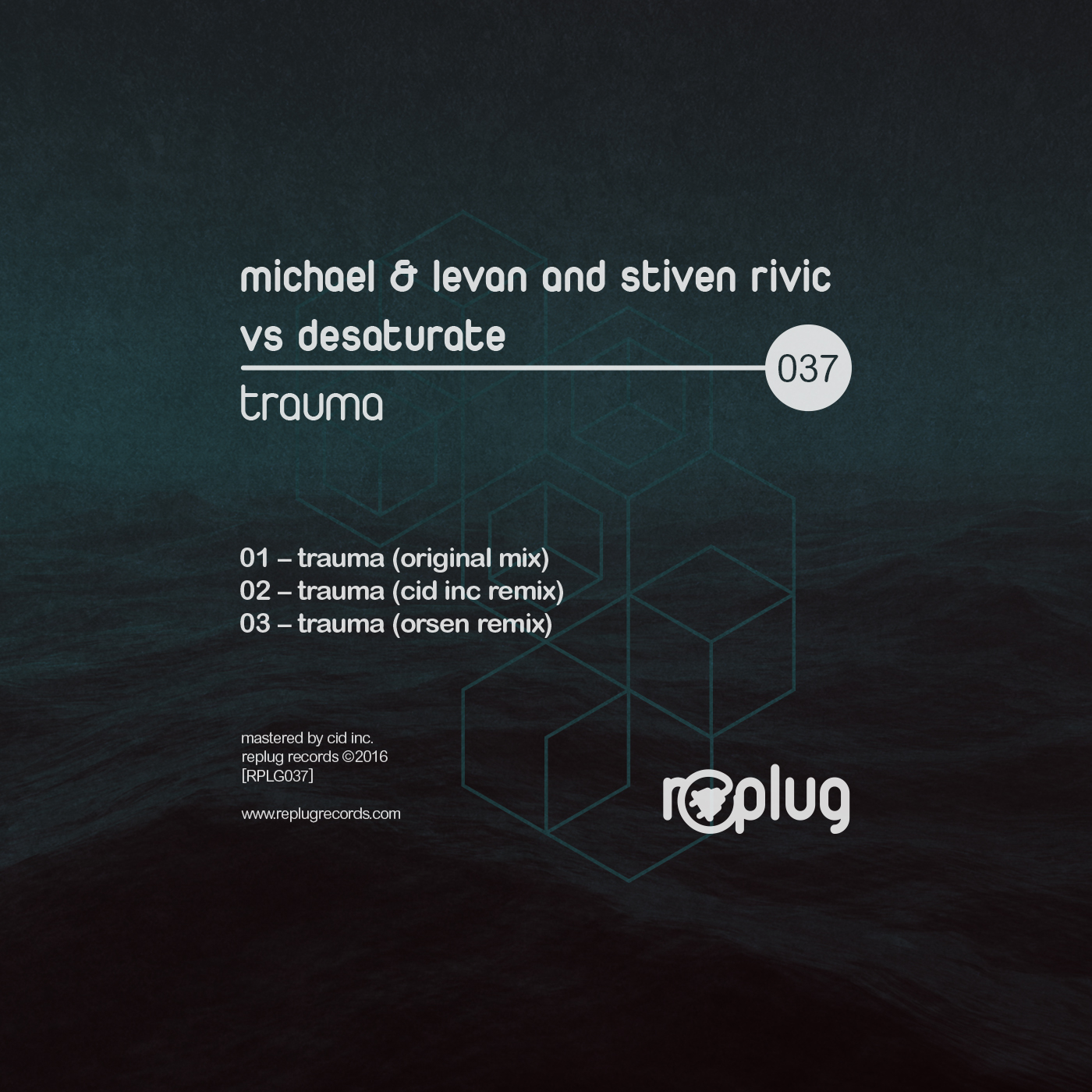 The trio of Michael, Levan and Stiven Rivic have firmly etched their place in progressive music history. As founders of both Kunai Records and Mistique Music the duo also boast a discography that includes releases on Hernan Cattaneo's Sudbeat imprint. Meanwhile Janko Dragovic aka Desaturate, formerly one half of the long running Progress Inn duo, went solo a year ago with exceptional results. The Serbian artist's first ever EP enjoyed an extended stay in Beatport's Top 20 and a midyear appearance on Hernan Cattaneo's Sudbeats Volume 3 proved to be the icing on the cake. Now for Replug's 37th release we see Michael, Levan, Stiven and Desaturate presenting their first single together entitled 'Trauma', alongside remixes from Cid Inc and Orsen.
The fusion of four creative minds is always an interesting proposition and sometimes magical things happen. Michael, Levan and Stiven have explored a variety of stylistic blueprints over the course of their career, while Desaturate's pendant for all things deep and driving has already found its own unique place in the underground. On 'Trauma' the quartet presents a track with energy, funk and most of all a keen nose for the dance floor. It's undulating groove makes for a never-ending wave of momentum, while dubbed out tones and frayed atmospherics provide an endless sonic storyboard. A brief and expertly executed break keeps the tension high with swirling textures and indistinct vocals, as a trail of white noise disintegrates for an ultimate calm before the storm moment. Monstrous work from Michael, Levan, Stiven and Desaturate.
The first interpretation of 'Trauma' is provided by Cid Inc. who is returning to his home imprint for the 22nd time. 2015 was a momentous year for the Swedish born producer. Beginning with 'Guardian' on Lost & Found Records and moving through a variety of top releases from a Sudbeat EP, to a gorgeous remix of Simos Tagias & Jorgio Kioris 'Exist'. It was not only a landmark year in the studio but on the road as well, with an increasingly busy gig schedule capped off by an end of year tour in India / Indonesia. A renewed focus on running Replug has also further ignited Cid Inc's passion for writing cutting edge progressive techno. His interpretation of 'Trauma' reshapes the groove into something equally funky but much more menacing. It's acid tinged hooks and spacious roll back a framework of ominous motifs, before leading to a preliminary break of eerie pads. Reprocessed vocals along with radiant percussion only enhance the prophetic vibe, eventually leading to a final break of escalating tension, followed by a huge drop and waves of sonic decay. This one's big and expect to be hearing it a lot in the coming months.
The second and final interpretation of 'Trauma' is provided by Replug label artist Orsen who is making his second appearance. Hailing from the UK but now based in Austria, Dan Baseley aka Orsen made his Replug debut in April of last year. Praised industry wide for its immaculate production, Dan's 'Look Twice EP' went on to earn a spot in Beatport's Top 10 and put his Orsen moniker officially on the map. A subsequent EP and remix project for Proton's Particles filled out the rest of year nicely, ultimately leading to his much anticipated debut on Hernan Cattaneo's Sudbeat Music in January of this year. Reaching the #1 spot in Beatport's Progressive House Top 100 the five track 'Komorebi' EP quickly made Orsen a name to watch for the remainder of the year. Now carrying that strong momentum forward he closes the release off with a great interpretation of 'Trauma'. Anchored by a driving groove, spiralling themes and clanky hits, there's a distinctive charm locked in this spaced out creation. It's one which Orsen builds in a methodical manner, eventually reaching a frenzy during the tracks second break as a vortex of white noise reignites the groove on to an exhilarating conclusion. A top notch interpretation from a future star and a perfect end to another wonderful offering from Replug Records. Don't miss it.