Just Movement kicks off 2017 with a brand new EP from Paul Deep & Martin Gardoqui.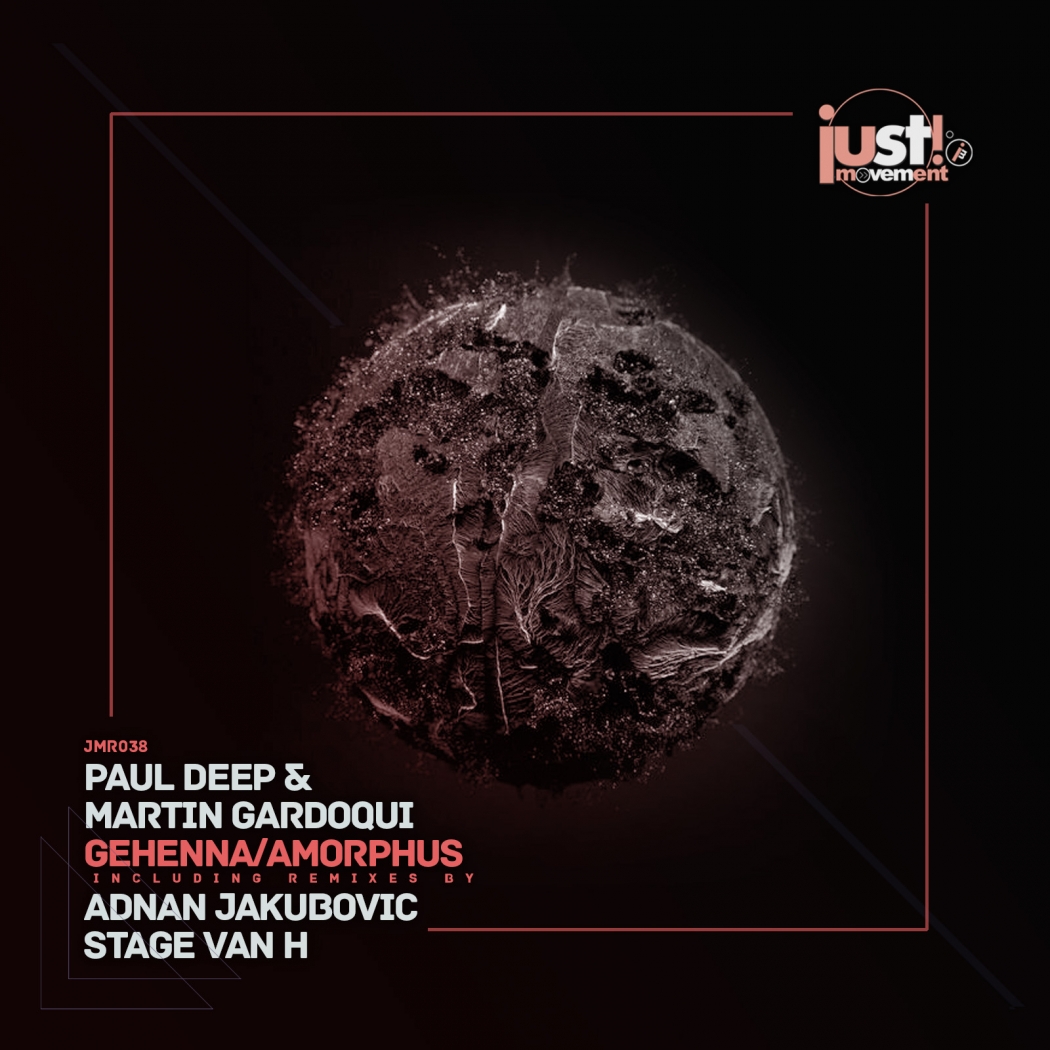 The Argentinean duo are coming off an amazing 2016 highlighted by releases on Asymmetric Records and Clubsonica Records. Now getting the new year underway on a strong note Paul and Martin present their 'Gehenna' EP alongside remixes from Adnan Jakubovic and Stage Van H. 
Long noted for their distinctive progressive grooves Paul and Martin go deep on 'Gehenna' to begin the release. Rolling grooves, fuzzy melodies and a strong rhythmic core drive the track through a solid first act. The near two minute break is a journey unto itself flowing through cinematic swells and melodic clusters, with a trail of sonic decay reinitialises the groove for a strong finish. The Club Mix meanwhile comes in tougher and more deliberate with a powerful groove and strong complement of drums. The main break showcases the same great melodic sensibility from the original, in perhaps a trippier yet equally fascinating fashion, ultimately leading to gorgeous chord stabs and an uplifting finale. Hard to go wrong with either version and expect to be hearing them both a lot in the coming months.
The first interpretation of 'Gehenna' is provided by Adnan Jakubovic who is making his second appearance on the label. Hailing from Bosnia and Herzegovina, Adnan made his first appearance on the Dutch imprint in July of 2016 with a remix of 'Collide' by Rogier. Now making his much anticipated return Adnan takes 'Gehenna' into deeper territory with great results. Backed by a sultry groove the piece flows through luminous textures and evolving atmospheres before distinctive rhythms drive forward into the main break. Clean and serene, the track's centrepiece breaks up the main motifs nicely for a dubbier yet equally inspired translation, before a wave of white noise and lone vocal stab summon the groove back for a great finish. 
The second and final interpretation of 'Gehenna' is provided by Stage Van H who is making his 21st appearance on the label. The Dutch artist closed out 2016 with a very well received bootleg interpretation of Orbital's 'One Perfect Sunrise' and strong releases on Movement Recordings and Hydrogen. Now getting the new year off to a great start Stage puts his own unique spin on 'Gehenna' with a wondrous interpretation. A billowing low end immediately grabs your attention with its smooth chord changes and gorgeous character. Stage's fluid rhythms and emotive melodies are unmistakable and inject an entirely new vibe into the piece. One that's both a nod to the old school yet still stands up today. Great remix from Stage.
The release concludes with a second original entitled 'Amorphus' which finds Paul and Martin crafting another progressive groover. Anchored by thick slabs of bass the track powers forward as acid-like hooks and vibrant drums accent the framework. It's a heads down affair and one for the peak of the night perhaps with three short breaks delivering some dynamic moments along the way. Amazing stuff from Paul and Martin and a great way to round out the release. Don't miss it.