On a perpetual roll, Deersky's Soundteller Records returns this week with a brand new single from Scotty.A.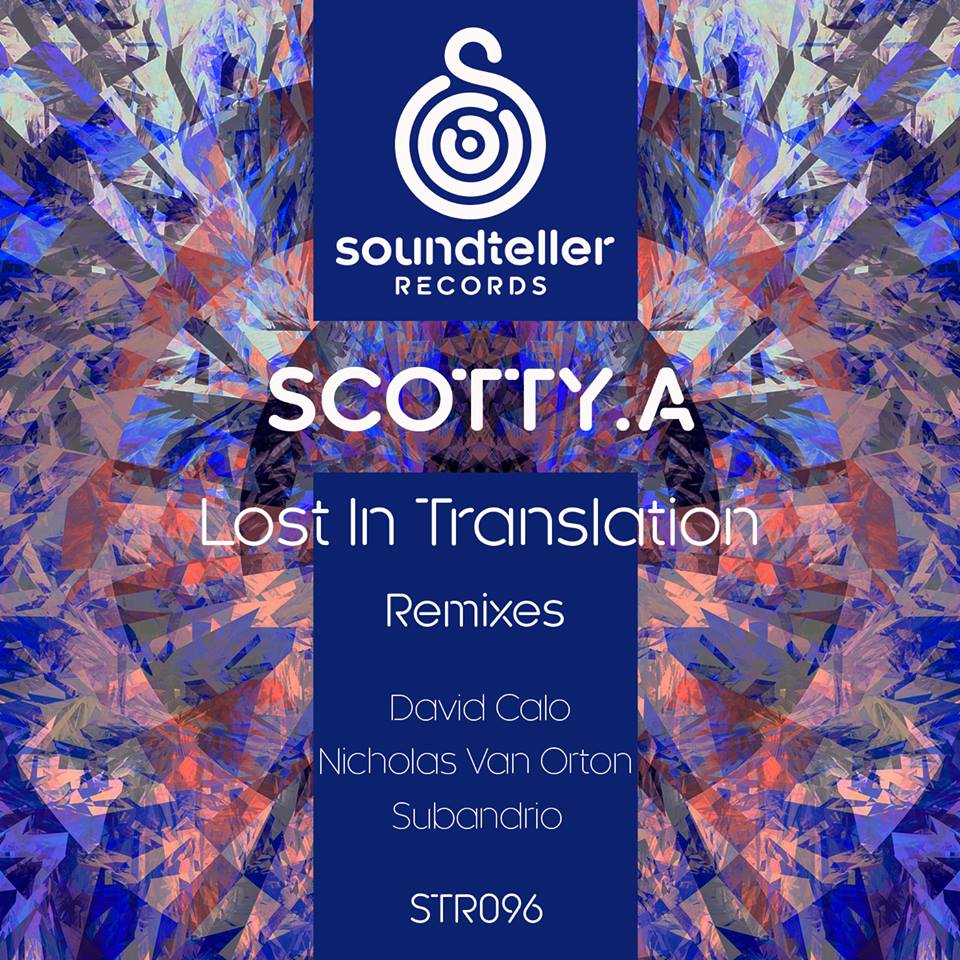 Known for his deep and timeless grooves the UK artist has been a regular contributor to Proton Music and Axon Recordings over the years. A remix for Tulipa Recordings in mid December ended 2015 on a high note and now following a 6 month gap with no new music to speak of Soundteller presents a brand new single from Scotty entitled 'Lost In Translation' alongside remixes from David Calo, Nicholas Van Orton and Subandrio.
As expected Scotty's original comes with a deep, smooth yet remarkably funky vibe. The groove has a wonderful swing and a complement of keys adds a mesmerising, summery feel. The full complement of drums has a lovely tribal / live feeling which plays in and out as the mix progresses. A short and timely second act sees the groove get stripped while a third act adds shakers and atmospheric swells for an understated yet tastefully epic feel. Classy music as always from Scotty and great to hear something new from him again.
We have a few Soundteller debuts on the remixes with David Calo and Nicholas Van Orton both making their first appearances while Subandrio returns for his second after remixing Robert R. Hardy's 'Light Therapy' in February of this year. First up David Calo comes off great releases on Particles, Tulipa and Reload and takes the track into tougher tech house territory. The shimmering atmospheres still play heavily here and some timely elements, especially the vocal gates add a great vibe to the mix. A well constructed break ends with clap delays and a wave of white noise which brings the groove back with warm rush of emotion. Lovely work from David.
Next up Nicholas Van Orton follows his amazing EP on his own BCSA imprint with a more progressive minded mix. The Argentine's signature warm, round grooves shine here once again and with some nice drive as well. The character in the low end is so alluring, it's just a pleasure to listen to and a lovely band of bass hooks make it all the more charming as well. A strong tonal theme enhances the track's cadence all through a lively second act before a drum roll and cascade of bass notes provides what should be a massive moment on the dance floor. Great stuff from Nicholas.
Closing the release out is Subandrio who continues to slaughter the progressive underground with his big, club ready productions. Recent remixes for Balkan Connection, One Of A Kind, Mirabilis and Yin have all been large but here he goes just a touch deeper with 'Lost In Translation'. A warped and winding low end guides the eight minute journey while a complement of cascading melodies proves to be the perfect harmonic companion. The soft atmospheric glow which made the original so great softens this up quite nicely and just adds to its emotive powers in the process. A kinder and gentler Subandrio if you will and it turned out great, a perfect way to end the release off in fact. A welcome return for Scotty.A and another impressive notch on the Soundteller discography. Don't miss it.