Balance Series star, Uone isn't just a wiz in the studio or behind the decks… he's' actually great in the kitchen too! Here the Beat & Path head honcho shares a recipe he's been cooking, to beat the Covid 19 lockdown blues.
Before you start checking out this recipe, whack on his bootleg of 'Jamie Woon's – Shoulda' to get you in the mood for cooking.
What you need
– 2 Salmon Fillets
– 1 leek
– 500 grams or 2 handfuls of potatoes
– 2 pieces of fresh turmeric root or powder (approximately 40grams)
– 2 pieces of fresh ginger root (approximately 60grams)
– 80 grams of butter
– 1 tablespoon of Keen Curry Powder (or standard curry powder will do)
– Lemon Wedge
Uone's latest release is out now and Beatport and you can check it out here
Cooking method
1 Prepare & herbs vegetables.
– Wash & dice potatoes into chunky 2-3cm cubes
– Finely chop or grate turmeric & ginger
– Slice leeks
2 Cook Potatoes
– In a saucepan add potato with warm water with a pinch of salt
– Cook the potato's for roughly 20-30min or until the pot is boiling
3 Cook Leeks
– Using a medium sized fry pan add 2 tsp of coconut or olive oil, add turmeric & ginger (note at this point be sure to add cracked peeper to the turmeric while its heating up to help activate the anti-inflammatory properties)
– Over medium heat add the leeks, 80grams of butter and cook for around 8-10min until the leek have sweated off and become soft.
4 Cook Salmon
– Tip take salmon out of the fridge 15min before you plan to cook it, ensure that its at room temperature before cooking.
– Heat 2 tsp of coconut or olive oil in small fry pan over high heat. Season the salmon with salt and pepper. Cook the salmon, skin-side down for 3min or until the skin is crispy and golden. Reduce the heat to medium, turn and cook the flesh side down for a further 2-3 min or cook to your liking. Then remove from frypan.
5 Smash the Potatoes
– Drain water off the potato, in the same pot add the turmeric, ginger & leeks
– Sprinkle Keens Curry Powder over the top and give a light smash, folding the potato's with the leeks, turmeric, ginger.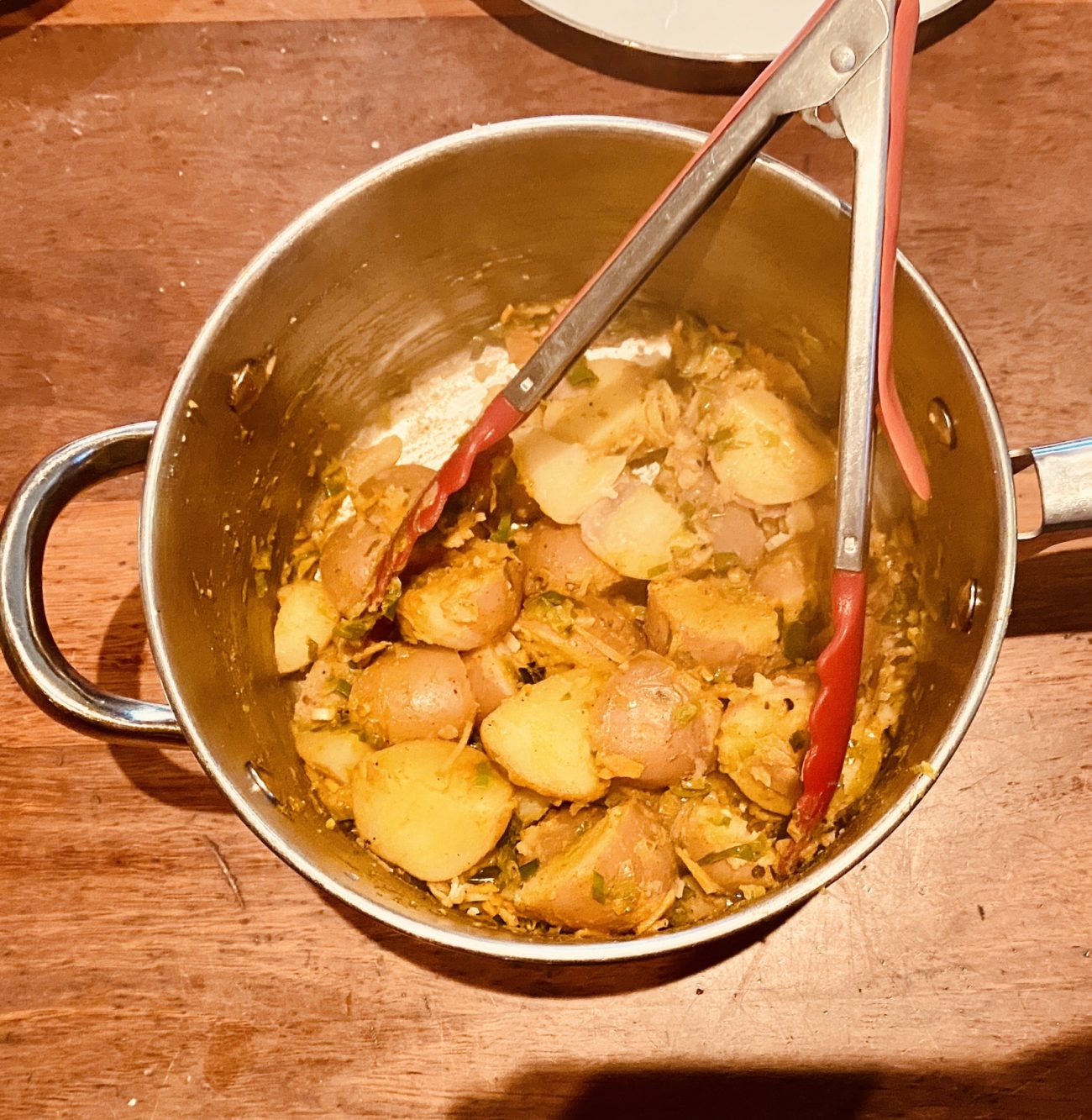 6 Get ready to serve
– Take smashed Potato & leeks, place in the center of the plate.
– Place Salmon skin side up with wedge of lemon as garnish.