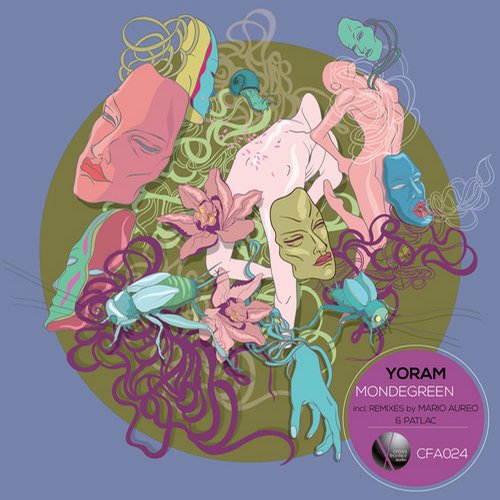 Crossfrontier Audio are back for their 24th release, this time with two slices of deep house goodness from Yoram, yet another talented producer from the Netherlands. Yoram serves up two tracks, 'Mondegreen' and 'Susurrous', with the former receiving a remix from Mario Aureo, and the latter from Patlac.
'Mondegreen' The rolling bass immediately pulls you in, while pulsing stabs, drifting pads and further cool bass maneuvers set the stage for the mesmerizing plucked main theme, which arrives with rising melodies and touches of piano. This is the best deep house record – and one of the best records full stop – I've heard in 2014 so far. Sumptuous, musically-rich and deeply groovy, this is just wonderful work from Yoram.
Mario Aureo's remix has a dubbier feel to it, due to spacey echoes and a bassline you'll feel in your chest, while a brief breakdown introduces a playful electro hook forms the central idea for the rest of the track. I liked this version well enough, but I didn't think that it made as good use of the ideas from Yoram's original as it might have, which seemed like a bit of a shame.
'Susurrous' is almost as terrific as the title track, featuring a similar sound but led this time by a melancholic cleverly timed piano motif, and enriched by really gorgeous cello lines. This reminds me of Kollectiv Turmstrasse at their best – it's another instant favourite for me.
Patlac's remix boasts a low-slung bassline and subtle pads, building gently with great percussion before dropping into a heavier bass part. The piano line from the original is layered delicately in the background while the cellos are allowed to complement the bassline periodically, which they do very effectively, but the focus is on the melody that Patlac introduces during the breakdown. As the track picks back up, he adds urgent bleeps while allowing the original bass part to pulse periodically, adding tension. This is a really nice remix, though again I felt like Yoram's best ideas could have been better utilized – in particular, the piano is used very sparingly, and it's so effect when Patlac lets it creep in that it's hard not to wish he had put it more front and centre. But this is quibbling – overall, this is really good stuff and it complements Yoram's original very well.
Both of Yoram's two originals here are unalloyed delights, and while I didn't thing that the remixes were quite as strong, they both succeed in contributing something distinctive to the package, with Patlac's being my pick of the two. All in all, this is a fantastic release from Crossfrontier Audio. 8.5/10