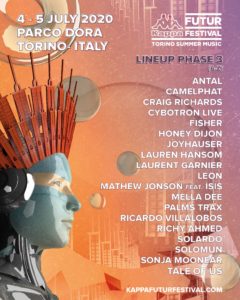 KAPPA FUTURFESTIVAL 2020
'BEST INTERNATIONAL FESTIVAL' – DJ AWARDS 2019
PARCO DORA, TORINO, ITALY
4-5th JULY
"THE FUTUR IS IN TORINO"
PHASE 3 LINEUP CONFIRMED
(ARTISTS IN ALPHABETICAL ORDER)
ANTAL
CAMELPHAT
CRAIG RICHARDS
CYBOTRON LIVE
FISHER
HONEY DIJON
JOYHAUSER
LAUREN HANSOM
LAURENT GARNIER
LEON
MATHEW JONSON FEAT. ISIS LIVE
MELLA DEE
PALMS TRAX
RICARDO VILLALOBOS
RICHY AHMED
SOLARDO
SOLOMUN
SONJA MOONEAR
TALE OF US
TICKETS ON SALE NOW
GENERAL ADMISSION: €70 WEEKEND TICKET | €45 SINGLE DAYS
VIP EXPERIENCE: €210 WEEKEND | €120 SINGLE DAYS | €750 GOLD | €1,500 ART & TECHNO
https://kappafuturfestivaltickets.com/en/22591-kappa-futur-festival
SPECIAL TICKET + HOTEL PACKAGES:
https://www.kappafuturfestival.it/en/hotelticketen
Europe's award-winning electronic music festival, Kappa FuturFestival, proudly reveal their third and final phase lineup for its biggest ever edition, taking place Saturday 4th – Sunday 5th July 2020 at the famous Parco Dora in Torino, Italy.
Concluding the festival's 9th edition lineup, comprising of the world's finest DJs and live performers, we can now confirm the pioneering Chilean-born DJ/producer Ricardo Villalobos will be joining the party once again and performing alongside fellow heavyweight DJs such as the legendary French visionary Laurent Garnier, the sought-after Bosnian-German selector Solomun, illustrious Italian duo Tale of Us and UK house heroes CamelPhat who'll be making their festival debut.
In addition, the influential American electro group Cybotron – fronted by Detroit techno maverick Juan Atkins – will be flying in to present their highly-praised immersive audio-visual live show for the first time alongside Mathew Jonson who'll also be serving up a must-see live performance featuring Isis. On top of this, the UK's Craig Richards, Richy Ahmed, Mella Dee and Solardo, Germany's Palms Trax, Australia's Fisher and Lauren Hansom, America's Honey Dijon, Holland's Rush Hour Music cofounder Antal, Belgium duo Joyhauser, Switzerland's Sonja Moonear and Italy's Leon are all locked in for unforgettable DJs performances.
These 19 new additions follow a whole host of acts already confirmed and completes an unbeatable lineup which already boasts; the renowned US-based genre-hopping DJ/producer Diplo, the undisputed king of techno Carl Cox, Detroit's techno master Derrick May, Carl Craig presenting Paperclip People live, Belgium's Amelie Lens, Farrago and Milo Spykers, Italy's Joseph Capriati, Enrico Sangiuliano, Blackchild, the UK's Jamie Jones playing back-to-back with The Martinez Brothers plus solo sets from Patrick Topping, Detlef and Denis Sulta, US-based house DJs Derrick Carter, Danny Tenaglia, The Black Madonna and Bedouin, Spanish spinner Paco Osuna, Japan's Satoshi Tomiie, France's Agoria, Germany's Motor City Drum Ensemble, Holland's ANOTR and a trio of Solid Grooves' leading DJs including head honcho Michael Bibi, Spain's Dennis Cruz and the UK-based PAWSA.
Furthermore, the iconic Parco Dora festival site serves as a perfect industrial inner-city environment with varied hangouts, DJs between the trees and plenty of Italian food and drink. Also, as with all previous years, Kappa FuturFestival will continue to push the envelope in regards to festival technology and customer experience – an area which has seen them twice received the European Commission Patronage, the first for this kind of event in Italy – and have brought back its pioneering Art & Techno VIP experience (the ultimate weekend of luxury for art and techno lovers) for its second year alongside its innovative cashless payment scheme, plus festival-goers have the chance to benefit from great deals on Ticket+Hotel packages due to KFF's bond with the local hospitality network (for more information please click here).
FULL 2020 LINEUP (ARTISTS IN ALPHABETICAL ORDER)
AGORIA
AMELIE LENS
ANOTR
ANTAL
BEDOUIN
BLACKCHILD
THE BLACK MADONNA
CAMELPHAT
CARL COX
CARL CRAIG PRESENTS PAPERCLIP PEOPLE LIVE
CRAIG RICHARDS
CYBOTRON LIVE
DANNY TENAGLIA
DENNIS CRUZ
DENIS SULTA
DERRICK CARTER
DERRICK MAY
DETLEF
DIPLO
ENRICO SANGIULIANO
FARRAGO
FISHER
HONEY DIJON
JAMIE JONES B2B THE MARTINEZ BROTHERS
JOSEPH CAPRIATI
JOYHAUSER
LAUREN HANSOM
LAURENT GARNIER
LEON
MATHEW JONSON FEAT. ISIS LIVE
MELLA DEE
MICHAEL BIBI
MILO SPYKERS
MOTOR CITY DRUM ENSEMBLE
PACO OSUNA
PALMS TRAX
PATRICK TOPPING
PAWSA
RICARDO VILLALOBOS
RICHY AHMED
SATOSHI TOMIIE LIVE
SOLARDO
SOLOMUN
SONJA MOONEAR
TALE OF US
GRAB YOUR TICKETS NOW:
GENERAL ADMISSION: €70 WEEKEND TICKET | €45 SINGLE DAYS
VIP EXPERIENCE: €210 WEEKEND | €120 SINGLE DAYS | €750 GOLD | €1,500 ART & TECHNO
https://kappafuturfestivaltickets.com/en/22591-kappa-futur-festival
SPECIAL TICKET + HOTEL PACKAGES:
https://www.kappafuturfestival.it/en/hotelticketen
Links:
https://kappafuturfestivaltickets.com
https://www.facebook.com/FuturFestival
https://twitter.com/FuturFestival?lang=en