But be quick, they are only making a limited amount of units!
MasterSounds and their technology partner, Union Audio, are proud to announce the release of a second generation suite of products, comprising the new 4V flagship analogue DJ mixer series, the MasterSounds FX unit, LinearPOWER power supply accessory, plus v2 of the Radius 2 and 4 mixer range.
4V Radius and Linear flagship mixers
Building on the success of the award-winning Radius DJ mixers, the new MasterSounds flagship 4V range comprise premium 4 channel DJ mixers aimed at clubs and DJs requiring a conventional DJ toolkit with "no compromise" audio fidelity. Available in both rotary and linear fader options, the Radius 4V and Linear 4V encompass the pinnacle of audio excellence, equipped with the highest quality components. 
There are 4 fully-featured channel strips with Aux send (switchable pre or post fader), input level trim, illuminated input select switch, a super smooth 3 band asymmetric equaliser, large illuminated Cue switch, high quality faders (TKD for the Linear 4V and Alps for the Radius 4V) and 10-point LED VU meter.
To the right of the channel strip features a 3-band Master EQ/Isolator, Master and Booth level controls, headphone monitor with split and Cue/add mix control.
Below the master section is a high-quality Penny & Giles crossfader, with contour control to adjust the curve from smooth mix to fast cut.
Two 36mm illuminated analogue VU meters provide accurate signal level monitoring of the mix buss, these automatically switch to monitoring the Cue level when a channel Cue is activated. If the signal level is excessive, the VU meter illumination will change from warm white to bright red.
At the heart of the 4V are four matched dual triode valves (tubes) which form part of the input buffer stage to the VCAs.  The valve's high input impedance minimises loading on the preceding stages but provides low output impedance to drive the VCAs, whilst the valve's natural compression smooth and warm harsh transients.  Careful circuit design around the valve minimises noise and distortion.
A new split composite/passive RIAA stage featuring Vishay 2% Polypropylene capacitors, close tolerance thin film resistors and JFET pre-amplifiers provide outstanding fidelity from the turntable inputs.  All circuit coupling is through bypassed Panasonic electrolytics to preserve this fidelity throughout the entire signal chain.
The icing on the cake is a pair of Burson V6 Classic fully discrete operational amplifiers, providing world class summing for the fully balanced main mix buss.
MasterSounds FX
Complementing the 4V, the new MasterSounds FX unit is designed to perfectly integrate with the entire MasterSounds DJ mixer catalogue, maximising the use of both the Aux send system and mix insert feature in a way no other FX unit can.  
FX offers three products in one box – an analogue emulating FX section with analogue output, an analogue filter unit, and an analogue distortion system.
Analogue emulation provides 8 high quality FX, 3 delays, 3 reverbs, a subtle noise effect, and a pitching delay.
The FX are designed to blend into the mix rather than dominate the music, though there is considerable scope for adjustment of various effect parameters (delay regen, filter frequency etc) using the additional controls provided.  The interface is pure MasterSounds, with effect selection on a rotary control (though there is a 3-bit binary LED counter), giving the unit a classic feel.
Below the FX section is an analogue filter, offering 3 filter types (high-pass, low-pass and band-pass) along with controls to adjust the cut-off frequency and resonance.
As the Filter section uses the insert function found on MasterSounds mixers, the entire mix is routed through it, expanding the feature set of each mixer. When the Filters are switched off the output from the FX processor is still fed through the low-pass section, providing additional scope for effect manipulation.  The high-pass and low-pass filters are each activated by pressing the large illuminated switches and selecting both switches the filter to band-pass. Zero crossing detection circuits help to minimise filter clicks during activation.
Finally, the stereo distortion circuit is a sophisticated DC controlled, analogue asymmetric signal clipper, operated by a single rotary control.  Additional circuitry monitors the level of the pre and post clipped signal, automatically applying make-up gain when needed, indicated by the side-chain LED. The distortion control adjusts the level from off (fully CCW) to subtle warmth (mid way) to hard clip (fully CW), but because the clipping is asymmetric it retains some warmth and character.
Both Aux In and Insert connections are on ¼" TRS jacks, with the Aux In being fully balanced. Two pairs of high quality balanced Neutrik leads are supplied with the unit, as well as a universal power supply, enabling plug and play use anywhere in the world.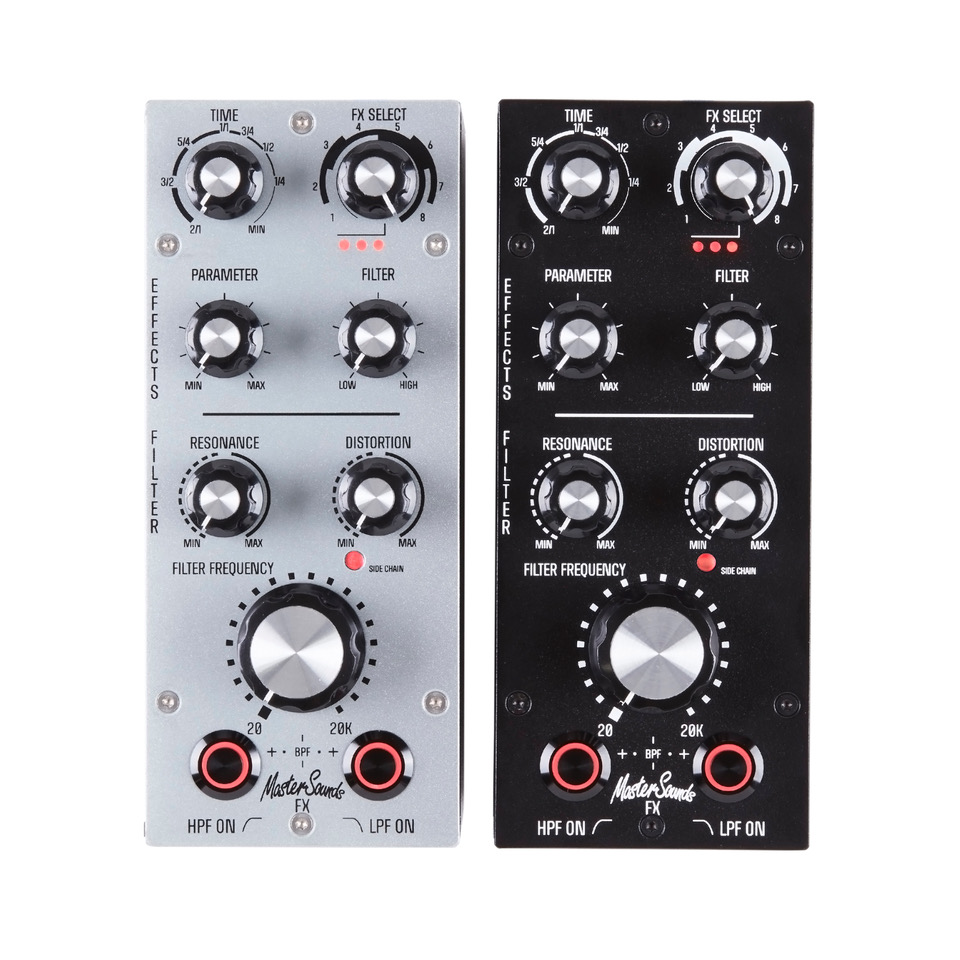 LinearPOWER PSU
In response to customer demand, MasterSounds can now offer a linear power supply accessory for its range of DJ mixers, or as an external supply for the Technics SL-1210 turntable.
The power supply features a hybrid discrete regulator design, controlled by a very accurate IC voltage reference and feedback loop. Output voltage can be pre-set to 15V, 18V or 21V, with other custom voltages available by request.  Output current is rated at 1amp continuous, but the supply can deliver more than double this for short periods.  With a compact toroidal transformer, 1% tolerance metal film resistors and high-quality capacitors used throughout, long life and continued high performance are ensured.
The power supply is protected against over temperature and short circuit events, but crucially it also includes over voltage protection to prevent damage to any connected devices.
The unit is housed in a smart in-house designed steel chassis, with illuminated power switch and a light-piped bi-colour LED to indicate status (green = good, red = fault).
Radius 2 and Radius 4 version 2
In line with the new 4V range, MasterSounds existing Radius 2 and Radius 4 rotary mixers have undergone circuit redesigns to take audio fidelity to a new level. The  JFET preamplifiers are used in the RIAA stages and in other key audio stages, all signal electrolytics are now Panasonic, plus a host of additional component type and value changes have been implemented.  Moreover, the most significant change is the inclusion of the fully discrete Burson V6 Classic operational amplifiers with fully balanced mix buss on all models.
Other subtler changes are the fine textured black paint finish, adoption of Torx screws, and the fitment of vibration mounts in place of the hard rubber feet.
Ryan Shaw says:
"Both Andy and I are immensely proud to present our new range of professional audio equipment, and updates to our existing range of Radius DJ mixers. Having a close relationship with our customers has been key factor in developing new products, offering an upgrade path to those who have purchased from us previously, and welcoming new customers to the MasterSounds family with 4V, FX and LinearPOWER. I am delighted to say that all our products are hand built by Andy at Union Audio in the south west of England, ensuring the finest boutique quality, coupled with low lead times, competitive pricing and ultra friendly MasterSounds service."
Andy Rigby-Jones says: 
"Ryan and I both realised that to complete the MasterSounds mixer range we needed to offer a mixer with the same ethos as the Radius 2 and 4 mixers but with a more conventional DJ feature set, the end result being the MasterSounds 4V.  The addition of a valve stage was a 'must' for this product, borne of a lifelong fascination with thermionic technology, and it is no coincidence that some of the world's finest sounding audio reproduction systems feature them.  It was also doubly pleasing that the knowledge gained developing the 4V could be implemented in the latest version of the Radius 2 and 4, allowing us again to raise the bar for affordable high-end rotary mixers. 
The new FX unit solves a common FX/mixer integration issue, as many, especially FX units designed for guitarists, do not work properly on a send/return system.  MasterSounds FX has been designed to integrate perfectly with all the MasterSounds mixers, taking advantage of both the balanced Aux sends and the master buss insert jacks.
The Linear power supply was driven by customer requests, and the end result is a solid, high performance accessory that beautifully complements the MasterSounds mixer range."
Pricing (Including VAT)
Linear 4V £1985
Radius 4V £1985
FX £495
LinearPOWER PSU £299
Radius 2 £1350
Radius 4 £1650
Availability 
On sale now, all models 1 – 2 weeks from purchase (limited availability)